The Sugar Skull Bakers is a collaboration of cookie, sugar, cake decorators, and artists from around the world honoring the 3,500 year old Mexican holiday – Dia de los Muertos (aka The Day of the Dead).
The group, founded in 2013, by cake artist Berenice "Berry" Rabago, of Berry's Sweet Studio and graphic artist Yuki Navarro, is comprised of artists who work with edible mediums. Their skills expertise range from hobbyist to professional. Some have competed worldwide and have even appeared on National American television network programs such as Sugar Dome, Cake Wars, and more.
The Sugar Skull Bakers may also be found on Facebook, Twitter, and Instagram.
This week, Between the Pages will be featuring many of these gorgeous creations.
The Kissing Sugar Skulls shown above were made by Mitchie Curran from Mitchies Munchies. Here is Mitchie's wonderful description of her sugar skulls.
Dulces Besos "Sweet Kisses" My calaveras (skulls) were created on separate occasions. Muertos Dude made an appearance in our first Sugar Skull Baker collaboration in 2013, and I created my Lady Dia de los Muertos at a live demo during the IBIE convention in 2013. Muertos Dude departed into the bellies of a hungry crowd soon after his photo shoot and I regretted him not meeting Lady. I re-created Muertos dude for an event a few months later and it was love at first sight for these two.

Both were created using a number of edible mediums. Lady's internal structure was inedible for her show appearance, but her exterior was modeling chocolate and fondant, hand-painted with powder color and vodka. Her hair is modeling chocolate dusted with luster and her hair decorations are Luster Icing sheets cut with the Sweet Accents machine from Icing Images and her flower centers are CakePlay Isomalt. Muertos Dude is crafted nearly the same, his original was all cake, this one was for display so again I used an inedible internal support structure. His mandibular (bottom jaw) is built out with rice cereal for an enhanced smile and kiss
Just look at the world around you
Right here on the ocean floor

Such wonderful things surround you
What more is you looking for?

Under the sea, under the sea
Darlin' it's better
Down where it's wetter,
Take it from me

Under The Sea from The Little Mermaid
This awesome Steampunk Day of the Dead Cake was made by Jacqui Kelly from Totally Sugar. The steampunk skull squid (try saying that five times fast) and skull crab are terrific. The detail on both is amazing. I also really like how the two lovers have similar taste in hats.
This gorgeous Day of the Dead Cake was made by Calli Hopper from Callicious Cakes.
Here is Calli's description of her stunning cake:
My Sugar Skull inspiration this year is a celebration of my beloved parents. I enjoyed hand painting their portraits of when they were younger, using my favourite photos of them as my guide. I owe them both so much and so pleased I always listened and took on board their advise. Over the years I got to know them so well and cherish their letters, including those between them both I now have in my possession. I cared and loved them so much. The sugar flowers are a mixture of tropical and English as we were a much travelled family from India, to Africa to UK. My skull is made from modeling chocolate and hand painted.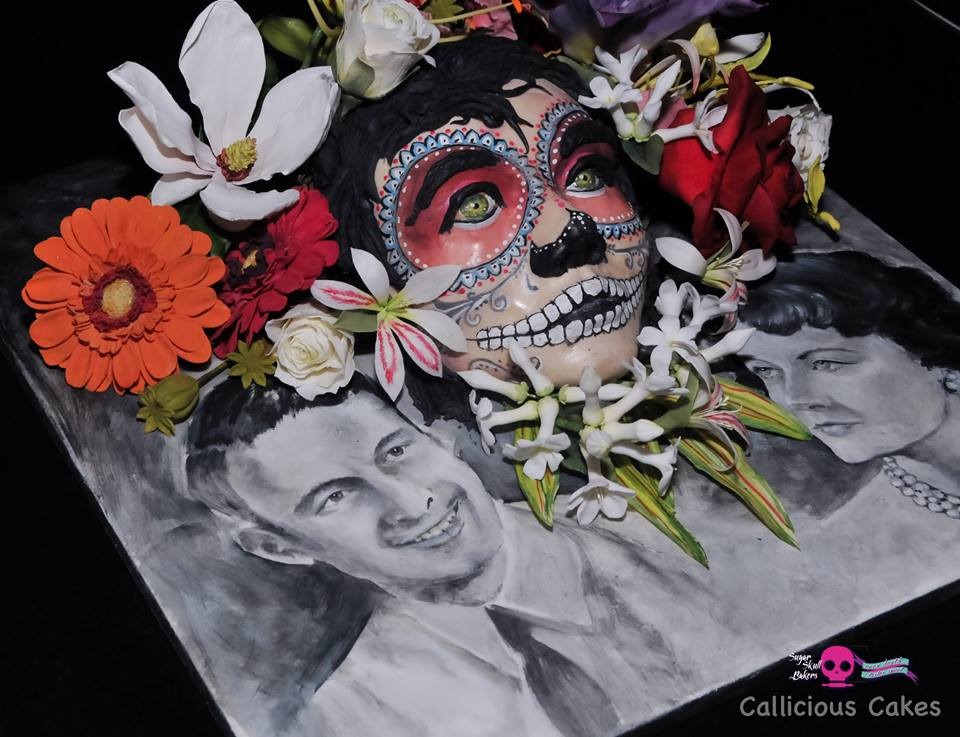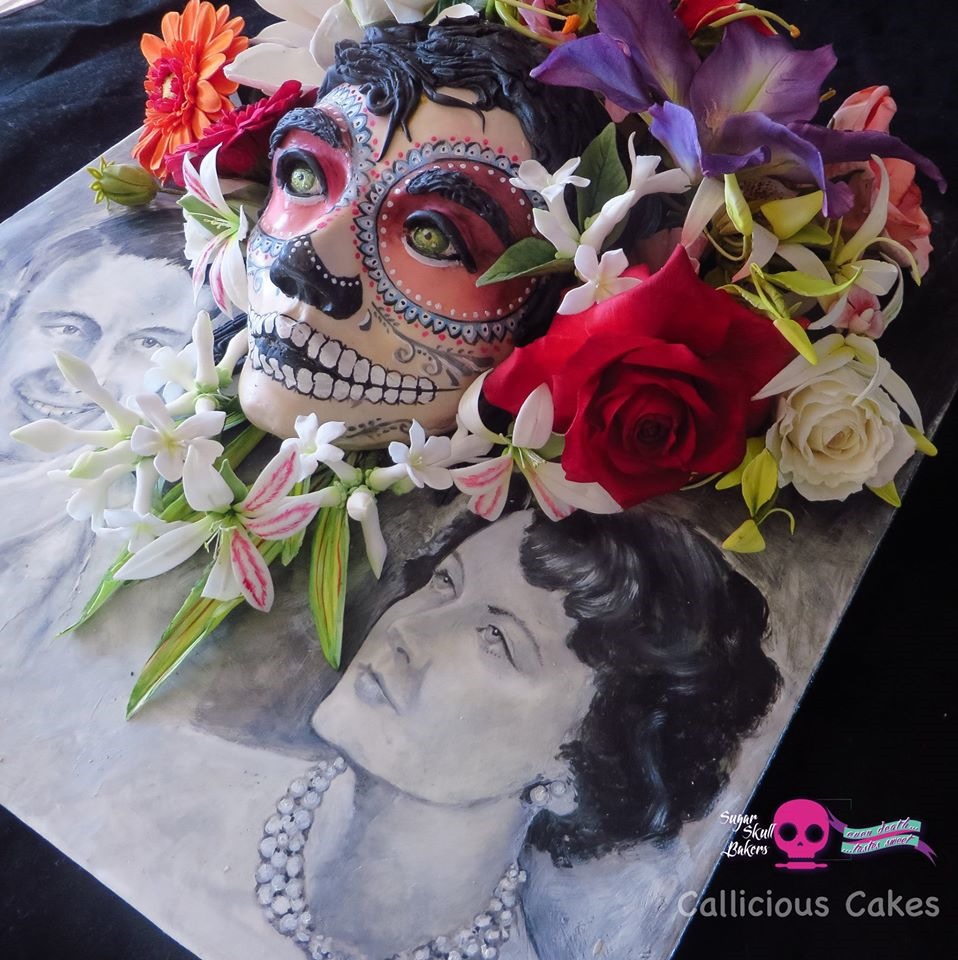 Calli's hand painted cake board portrait of her two parents is absolutely beautiful.
This gorgeous Day of the Dead Cake was made by Elizabeth Lander from Time for Tiffin. The hand painted faces about to kiss are wonderful. The flowers are beautiful. I love how everything but the two faces and the flowers are black and white. Because of this, your eyes are drawn to the vibrant colors.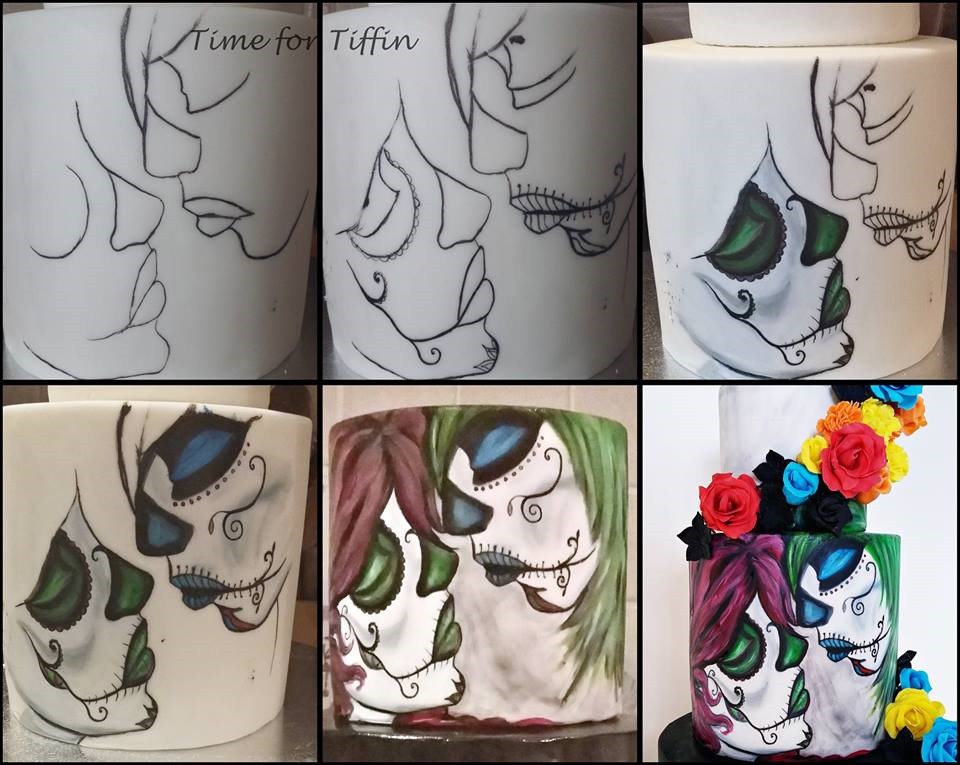 Here is a progress shot of the middle tier. It was hand painted using just Sugarflair pastes/pro-gels and vodka. The end results are simply gorgeous.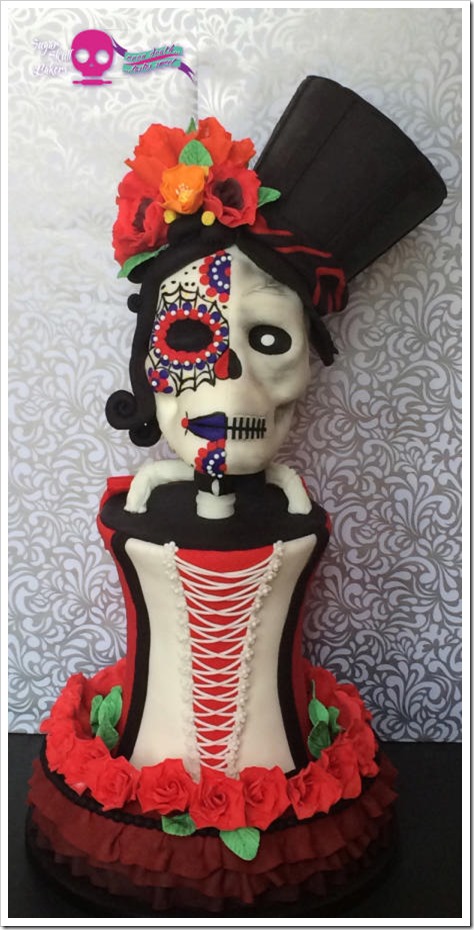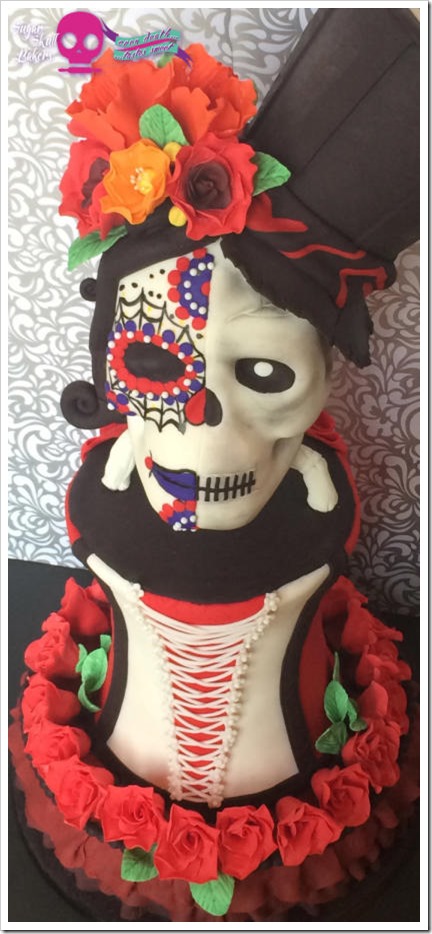 This cool Day of the Dead Cake was made by Stacy Coderre from Sweets By Stacy. I really like how the skull is divided into two halves – one male and the other female. Stacy hand made over 30 sugar roses and other flowers for this piece. I like how white, black, and red are reused through out this piece. It causes the red roses to really stand out.
My heart is pierced by Cupid
I disdain all glittering Gold
There is nothing can console me
But my Jolly Sailor Bold.

— John Ashton 1891
This cool Pirates of the Caribbean / Day of the Dead Cake was made by Veena Pamel Azumanov from Veena's Art of Cakes. The cake is based on the movie Pirates of the Caribbean: On Stranger Tide. The movie features man eating mermaids who are beautiful women on land and deadly fanged creatures in the water. Veena does a wonderful job displaying this because the top half of the cake everything is beautiful, while the bottom half is filled with bones and a man eating mermaids that lurk below.