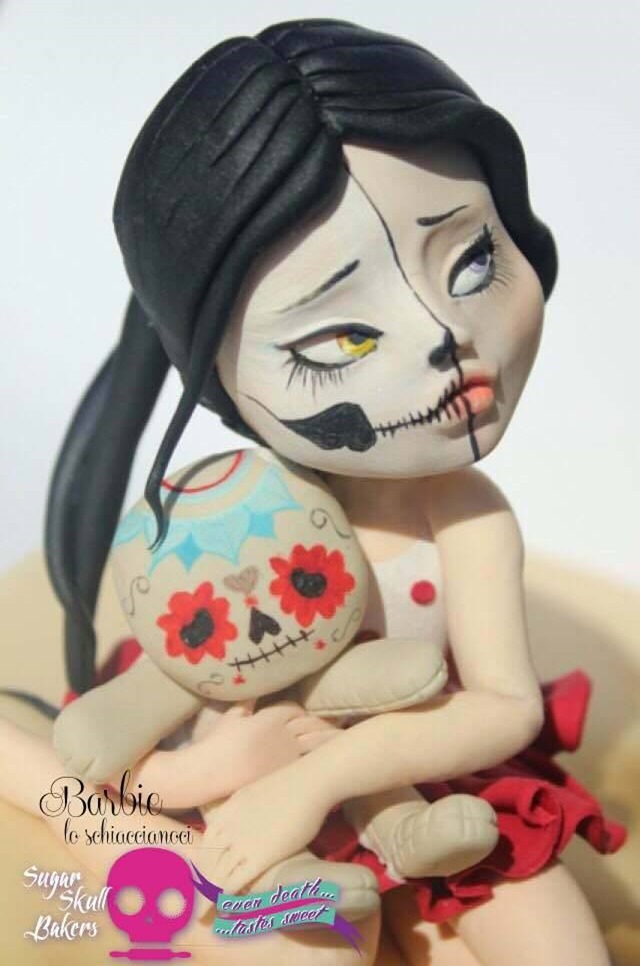 The Sugar Skull Bakers is a collaboration of cookie, sugar, cake decorators, and artists from around the world honoring the 3,500 year old Mexican holiday – Dia de los Muertos (aka The Day of the Dead).
The group, founded in 2013, by cake artist Berenice "Berry" Rabago, of Berry's Sweet Studio and graphic artist Yuki Navarro, is comprised of artists who work with edible mediums. Their skills expertise range from hobbyist to professional. Some have competed worldwide and have even appeared on National American television network programs such as Sugar Dome, Cake Wars, and more.
The Sugar Skull Bakers may also be found on Facebook,Twitter, and Instagram.
This week, Between the Pages will be featuring many of these gorgeous creations.
The gorgeous cake shown above was made by Barbara Regini from Barbie lo Schiaccianoci – SugarArt. The figure of the little girl and her doll are wonderful. I love how the shadow the little girl casts is her mother.
Barbara wrote the following beautiful description of her cake:
Tells the story of a little girl, scaring of her shadow, scaring about everything. But her shadow reveals that her mum (that is dead) is always with her, talking with her. Always between her and her fear.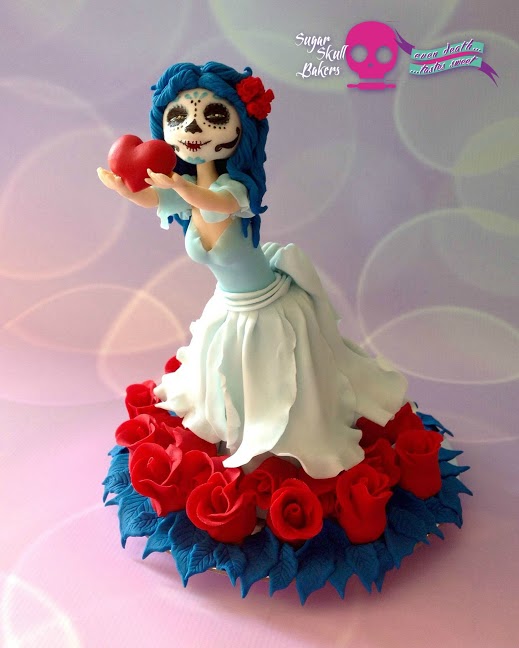 This vibrant Day of the Dead sculpture was made by Chef Sam. I love the use of color on this sculpture. The base is red roses with blue leaves. The red matches the heart she is holding out and the flower in her hair, while the blue matches her hair. The rest of the figure is lighter shades, so the red and blue really pop out and make this looks so colorful.
Sam description is wonderful – 'An offering of love to her lost but not forgotten lover. Reunited in happiness on this day.'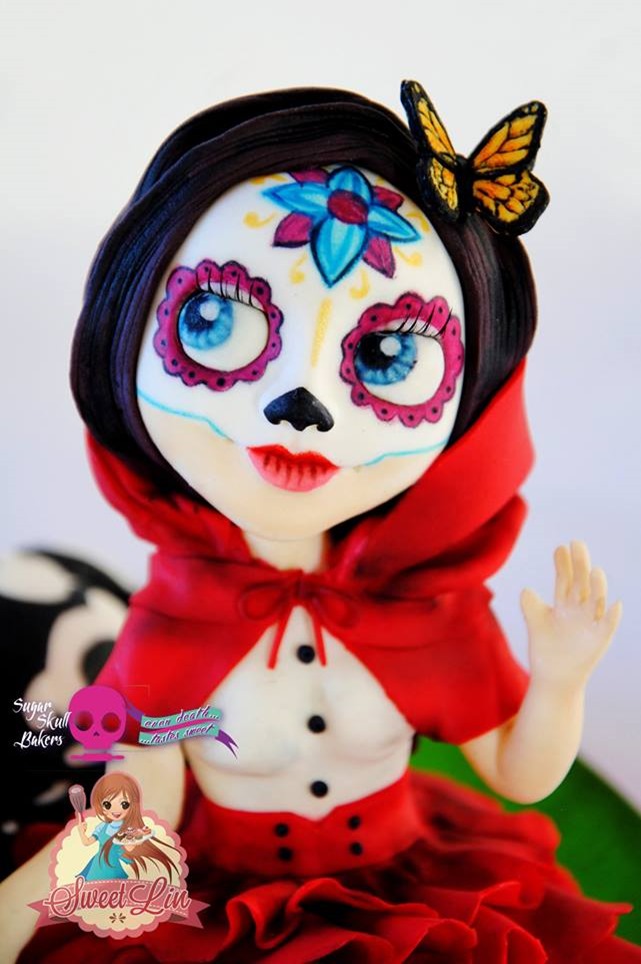 This great Little Red Riding Hood / Day of the Dead cake was made by Linasari Sunyoto from Sweetlin. Lin's hand made Little Red Riding Hood and made her face look like a Blythe doll. She the fox look cute rather than scary. She handpainted both faces. There is a monarch butterfly on Little Red Riding Hood's head because Aztec tradition holds that the souls of the departed will return as monarch butterflies.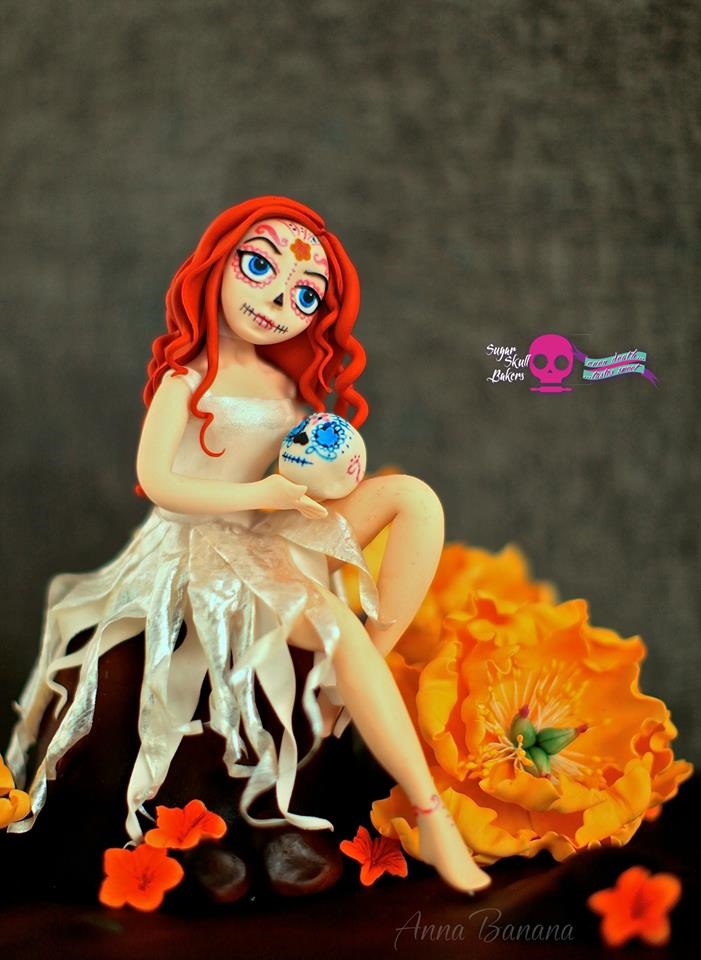 This lovely Day of the Dead sculpture was made by Anna Bananna Quisumbing from Anna Banana's Bake Shop. The figure of wife in her dress is wonderful.
As someone who has been blessed with a happy marriage, I love Anna's description of her sculpture.
I made this piece with my late Mom and Dad in mind. It depicts my mother's pure and unending love for my father, not only "until death do as part" but "until life after death".
This delightful Day of the Dead fairy cake was made by Danielle Vega from A Piece of Cake. Rosalia the fairy was inspired by a graphic image Danielle found online (artist unknown). She tried to capture the dramatic yet innocent look that she sees in her own daughters while making her. She stands 18″ tall with a wingspan of 15″. Her head was carved out of cake then covered in Satin Ice fondant. Her hair is modeling chocolate hair. Her body was sculpted out of Rice Krispies Treats and covered with modeling chocolate. Her clothing was made of f
ondant. Her gloves were made of Sugar Dress. Her rose and wings made from airbrushed icing images paper.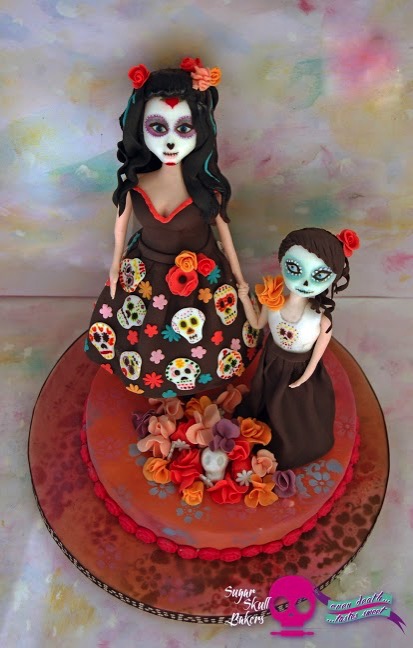 This lovely Mother / Daughter Day of the Dead Cake was made by Loraine Cox from Devoted to Cakes. Loraine decide to focus on the community and family aspects of the festival. She decided to incorporate a little girl to represent her love for her daughter. There is a clear unity and independence evident in both characters, and this is what Loraine desires for their future together: two strong and loving ladies.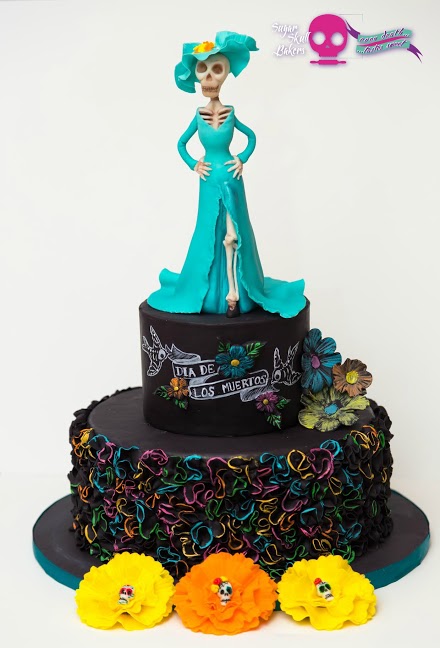 This gorgeous La Catrina Cake was made by Tara Otero. The colors on this cake are absolutely stunning. I really like the second layer which mixes a black and white chalkboard design with colored flowers.
Tara wrote the following description of her beautiful cake:
I decided to honor La Catrina because to me she symbolizes the fact that no matter who you are in life, we are all the same in death. Empower each other… that is how you will empower yourself.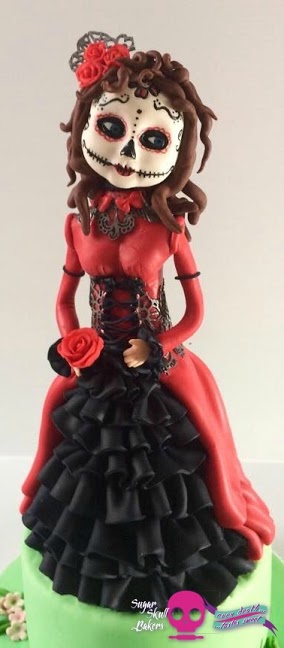 This Tijuana Lady Cake was made by Sandra Stokes McCullough from Little LADY Cakes. The cake was inspired by the song Tijuana Lady from the band Gomez. The figure of the Tijuana Lady was created from modeling chocolate. She is wearing a red and black Victorian era dress. Her face is painted for Day of the Dead. She has curly brown hair with a red flower in it.
Michelle Monaghan from Cácalicious made these terrific figures that honor our lost pets. Michelle's piece depicts a young girl embracing her beloved bulldog. The faces on the girl and bulldog are terrific. I really like the peaceful expression on the girl.