The Sugar Skull Bakers is a collaboration of cookie, sugar, cake decorators, and artists from around the world honoring the 3,500 year old Mexican holiday – Dia de los Muertos (aka The Day of the Dead).
The group, founded in 2013, by cake artist Berenice "Berry" Rabago, of Berry's Sweet Studio and graphic artist Yuki Navarro, is comprised of artists who work with edible mediums. Their skills expertise range from hobbyist to professional. Some have competed worldwide and have even appeared on National American television network programs such as Sugar Dome, Cake Wars, and more.
The Sugar Skull Bakers may also be found on Facebook, Twitter, and Instagram.
For the next few days, Between the Pages will be featuring many of these gorgeous creations.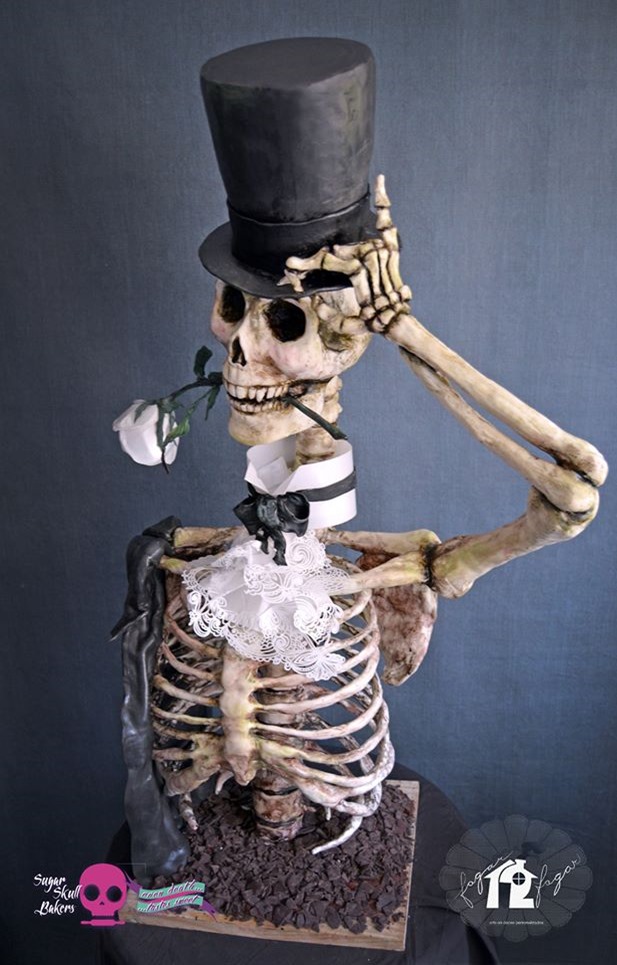 This amazing skeleton tipping his top hat was made by Daniel Dieguez from Fogar 12 Fogar. The detail on the skeleton is stunning. Something about the skeleton and his clothes makes me think of New Orleans. He'd be the perfect host for a Dia de los Muertos celebration in the French Quarters.
Daniel had a very different idea about this fellow and wrote the following delightful description of his cake:
Nobody knows the name of this European handsome fellow, but it seems that in the 19th century he was a smart rogue until he decided to accompany his wife in a trip to Mexico. Intoxicated by the beauty of the Mexican women, he was never stopping flirting, until it disappeared mysteriously. Every September 2 it gets up to enjoy the beauty and the happiness of the All Souls' Day.

Completely decorated with modeling chocolate, fondant satin ice, wafer paper and chocolate. The structure has been the whole challenge… Happy All Souls' Day!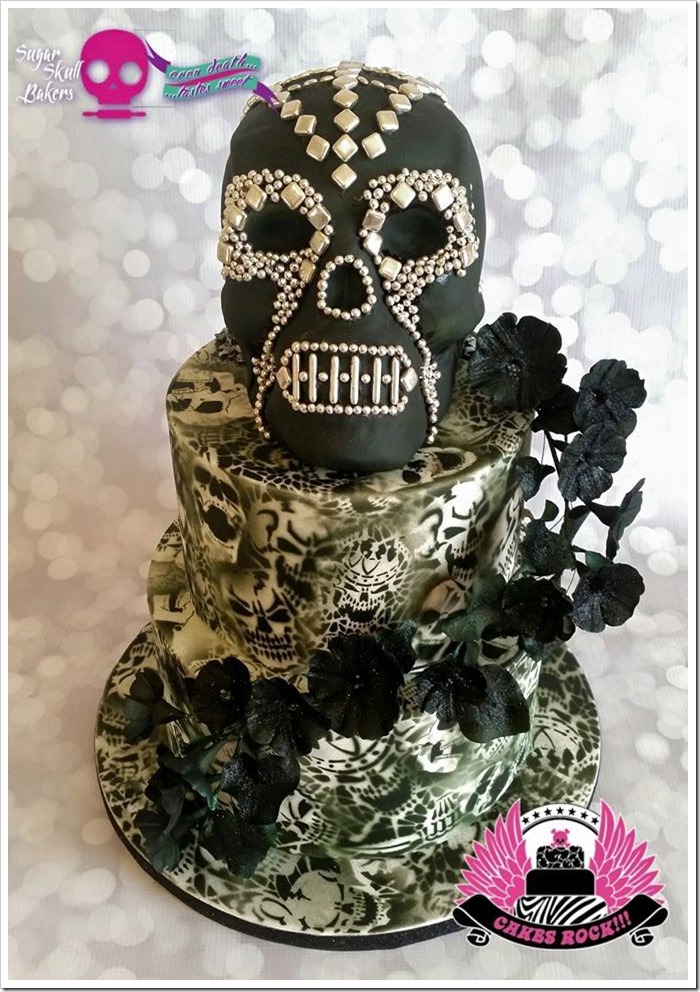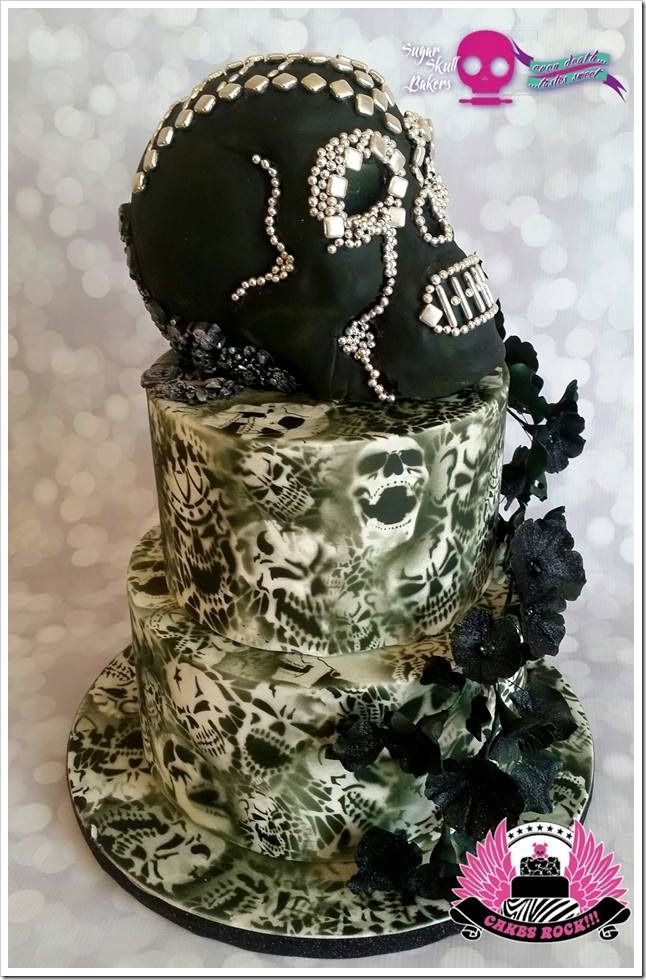 This stunning two layer Dia de los Muertos Gothic Wedding Cake was made by Christy Duffell Seguin from Cakes ROCK. The two layers and matching cake board are covered with images of skulls. The cake is adorned with black gumpaste morning glories. There is a black sugar skull with white jewels on top.
This awesome Hello Kitty / Day of The Dead Cake was made by Alessandra Estrada from Cake me Baby. The detail on this cake is amazing. All the little white beads and the white ruffles are simply stunning. Hello Kitty's gorgeous dress is made out of rice paper.
This terrific hand painted Dia de los Muertos Cake was made by Gloria Pilar Villarreal de Siller from Postres Don Fede.
While searching on the Internet for inspiration, Gloria came across a work by digital artist Millie Cieslik (Zyan Art – Melbourne, Australia). The boldness of its lines made her think of the great illustrator and political cartoonist Jose Guadalupe Posada, the creator of the original "Calavera Garbanzera" which eventually became "La Catrina". This piece is a homage to graphic arts, old and new, and the powerful message they can convey.
I really like how the top layer of the cake is larger than the bottom layer. It gives the cake a really eye popping design.
This is a Mexican chocolate cake (antique recipe), covered in white chocolate fondant and hand painted with edible black gel color.
This classic Sugar Skull was made by Michelle Borne from She Bakes Mudpies. The intricate designs on this skull are amazing. The skull was made from hand tooled modeling Chocolate and gum paste overlayed onto fondant. It was inspired by vintage lace and Day of the Dead masks.
This gorgeous Marilyn Monroe / Day of the Dead Cake was made by Mimi's Mocha Treats. It features Marilyn with her face painted for Dia de los Muertos and with a flower in her hair. She is sculpted from rice cereal treats and covered in Choco Pan modeling chocolate. Mimi then covered the entire piece with a thin layer of Wilton fondant.