I can just imagine Peppermint Patty walking up to Charlie Brown and saying "Hi Chuck." She has her hand out and a big smile of her face. This wonderful cake was made by Cakes With Character.
This cake is part of The Sugar Peanuts Gang, a cake Collaboration to celebrate the 65th Anniversary of Charles Schulz's Peanuts comic strip.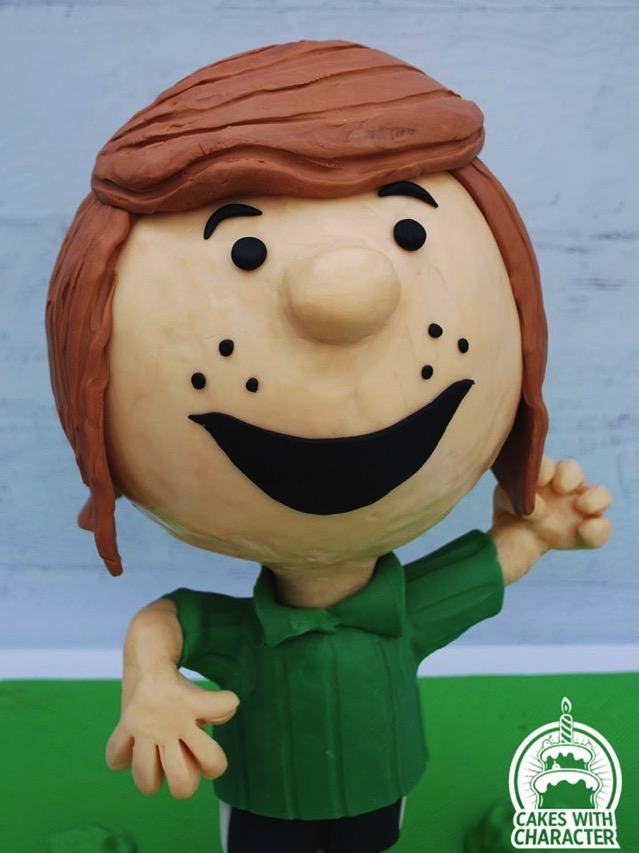 Peppermint Patty has freckles on her face. She is wearing a green shirt and black shorts.
Peppermint Patty is my favorite Charles Schulz girl character.
She is the closest to an optimist in the Peanuts characters. She sees Charlie Brown in a positive light and she is in love with him, while other Peanuts characters only see Charlie Brown as a blockhead.
Peppermint Patty is strong willed and forceful. She thinks the best of people. Her best friend is Marcie.
Peppermint Patty's favorite class is gym. She is very energetic. She is a very active character and can't sit still. She told Charlie Brown, "I may not be as pretty as that little redhead girl, and I may not have naturally curly hair like Frieda, and I may not be as smart as Lucy, but I've got one thing none of them has, I'm in shape!"
Another time she sang, "I run 5 miles every morning, I do 100 pushups every day. I pedal every night, take a swim, take a hike, I'm in shape, I'm in shape, I'm in shape."
Here are Peppermint words of wisdom about math: "Subtraction is the awful feeling that you know less today that you did yesterday."
To see Charlie Brown treats for every season, check out Snoopy and Charlie Brown.