This Splendid Frozen Fever Cake was made by Bambola di zucccero.
Elsa, Olaf, and baby snowmen are on the top of this Disney Frozen cake. Olaf is holding two of his little brother snowmen in his arms. More baby snowmen are on the ground beside Olaf. The single layer cake is green with a pink ribbon at the bottom. There are little pink flowers on the side of the cake.
Elsa wants to have the perfect birthday party for Anna, but Elsa has a bad cold. She goes around everywhere sneezing. With every one of her sneezes, a few tiny snowmen come life and head toward the ice cream birthday cake that Elsa has made especially for Anna.
I like the way Olaf likes the ice cream cake and can't resist taking a bite out of it. Then all of the tiny snowmen created by Elsa's sneezes are also attracted to the ice cream birthday cake, so Sven and Kristoff have to fend them off and protect the cake.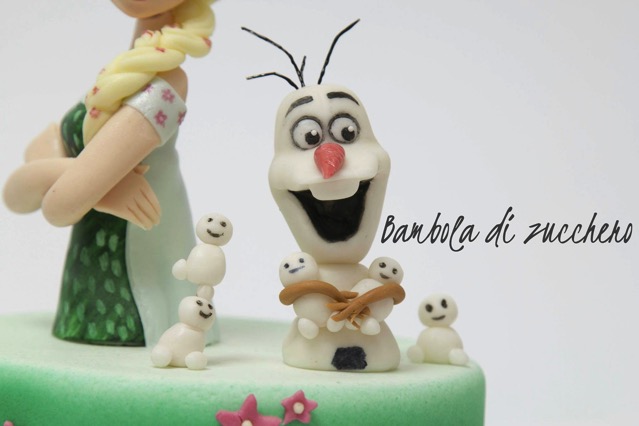 Here's an in progress picture of Elsa.
In addition, check out these terrificFrozen cakes and cookies with Anna, Elsa, and Olaf.