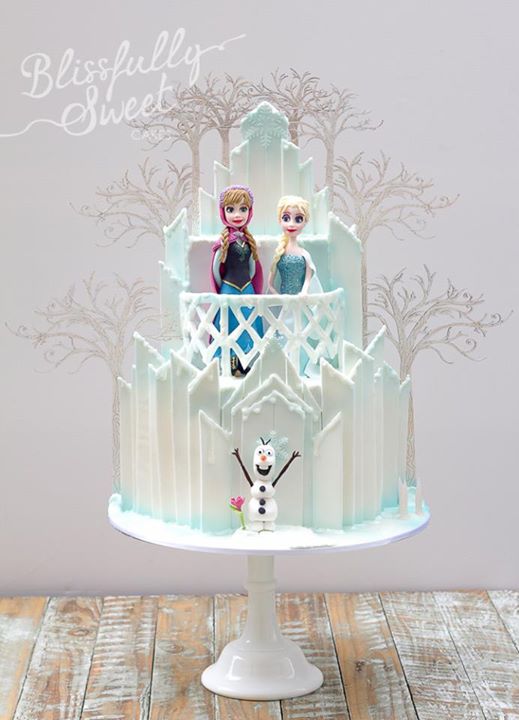 This Fabulous Disney Frozen Cake was made by Blissfully Sweet. This Disney cake features Anna, Elsa, and Olaf. Elsa and Anna are standing on the icicle balcony of this amazing Frozen castle. Elsa is wearing her blue ice princess dress and Ann is wearing her traditional dress with a black top, blue skirt, and dark pink cape. The figures were handmade using fondant. The entire cake creates a Frozen ice castle. Trees covered in icicles surround the ice castle. These tree were cut from wood using a laser and have engraved woodgrain texture and were painted white and have white glitter applied over the white paint. They were made to order by Glistening Occasions. Everything else on the cake is edible. The bottom tier of the cake is a hexagon to make it look more like the shape of a castle. Snow covered panels were placed all over the cake to give it a Frozen castle look. The cake was covered with pearl and blue pearl luster dust to make it look icy and cold. Olaf is standing beside the door of the castle. A purple flower is in the snow beside him. This Disney masterpiece was made using lemon poppyseed and chocolate cake.
Close-up of Anna and Elsa on Icy Balcony
In addition, check out these terrificFrozen cakes and cookies with Anna, Elsa, and Olaf.