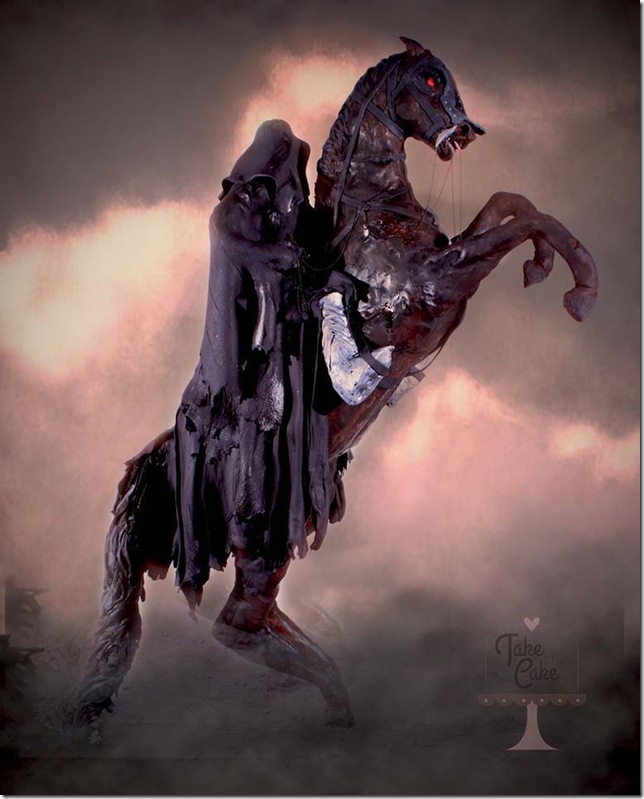 Cakes From Middle Earth is a Sugar Art Collaboration done by thirty talented cake decorators and sugar artists from New Zealand who have joined together to celebrate the film works of Peter Jackson.
This collaboration features many marvelous edible artwork pieces based on a many Peter Jackson's films including: Lord of the Rings, The Hobbit, King Kong, District 9, The Adventures of Tintin, The Lovely Bones, Heavenly Creatures, The Frighteners, Crossing the Line, Valley of the Stereos, West of Memphis, Jack Brown Genius, Forgotten Silver, Bad Taste, Braindead, and Meet the Feebles.
On the Cakes From Middle Earth site, there are pictures of each creation and a short interview with the baker which tells the Peter Jackson film their piece is based on, something about the piece and why it was chosen, the medium used, and the struggles and highlights of each piece. Check out these fabulous creations at Cakes From Middle Earth.
I'll be featuring a bunch of these cakes in December. Cakes From Middle Earth was created and overseen by by Mel Todd of Take the Cake. So, I thought it was only fitting to start with Mel's stunning Nazgul cake seen above.
The detail on the horse and Ringwraith is amazing. Notice the individual metal rivets on the leather pieces covering the horse's face, the hairs on the horse's mane, the red eyes, the detail of the mouth, the spots of blood on the horse, and the tattered cloak of the Nazgul. Many edible mediums were used to make this wonderful Lord of the Rings masterpiece. Modeling Chocolate was used to make the Nazgul and the horse. Fondant was used for the accents, cape, and straps on the body, mane, and tail. Rice Krispies Treats were used as a base.
Close-up of the Black Rider
Side view of the Nazgul with his sword
Rear view of the Nazgul and horse
Mel said that creating the support structure used to make the horse stand on its hind legs proved challenging at first. The final results are simply stunning. Mel did a great job getting the horse to stand.