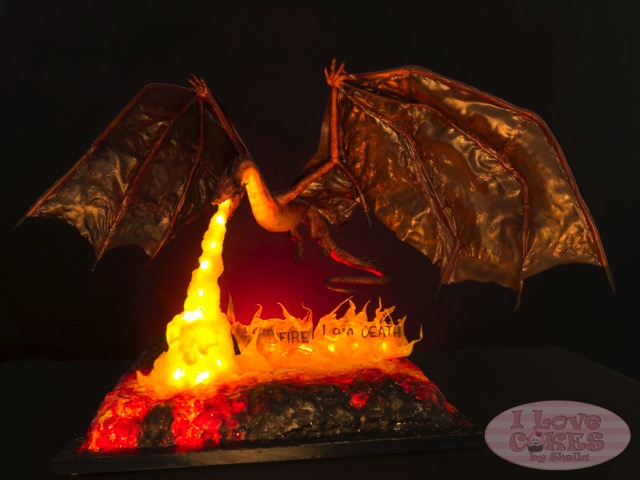 Continuing our coverage of Cakes From Middle Earth Cake Collaboration,we are featuring three edible recreations of the fire-breathing dragon Smaug from The Hobbit.
This Fabulous Smaug Desolates Middle Earth Cake was  made by Sheila Haughie of I Love Cakes by Sheila. This cake was inspired by the ending scene from The Hobbit: Desolation of Smaug when Smug flies towards Esgaroth Upon the Long Lake (aka. Lake-town) and says "I am Fire… I am death." These words are written in red in the yellow flames on the cake. The chest and neck of the dragon glow yellow as fire and destruction spew out of his mouth. LED lights inside the chest illuminate the chest in yellow. Smog was made using fondant and modeling chocolate and then airbrushed and painted. Rice paper was used to make his wings. His support structure was made using a 6 mm metal rod and #12 guage utility wire and aluminum craft wires for the wings, head, legs, tail, and fingers. Smaug is 35 inches long with a wing span of about 47 inches and is 26 inches tall. The bright yellow flames were made using pulled sugar and flickering LED lights. The cake and cake board were covered in fondant and painted to look like molten lava.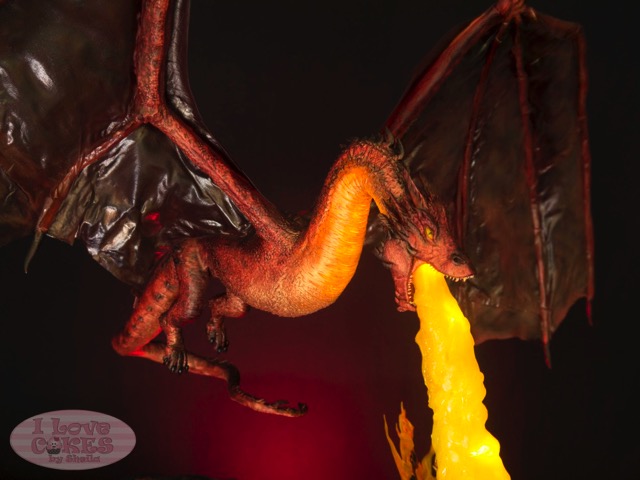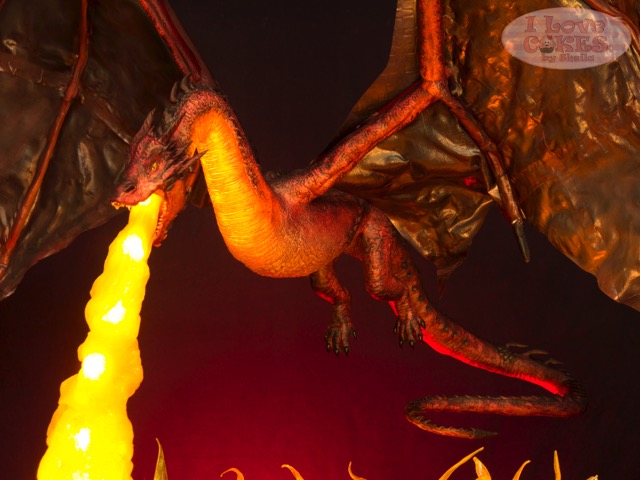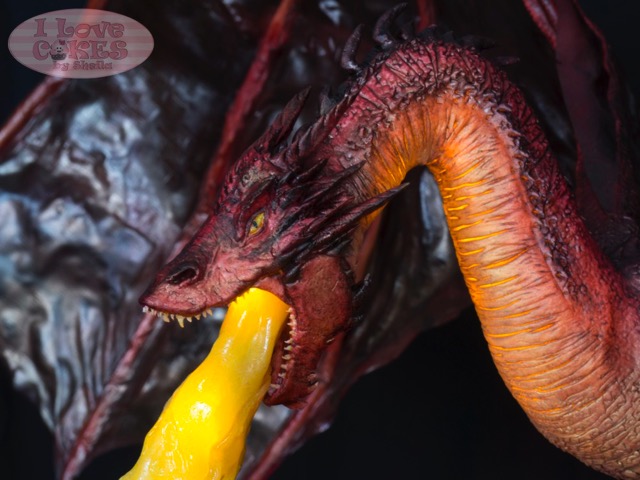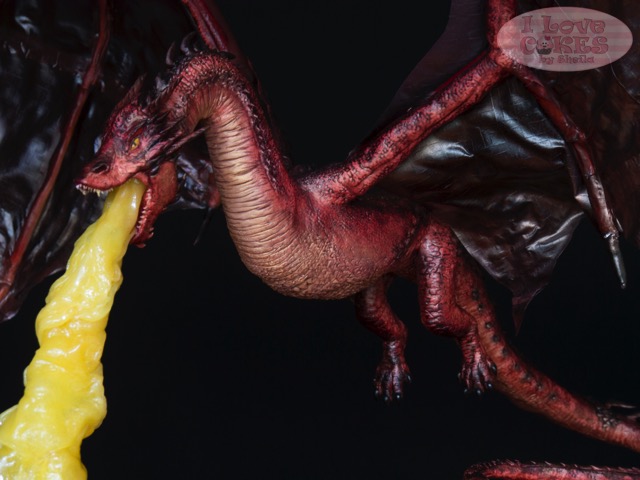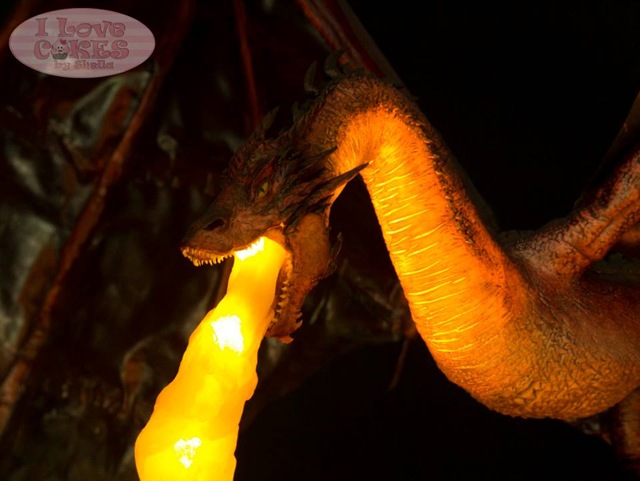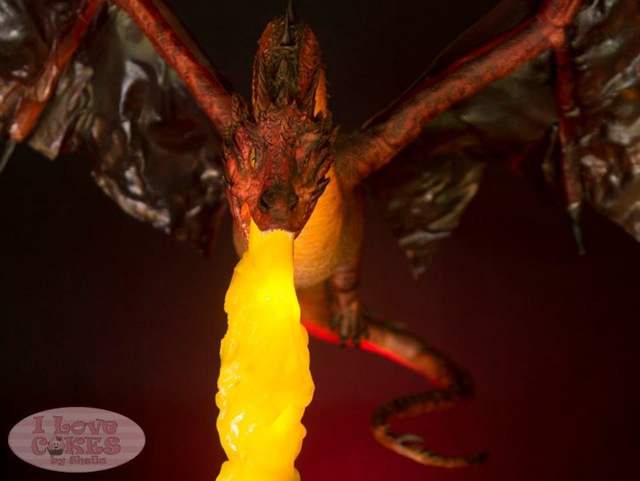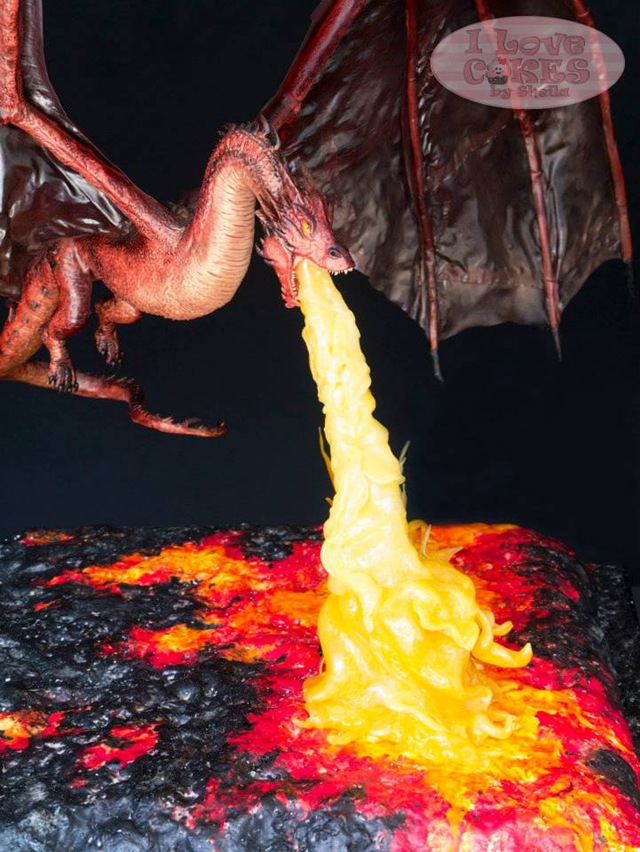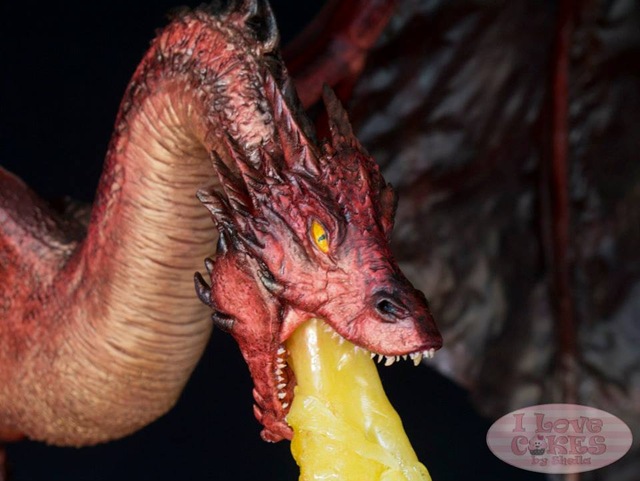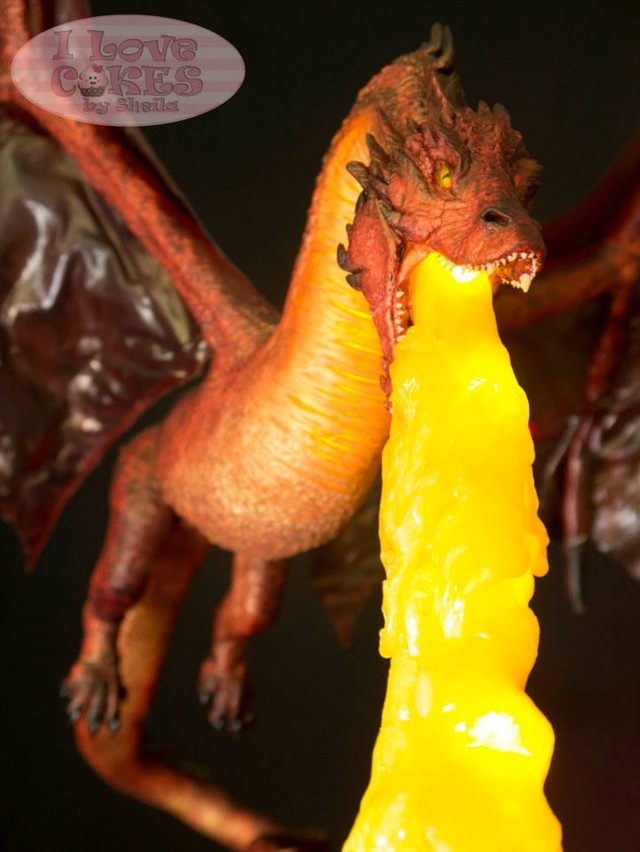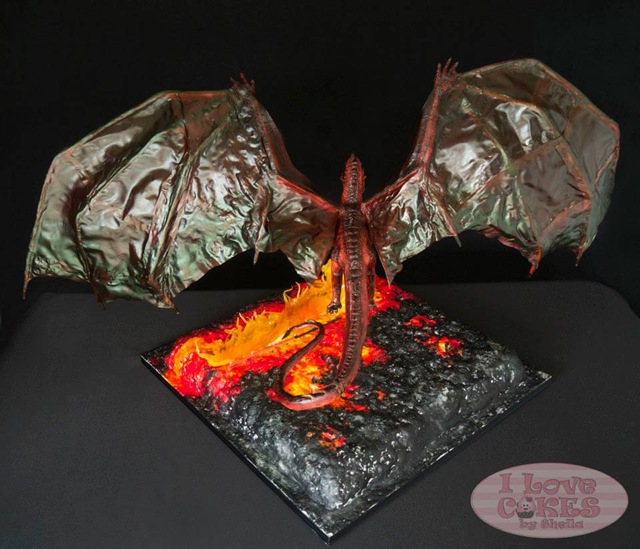 ---
This Awesome Smaug Surrounded By Golden Treasure Cake was made by Sandra Boston of KiwiCakes. This Hobbit Cake is based on the scene where there is a room full of gold treasure where all you can see is gold until Smaug's eye opens and reveals the dragon. This Golden treasure is 12 inches tall. Eight bottles of lustre dust, and two bottles of edible paint, and four bottles of rose spirit were used in the making of this golden cake.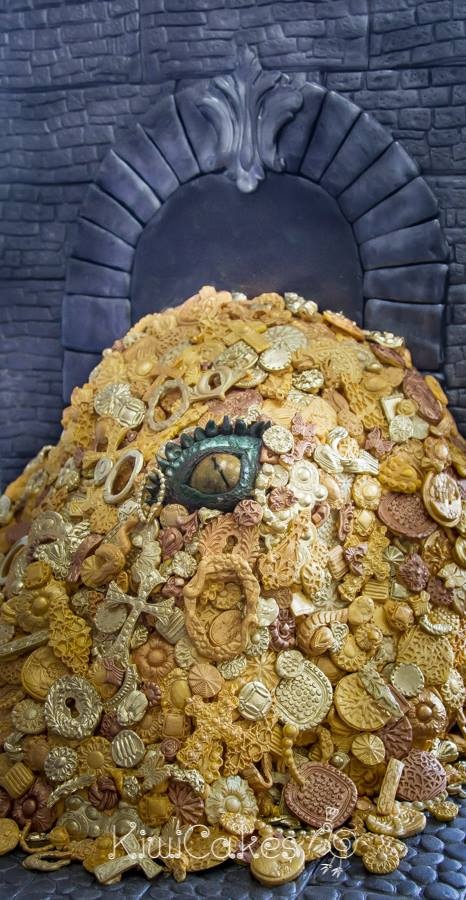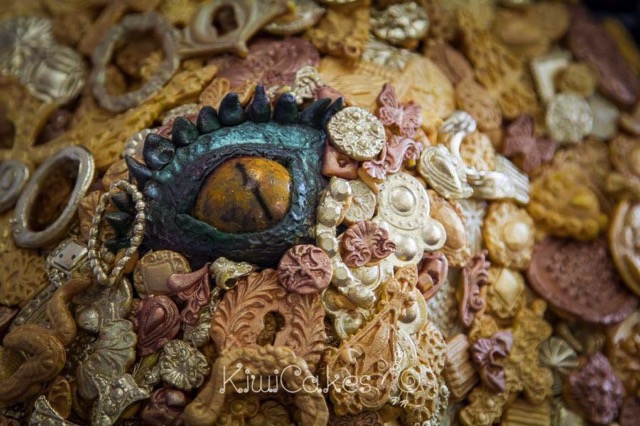 Close-up of Smaug's eye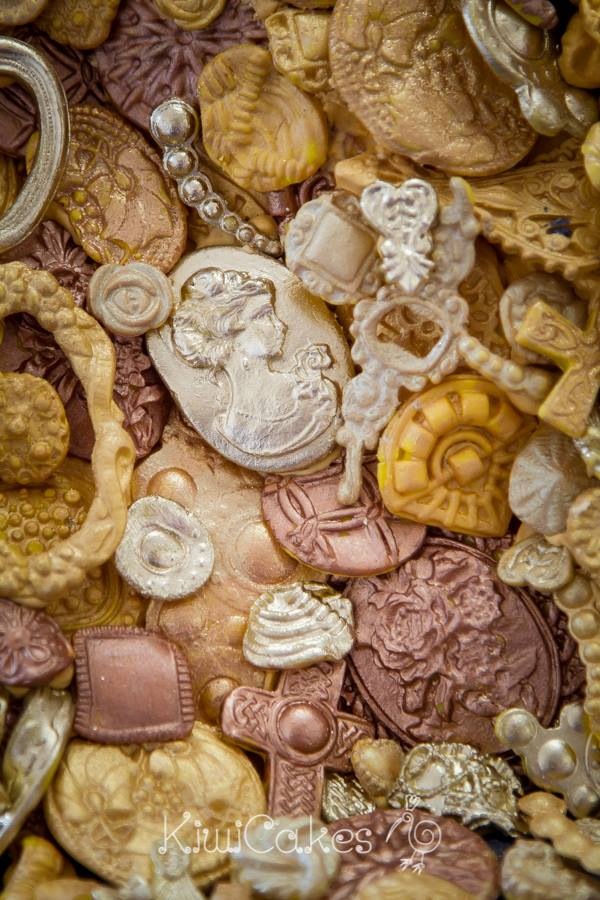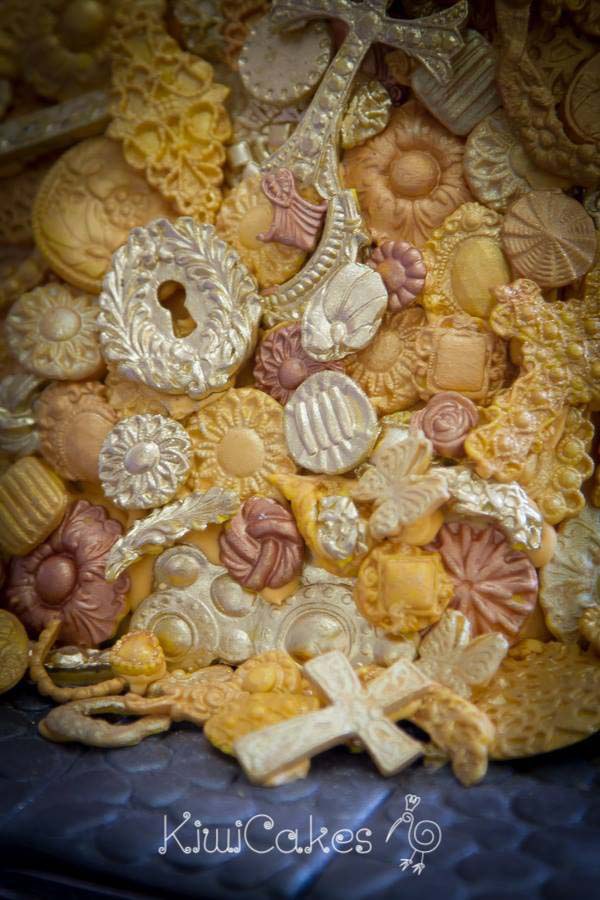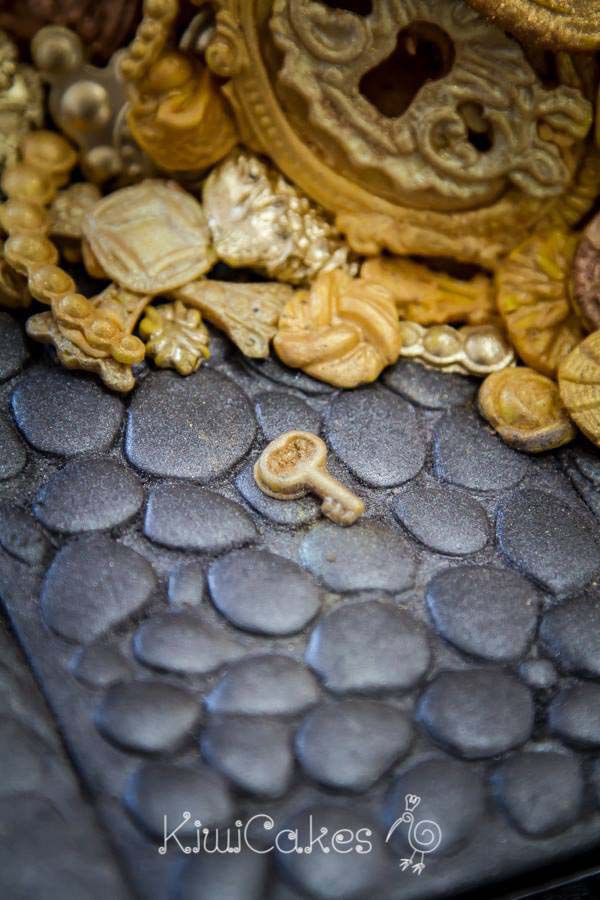 ---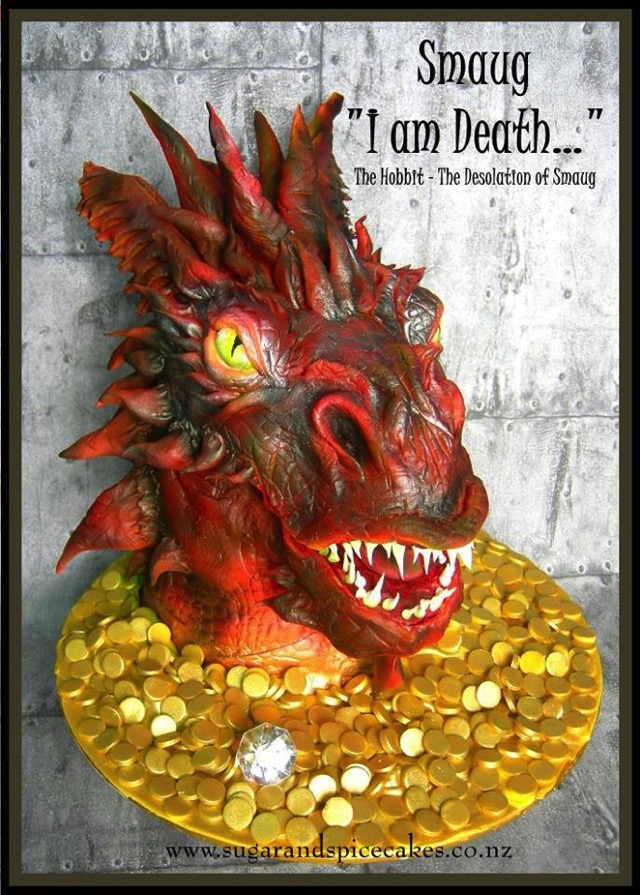 This Splendid Smaug the Mighty Cake was made by Mel Hurst of Sugar and Spice Celebration Cakes. This Hobbit Sugar Art is 40cm high. Its support structure was made from PVC pipe. Rice Krispies Treats were used as a base for the head. Fondant was used to create the scaly and rugged appearance of Smaug's head. Air-brushing added the colors of the dragon.  The cake board was gold and covered with golden coins. The large white diamond-like Arkenstone is on the top of the gold coins.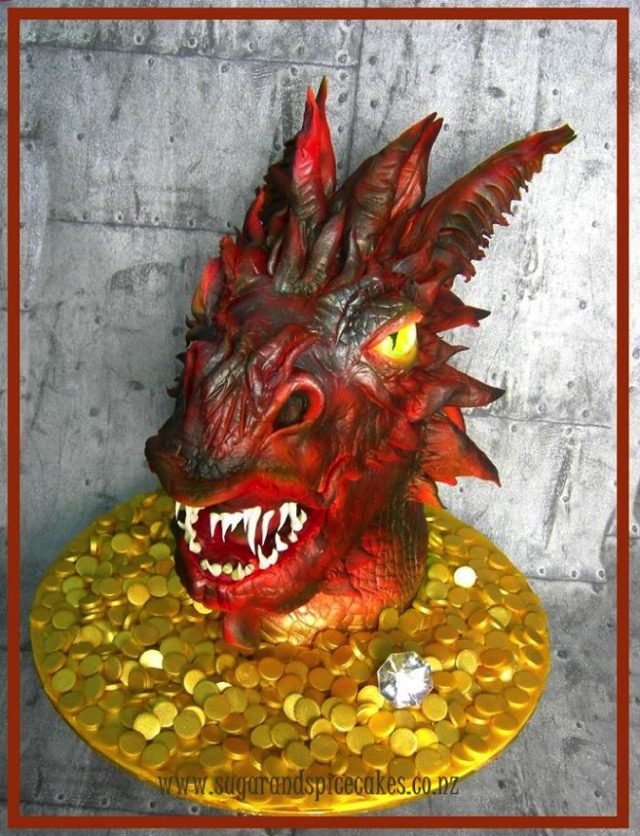 Mel also used her cake to make these adorable mug shots for Smaug: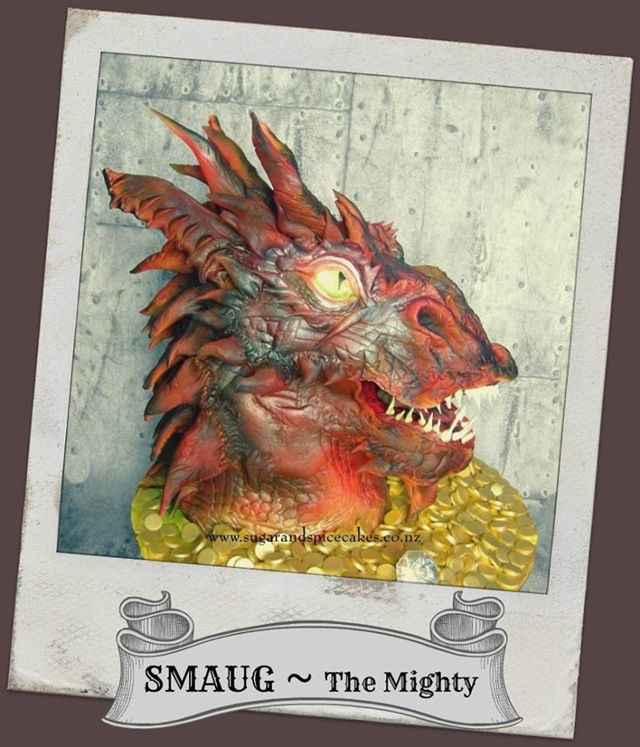 To see more of these fabulous sugar creations please visit Cakes From Middle Earth.