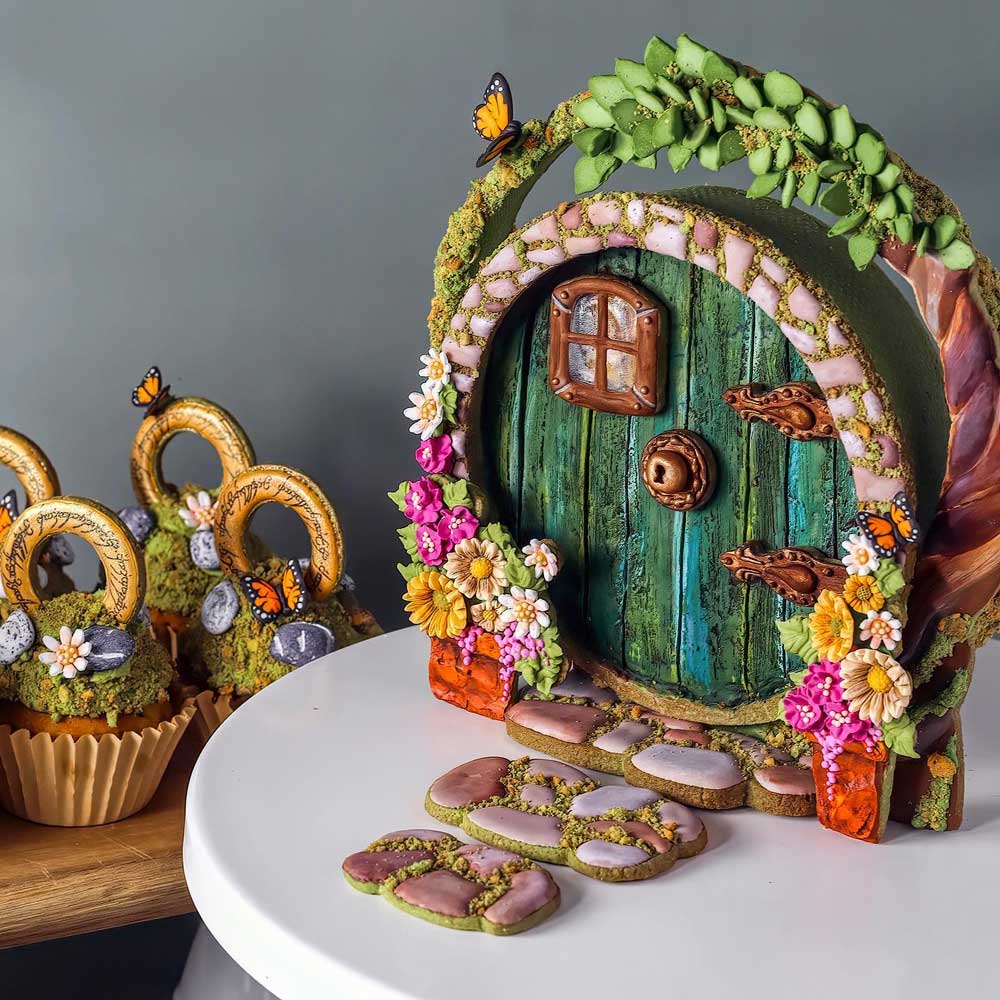 This Vertical Hobbit Hole Tart is a stand up Hobbit Hole Door tart with complimenting cookies made from pistachio pâté sucrée for the walkway, flower pots, and a tree. In addition coordinating cupcakes have green moss frosting and The One Ring cookies in the center.
These wonderful tart was made by Inspired To Taste. The walkway cookies have sets of royal icing stones on separate cookies that put together make up a stone path to the Hobbit Hole. Notice that green royal icing moss in between each stone.
The tart has a pistachio pâté sucrée shell. It has a filling of honey-roasted pistachio paste, honey mead and blackberry curd, and blackberry-dark chocolate ganache. Honey mead has an ale flavor with a bit of sweetness from the honey, and the earthiness of the pistachios and blackberries and a bit of bitterness from the dark chocolate.
Details around the Hobbit Hole Door
In addition the Hobbit Hole is on it own stone path cookie so that it stands up. Also on either side of the walkway are two orange flowerpot cookies with different colored fondant flowers and butterflies. I like the way the flowers and flower pot are highlighted in brown tones to give them dimension. In addition the top of the door is surrounded by small stones that match the stones of the walkway.
The Door Tart
Next the door has been mode to look like wooden boards and covered in green royal icing. In addition it has been painted multiple shades of green to give it more character. Also the door hinges, window, and lock look like tiny separate cookies detailed in brown royal icing. They cookies were made from pistachio pâté sucrée.
The Ring cookie behind the door
Also behind the door is a ring shaped cookie that is made using honey-roasted pistachio pie crust It has been covered in textured green royal icing to represent moss and in brown royal icing to represent a tree trunk. The green moss matches the moss on the cookies. Also the brown matches the brown on the door hinges. I love the earth tones of this entire Vertical Hobbit Hole Tart. In addition there are tiny green royal icing leaves to join the moss with the tree. Also a lone orange Monarch butterfly is on the moss.
Here's a close-up of the decorations.
Here's a close-up of The One Ring Cupcake. The butterfly matches the one on the tart.
For more Hobbit Party Ideas:
Another terrific realistic looking sculpted Bag End cake