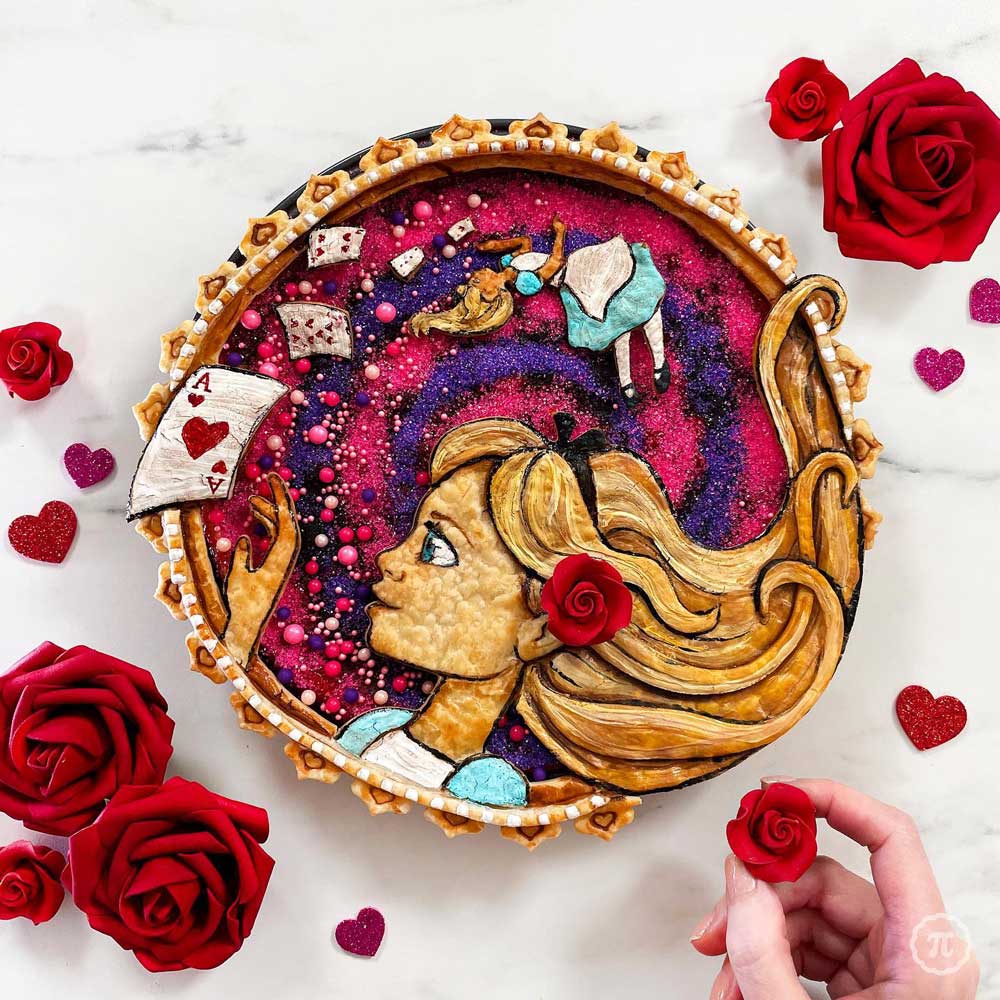 This Alice in Wonderland Pie features Alice with cards and another smaller Alice caught in the vortex that takes her to Wonderland. A red sugar flower is on top of her yellow hair.
This wonderful pie was made by The Pieous.
Cut Base shape from pie dough
The base Alice in Wonderland design is cut out of pie dough. Here you can see the basic shapes of Alice's head, the cards, and a smaller Alice.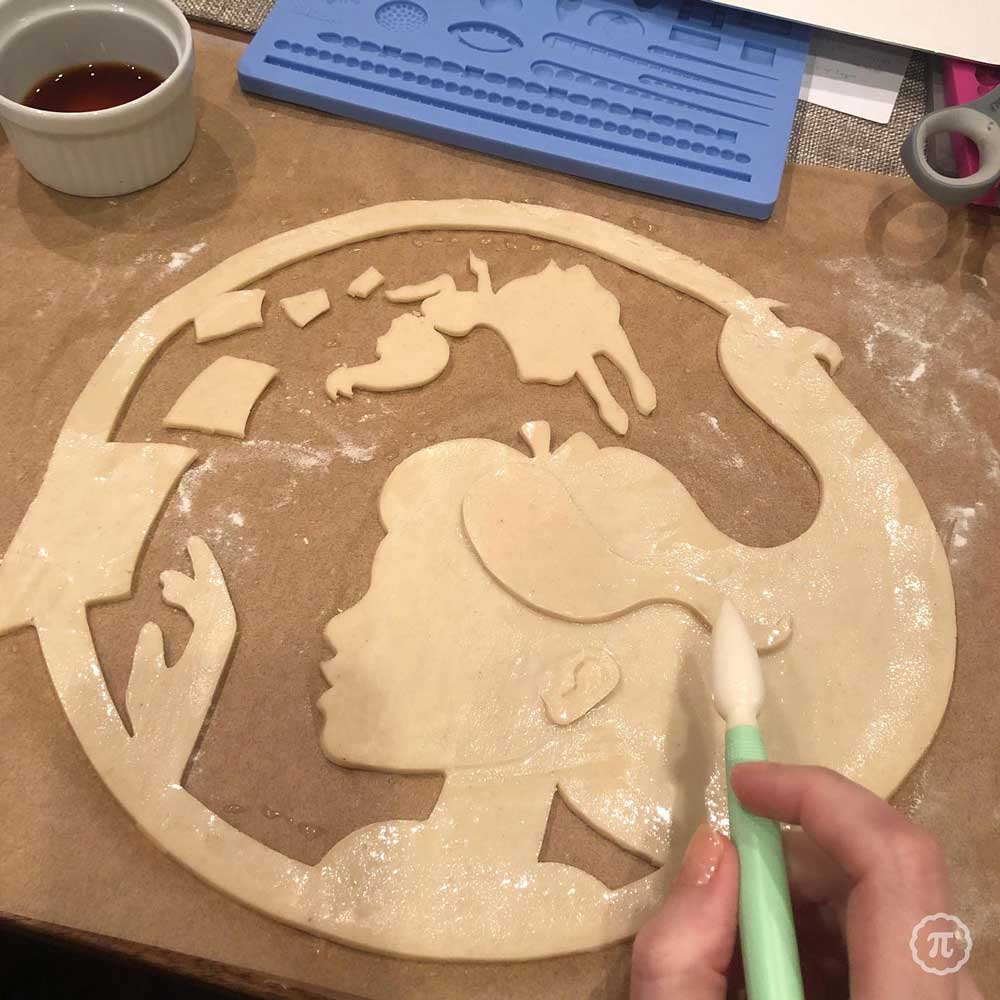 Next additional pie dough shapes are cut and placed on top of the base layer for hair and Alice's ear.
After that, the edge of the pie was cut into a border design with hearts inside small crowns. Also lines are added to the hair to make strands of hair.
Paint on details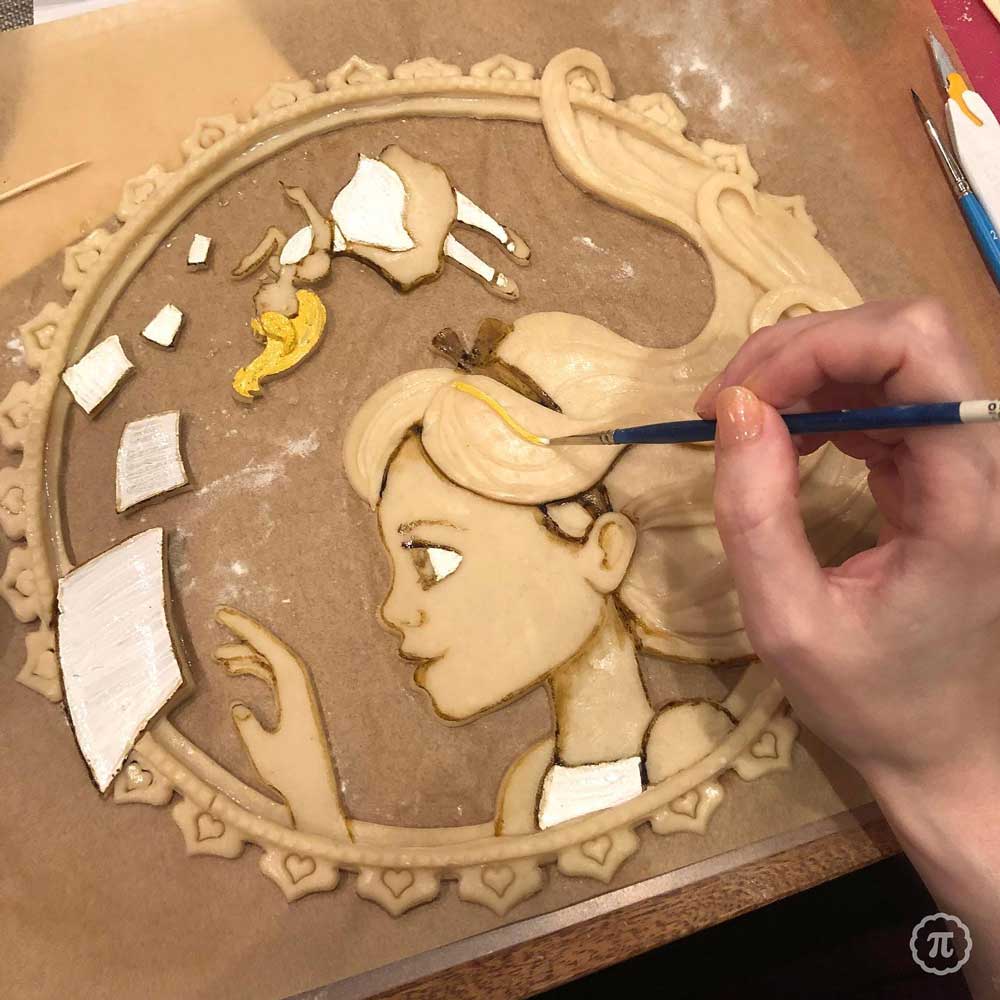 Next the crust is painted with a base coat of white for the dress and card backgrounds. Also the hair is painted yellow and the cards, Alice's head, hand, and the small Alice are outlined in black and the hair is painted black.
After that additional details are painted on. The blue of her dress, and multiple shades of yellow for the hair are painted. Also white dots are added around the crust border and each heart is outlined in black.
Make swirl with colored sugar
In addition, the vortex swirl was made by swirling pink and purple colored sugar on top of a cherry pie.
Add final details
After that the pie crush is baked separately and then put on the pie. An edible marker is used to outline the cards and the strands of hair and and the small Alice. Also a red edible marker is used to make the red hearts on each of the playing cards.
Looking for Alice in Wonderland party ideas?
This Amazing Alice In Wonderland Cake Will Have You Seeing Circles
Superb Alice in Wonderland hand-painted cookies
Alice in Wonderland cake topper with fondant figures of Alice and the White Rabbit with his pocket watch