This Terrific Great Goblin Cake was made by Christine Jeffery of Imaginarium Cakes as part of the Cakes From Middle Earth cake collaboration. She chose this Hobbit character because of the extreme nature of his grotesqueness. She knew that the level of detail required for such a disgusting character would be challenging. The terrific detail of the bloodshot yellow eyes, the yellow skin with all of the warts, scars, and growths all over, the thin gray stringy hair, and the long toenails is amazing and made the character look very realistic. The crown on his head looks like a large vine tied in a circle with large white teeth strapped to it. The top of the staff he is holding has an animal skull with large brown horns pointing to the side and two tall thin black horns sticking up straight, and with small skulls and shrunken heads handing down. She did a Fantastic job capturing the likeness of this Hobbit character in edible form. 
The internal structure was made from aluminum armature, stainless steel bolts, and a wooden board. The cake was vanilla sour cream cake colored green to represent the insides of a goblin.  The cake was covered with red ganache and finished off using modeling chocolate. The Great Goblin's crown and staff were made from modeling chocolate. 
Close-up of the Great Goblin's face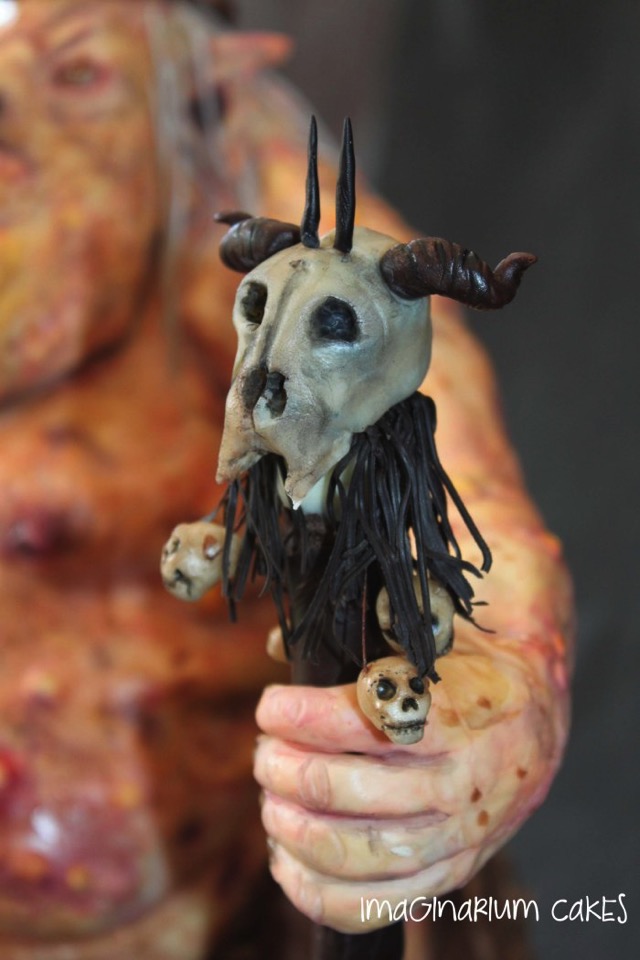 Close-up of the top of his staff with animal skull and small shrunken heads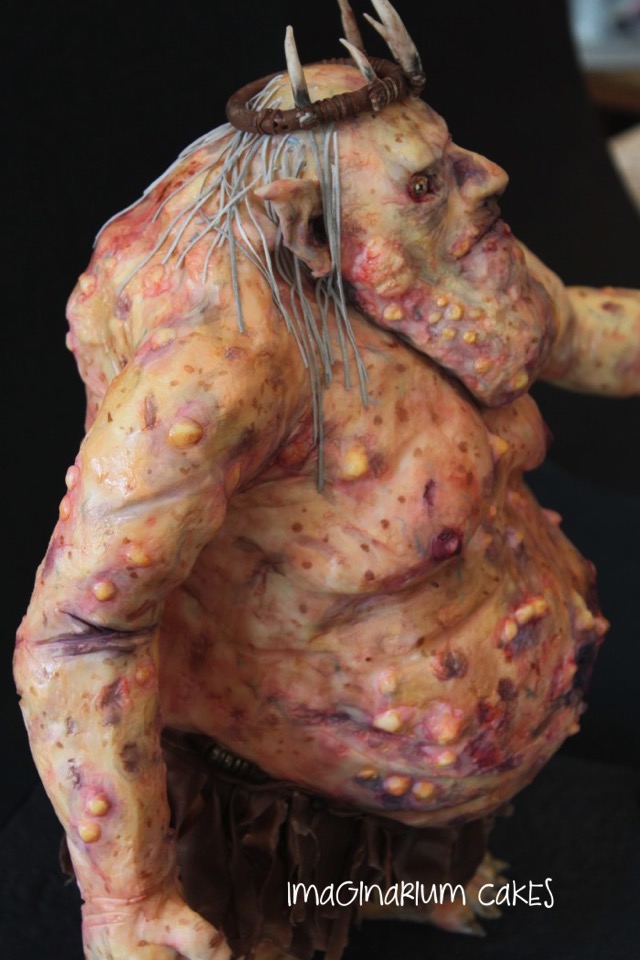 Side view of The Great Goblin
This Marvelous Azog Cake was made by Joanne Tan of Scrumptious Cakes for Cakes From Middle Earth . This edible bust of Azog the Defiler is 33 cm high. She did a great job with the scars, cuts, blemishes, the jagged teeth, and the evil menacing eyes. Agog was the leader of the Goblins of Moria. Tolkien calls him 'great Orc'. Tolkien considered goblin an English translation of the word orc and called orcs goblins in the The Hobbit.
Close-up of Azog's face
To see more of these fabulous sugar creations please visit Cakes From Middle Earth.