Continuing our coverage of Cakes From Middle Earth, here is the logo of this Wonderful cake and sugar art collaboration. This film has a picture of the Terrific works of thirty talented cake decorators and sugar artists from New Zealand who have joined together to celebrate the film works of Peter Jackson.
Since this collaboration honors Peter Jackson, it is only fitting to have a cake that represents him. This Superb Sir Peter Jackson Cake was made by Sarah Clark of The Cake Tin. The detail of this edible artwork is amazing. The head was made using a solid chocolate skull base covered in modeling chocolate for all of the facial features and hair. His torso was made using Rice Krispies Treats covered in modeling chocolate. It took three hours to make the beard and five hours to make the hair by cutting individual strands of hair. His shirt and jacket were made using fondant. She did a great job with his eyes.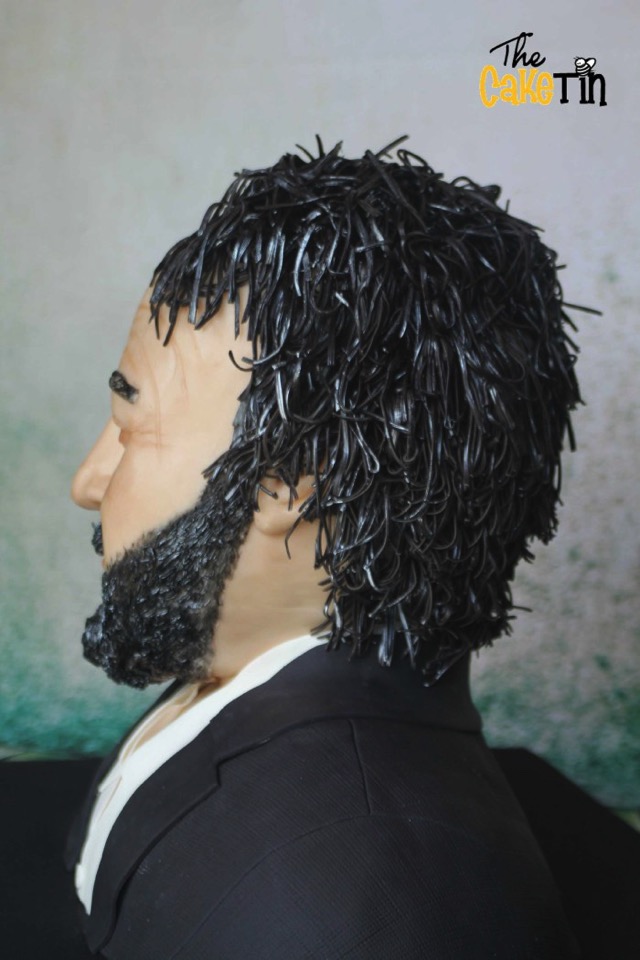 Close-up of Peter Jackson's eyes
These Marvelous Sugar Art Stiletto shoes were created by Jo Orr of Ciccio Cakes. These wonderful edible creations were inspired by Peter Jackson's films including: Lord of the Rings, The Hobbit, King Kong, District 9, The Adventures of Tintin, The Lovely Bones, Heavenly Creatures, The Frighteners, Crossing the Line, Valley of the Stereos, West of Memphis, Jack Brown Genius, Forgotten Silver, Bad Taste, Braindead, and Meet the Feebles. These shoes would make great cake toppers. The shoe theme was chosen to pay homage to Fran Walsh, Peter Jackson's spouse. The large gold star in the middle represents Sir Peter Jackson's star on the Walk of Fame in Hollywood that he received on Monday. Each shoe expertly incorporates elements of the film it represents in the edible medium of gumpaste.
The Heel of this Hobbit shoe is the staff of Gandalf the Grey. The One Ring is in the top of the staff. Bilbo's outfit is represented in the rest of the shoe. The label inside the shoe says Shire Shoes to represent the Hobbit's shire.
The shoe heel of this Lord of the Rings Shoe is Treebeard. The Witch-king of Angmar is the front of the shoe. The sides and back are the Elven cloak and leaf brooch. The inside of the shoe has Sauron Shoes to represent the Eye of Sauron.
The heel and back of this King Kong shoe are King Kong's hand. The front of the shoe represents Ann's dress. The label inside the shoe is Empire Shoes to represent the Empire State building.
This Tintin Shoe has a heel based on Captain Haddock's Jersey, the front of the shoe is Snowy and the rest of the shoe is Tintin's clothes.
This District 9 Shoe represents the alien or Prawn.