This lovely King Kong Cake was made by Jessica Atkins from Rosy Cakes as part of the Cakes From Middle Earth.  Cakes From Middle Earth is a Sugar Art Collaboration done by thirty one talented cake decorators and sugar artists from New Zealand who have joined together to celebrate the film works of Peter Jackson.
Until I read Jessica talking about her cake I didn't realize how important of a role King Kong played in Peter Jackson's life.  Without the classic 1933 version of King Kong, we would not have any Peter Jackson films. When Peter was 9, he saw King Kong on TV and fell in love with it. When he was 12, he used his parents Super 8 mm film camera and attempted to recreate the movie. He even made a model of King Kong using wire, rubber, and his mother's fur coat. While Peter wasn't successful, these experiences were what caused Peter to decide to pursue a career in film.
Jessica wrote a wonderful description of her cake "The scene in the film where Kong holds Ann Darrow in his hands is so iconic and represents the story perfectly.  I knew I needed to recreate this cake and I wanted Kong to look like he was almost in love or heart broken and sad rather than scary." She also wrote "The biggest struggle I had was getting his expression right.  I didn't want him to look scary, I wanted a softer expression…".
Kong's expression is wonderful.  Kong's heavy brown and lips that are pointed down make King Kong look sad, not scary.  The other thing which makes this cake work is Ann Darrow's expression.  She looks calm and asleep.  The combination of the two characters' expressions make King Kong look like a character we would sympathize with instead of fear.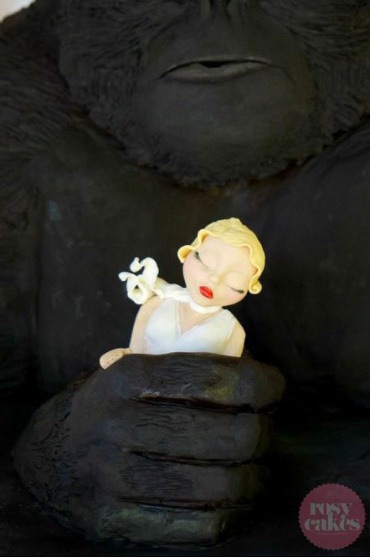 King Kong is made from cake.  He is covered in chocolate ganache and Bakels fondant.  He is sitting on a GoBake cake board and has wooden dowels supporting him internally.  His hand is made from Chocit modelling chocolate.  Ann is made from Bakels fondant.  Kong also has a heavy dusting of black rainbow Dust.