This Marvelous Smaug cake was made by Tartas Imposibles. It has Smaug, Bilbo, and The Hobbit book. This cake has The Hobbit book in an open position. The pages of the book are torn like Smaug has just popped out of the book. The Hobbit book cover has green grass,and black mountains with gray and white tops, and a white sky with birds and the outline of the moon. It looks just like a copy of the book cover. There is a gold cloth bookmark hanging over the spine of the book. Bilbo is hiding behind the book to get away from Smaug.
Smaug's head and neck are showing. There are gold coins on Smaug and scattered around on the cake board near the dragon. The cake board is a gray stone pattern.
This Hobbit cake was made using sponge cake, fudge, and modeling chocolate. Smaug's neck and head were made using Rice Krispies Treats covered in modeling chocolate. Modeling chocolate made it possible to create a Smaug with complex blending of many of different colors within a narrow color band. Bilbo was made using modeling chocolate.
Head of Smaug with textured dragon skin
Notice the detail of Smaug's mouth, eye, and nostril
Bilbo beside the Hobbit book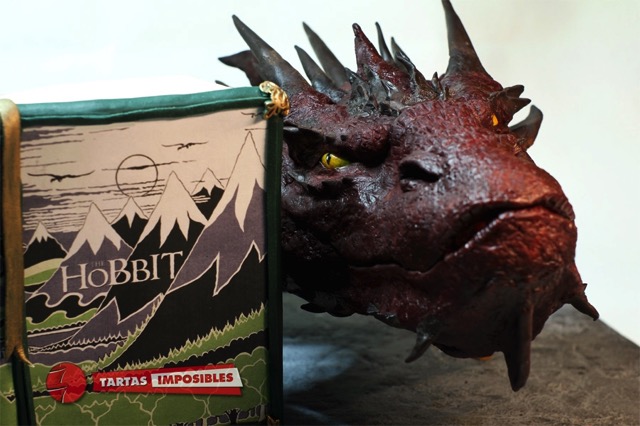 Smaug peeking around The Hobbit book
Top view show bookmark and golden corners of The Hobbit book
Coins of gold fall on the cake board with Smaug as he drags them out of the book when he escapes.
The Hobbit pages are torn as if Smaug is coming out of the book
For more Hobbit Party Ideas:
Another terrific Bag End house