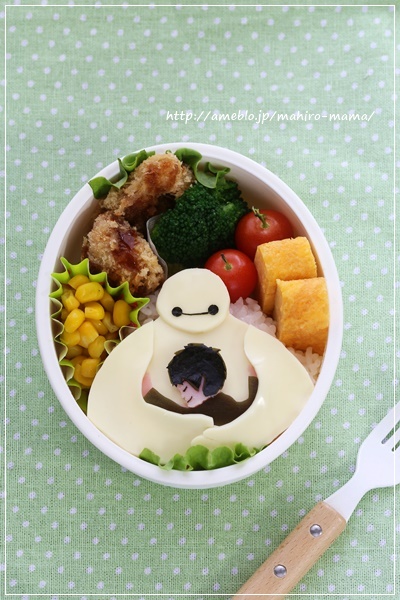 This Terrific Big Hero 6 Bento Box was made by Momo's Obentou.
In this Big Hero 6 Kyaraben, Hiro Hamada is hugging Baymax. Baymax has his arms around Hiro. This is a very touching scene from the Disney movie, Big Hero 6. It reminds me of what a great fried Baymax was to Hiro and how Baymax helped Hiro when Hiro lost Tidashi.
Hiro was made from seaweed and Baymax was made using egg. Yellow corn, a red tomato, and green broccoli are around Baymax and Hiro.
Please check out the Superb Easy Baymax Bento Box lunch for another great Big Hero 6 Kyaraben.
Also, check out these splendid Bento Boxes.