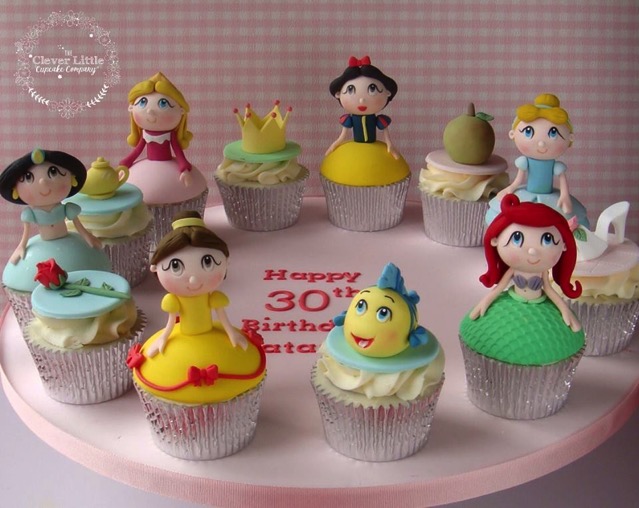 These Fabulous Disney Princess Cupcakes were made by the Clever Little Cupcake Company. These Disney cupcakes features each princess with a favorite item or character.
The Belle cupcake features Belle in her yellow dress. The cupcake beside her is a single red rose to represent the Beast's rose.
The Jasmine cupcake has Jasmine in a light green dress. Beside her is a cupcake with Aladdin's lamp.
The Sleeping Beauty cupcake shows Sleeping Beauty in her pink dress. Beside her is a cupcake with a golden crown to represent when she would take her place as the princess of the kingdom.
The Snow White cupcake features Snow White in her yellow, blue and red dress with a red bow in her hair. Beside her is a cupcake with an apple.
The Cinderella cupcake has Cinderella in her blue dress. Beside her is a cupcake with a white glass slipper.
The Ariel cupcake has Ariel in her green dress and purple top. Flounder is on the cupcake beside her.
These Disney Prncess cupcakes look great. I like the way each princess is beside something that is associated with her.