This amazing Jack Kirby Cake was made by my good friend Jean Schapowal from Cakes with Character. Jean made this cake for the That Takes The Cake Competition in Austin, Texas.
To fully appreciate Jean's amazing cake, it helps to know a little about Jack Kirby.
Jack Kirby is known as the King of Comics.
Here are just a few of the characters that Jack created or co-created: Captain America, Bucky, Peggy Carter, Nick Fury, The Red Skull, The Hulk, Marvel Comics versions of Thor and Loki, Jane Foster, The Thing, Challengers of the Unknown, Darkseid, Orion, Mister Miracle, Groot, The Avengers, The X-Men, The Fantastic Four, The Inhumans, The Silver Surfer, The Black Panther, Doctor Doom, Magneto, Ronan The Accuser, Iron Man, Ant-Man, The Wasp, Devil Dinosaur, Galactus, Kamandi, OMAC, Quicksilver, The Scarlet Witch, and Adam Warlock.
Jack even drew the very 1st appearance of Spider-Man, but Jack's Spider-Man didn't look enough like a a kid, so Stan Lee had Steve Ditko redraw the story.
Superheroes is only a small part of what Jack Kirby worked on. In fact, Jack and Joe Simon created the genre romance comics. Jack did comic books about westerns, wars, monsters, science fiction, gangsters, movie adaptions and countless other subjects. In the 1980s, Jack even created some creator owned comic books. Outside of comic books, Jack worked on comics strip and animation.
Jack served in the Army during World War II. My favorite story about Jack during World War II comes from Wikipedia:
Kirby recalled that a lieutenant, learning that comics artist Kirby was in his command, made him a scout who would advance into towns and draw reconnaissance maps and pictures, an extremely dangerous duty.
I haven't seen the Academy Award winning movie Argo. But in real life, the movie concept artwork used in the CIA's Canadian Caper was drawn by Jack Kirby.
Jack Kirby was famous for creating characters that were larger than life. It wasn't just people, Jack was famous for drawing single and two page spreads overflowing with details. Someone at the NFL loved Jack Kirby style and hired Jack to design and draw artwork for a futuristic Super Bowl. Jean has recreated Jack's science fiction Super Bowl artwork on the side of the cake. Jean did an amazing job recreating Jack's artwork. It is so good, I'm expecting Marvel Comics to hire her any day now to pencil their next best selling comic book.

They say that a picture is worth a thousand words. When I told my good friend Michael Carlyle (aka The Son of Cthulhu) from The Crapbox of Son Of Cthulhu about this cake, he sent me scans of Jack Kirby's adaption of 2001: A Space Odyssey. Here are a few pages of that story to give you an idea of what Jack Kirby's artwork looked like in 1976: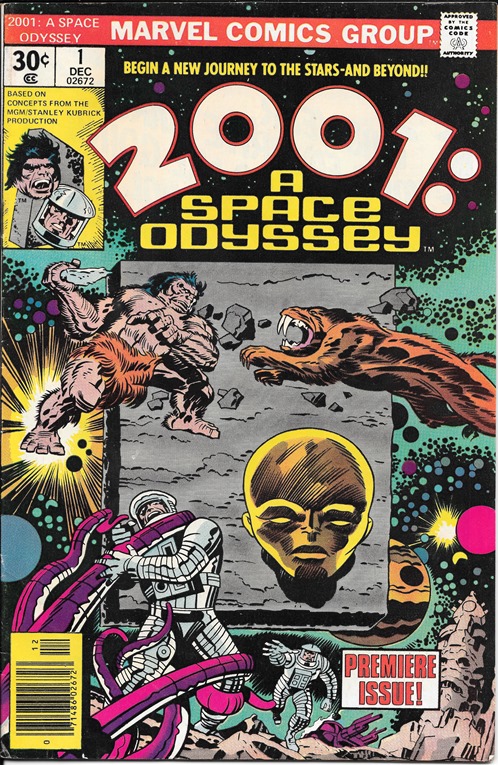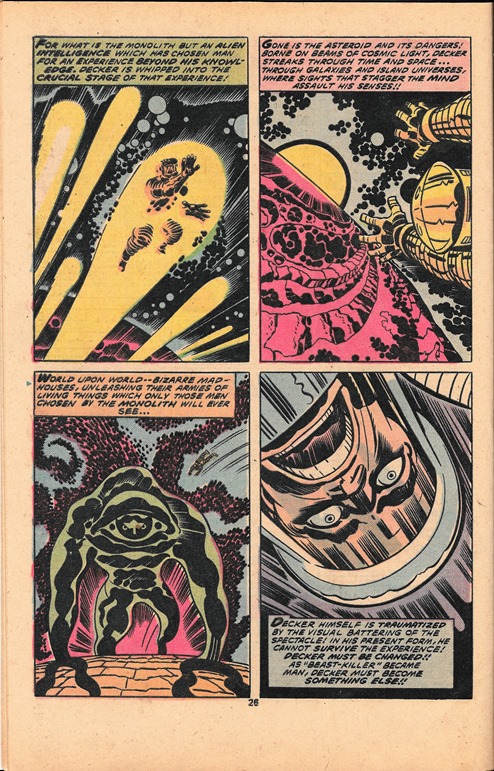 Here are some close-ups of Jean's amazing cake:
Here are some pictures showing how Jean made this masterpiece.
Jean drew the black outlines with Americolor gourmet food markers.
After the black lines were finished, Jean painted the cake with a mixture of tints and gels with water and some Americolor white to make the colors more opaque.
I love how the artwork overflows onto the cake board.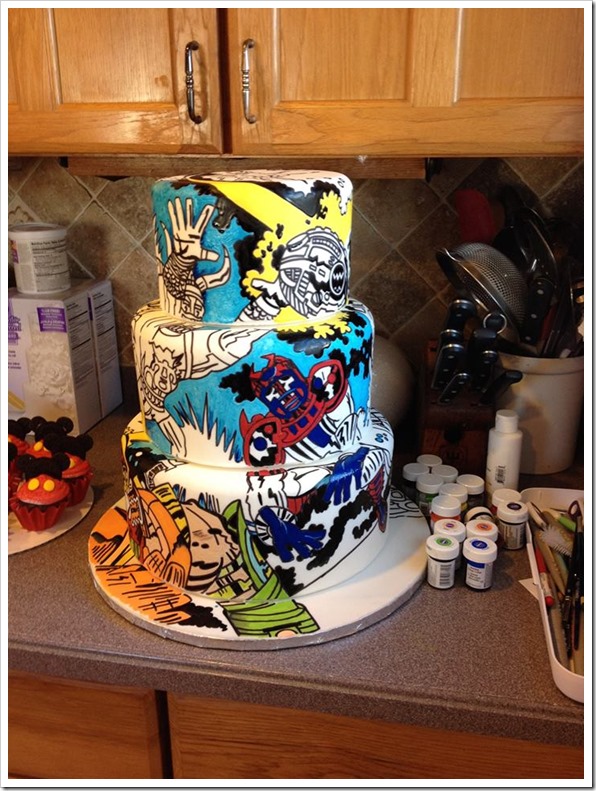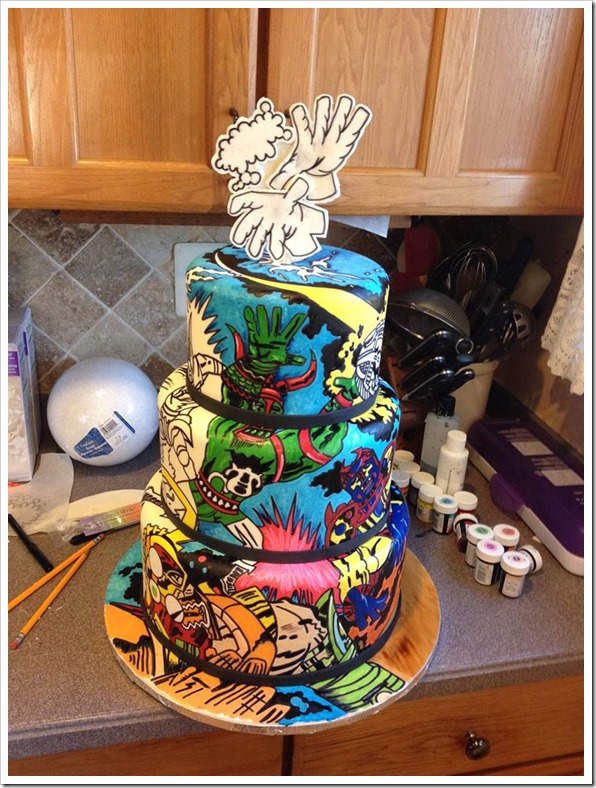 This pictures shows Jean original design. I'm glad Jean changed to the topper of Jack Kirby with a stogie in his mouth and a pencil in his hand, standing on top of penciled comic book pages. It is the perfect way to top this amazing cake.