Hi, my name is Ace and I'm the mascot for Between the Pages. Today I've got a real treat for you. I've teamed up with a bunch of different bloggers and podcasters to look at DC Comics' famous
Watch out! Cake incoming…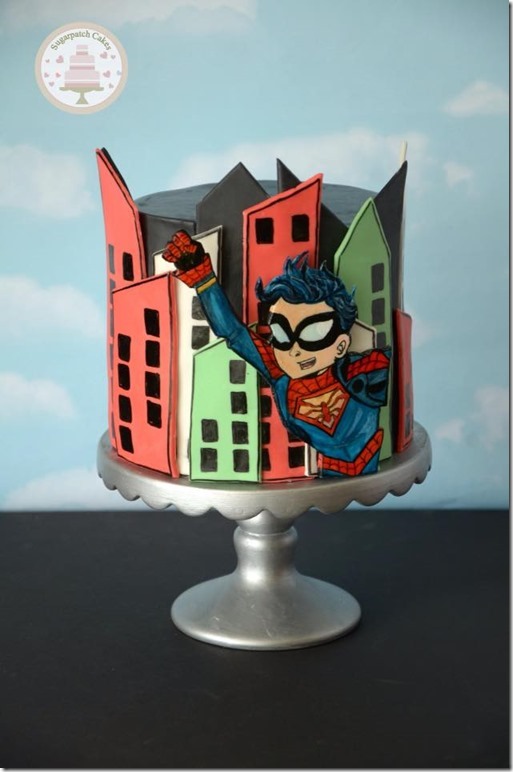 Sorry, my bad. I should have warned you. Between the Pages is a pop culture food blog, so it is perfectly normal to be interrupted by a great cake like this awesome Amalgam Comics' Spider-Boy Cake made by Sugarpatch Cakes.
As I was saying, today I'm looking at DC Comics Bloodlines. Bloodlines was a company wide crossover in 1993. I wasn't around in 1993, so I've invited..
One second.
There are some cookies ahead.
These great superhero cookies were made by Audrey's Cookies.
As I was saying, I invited four guests today who were part of the alien invasion of 1993.
Give a round of applause to Batman, Superman, Wonder Woman, and the Flash.
ACE: Can you tell me a little about the summer of 1993?
FLASH: Summerof1993? Letmethink. Iremember. Imetabeautifulblond, butitdidn'tworkoutbecauseshewastooslow.
ACE: That's not what I meant!
ACE: Can you tell me a little about the alien invasion that occurred during the summer of 1993?
BATMAN: There have been 314 alien invasions in Gotham alone since I began watching over my city. What makes the one in 1993 memorable?
ACE: These gorgeous Batman Cupcakes were made by Hundred and Thousands Cupcakes.
SUPERMAN: Remember, just because they are a strange visitor from another planet doesn't mean that they are here to harm anyone.
ACE: Unfortunately that wasn't the case this time. This invasion was nicknamed "Bloodlines".
SUPERMAN: Bloodlines! Of course, we remember that one.
BATMAN: Shape shifters who feasted on peoples spinal fluid are hard to forget.
FLASH: SoundsliketheplottoaSigourneyWeavermovie.
SUPERMAN: I remember the aliens, but what I remember most was the "New Blood'.
ACE: What's a new blood? I haven't heard of that!
FLASH: Mostofthepeoplethealiensfeastedondied, butafewsurvivedandgainedsuperhumanabilities. ThesepeoplewerecalledTheNewBlood.
ACE: Can you slow down a little? I have real trouble understanding you when you talk that fast.
FLASH: Sorry! Let me try that again. Most of the people the aliens feasted on died, but a few survived and gained super human abilities. These people were called The New Blood.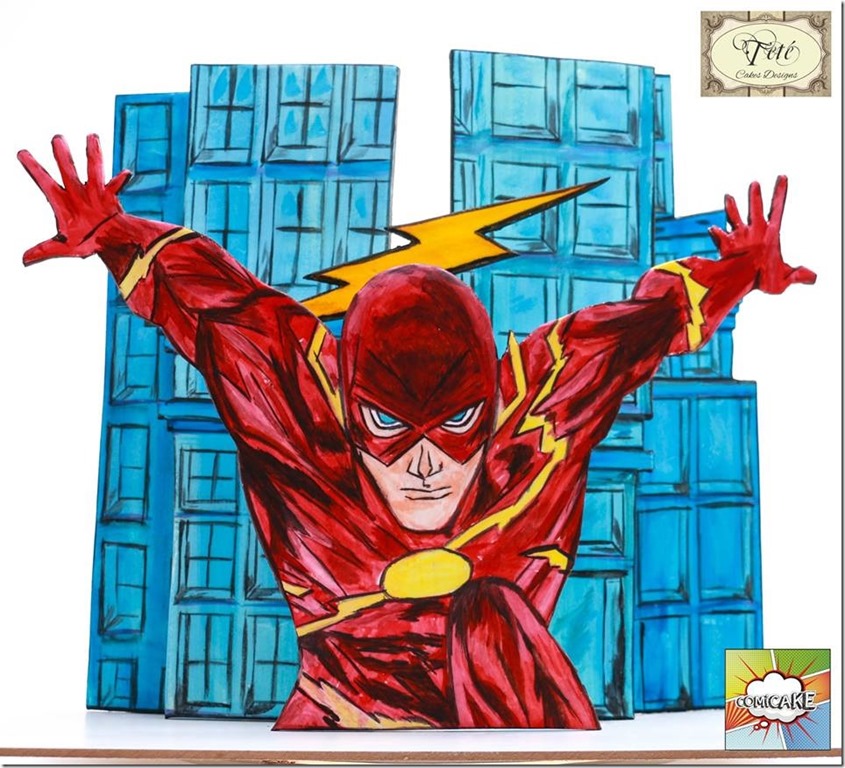 FLASH: Wow, that's a nice cake! What a great looking guy!
ACE: I thought you'd like that cake. This great Flash Cake was made by Teté Cakes Design.
BATMAN: I have a knife in my utility belt.
FLASH (worried): A knife?
BATMAN: How else are you going to cut the cake!
WONDER WOMAN: Boys! I think Ace wanted to hear about the New Bloods.
SUPERMA
N: The one I remember best was Myriad.
SUPERMAN: Sasha Green was a physical trainer. She bested Lex Luthor once during a training session. Lex didn't like being embarrassed in front of others, so he killed Sasha. Unfortunately, there was never enough evidence to convict Luthor. One of the shape shifting aliens bit Sasha's corpse which revived her. As Myriad, she tried to take get revenge on Luthor but failed.
SUPERMAN: After the alien invasion, she was never heard from again. Since she could take on other people's identities, I'm guessing that she is somewhere else and someone else.
FLASH: You are one sweet cookie, Wonder Woman!
Wonder Woman slaps the Flash.
FLASH: Ouch! What did I do?
ACE (whispering so Wonder Woman doesn't hear him): This great Wonder Woman cookie was made by Dolce Sentire.
FLASH: Where were we? I remember. We were talking about The New Blood. The New Blood I remember best was Argus.
FLASH: Argus had an ability that would be perfect for Batman!
BATMAN: While he was visible when in light, he turned completely invisible when in shadows or in the dark.
ACE: This stunning Batman Cake was made by Fancy Cakes By Lauren.
BATMAN: I also remember hearing about Geist who was the mirror opposite of Argus. He was invisible in light and visible in the shadows or dark.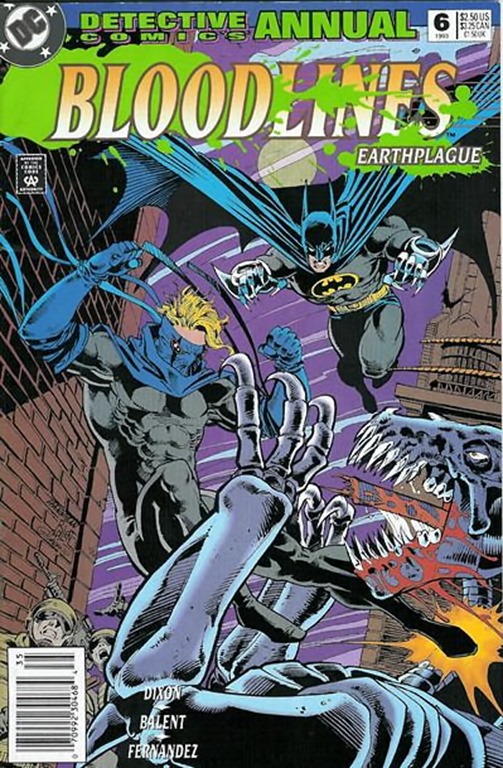 FLASH: What's up with the claws Batman?
BATMAN: Believe it or not, that's not me.
WONDER WOMAN: Not you?
BATMAN: I was out of action recovering from a broken spine.
FLASH: Ouch!
SUPERMAN: I'd forgotten about Geist. What ever happened to him?
ACE: This great LEGO Batman Cake made by Mike's Amazing Cakes.
BATMAN: Green Lantern ran into him a while back. Geist was a reanimated corpse and member of The Black Lantern Corps.
WONDER WOMAN: Talk about a fate worse than death.
WONDER WOMAN: Unlike the boys, I remember the aliens the best. There were seven of them and each one took on a form reminiscent of one of the seven deadly sins. I fought Venev. She was like the seven deadly sin Evny and even her name was similar.
ACE: This amazing Blue Beetle Cake was made by CUPCAKES & DREAMS.
FLASH: May I ask you one question, Ace?
ACE: Of Course!
FLASH: Why all the interest in something that happened back in 1993?
ACE: Because, I've heard through the grapevine that those same aliens are coming back this summer.
WONDER WOMAN: Great Rao! This summer?
SUPERMAN (laughing): Are The four of you up to a summer vacation on Alpha Centauri?
ACE: These awesome Superman Cookies were made by Oh Sugar Events.
ACE: If you enjoyed this post, please check out the other blogs and podcasts talking about DC Comics Bloodlines.
Comics and Coffee looks at Eclipso Annual #1
Resurrections: An Adam Warlock Podcast also joins in the fun.
Episode #41 of From Outbreak to Bloodbath from The Relatively Geeky Network spotlights Flash & Green Arrow role in Bloodlines.
I'm the Gun looks at Lobo's role in Bloodlines. I'm the Gun is also podcasting about Bloodlines.
The grand daddy of them all, The DC Bloodlines Podcast looks at Outbreak.
Legion of Substitute Podcasters will be joining in on the fun later this weekend.