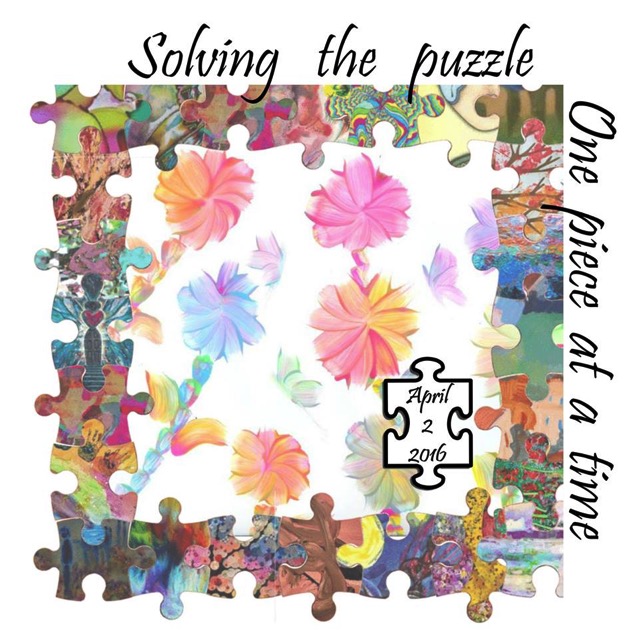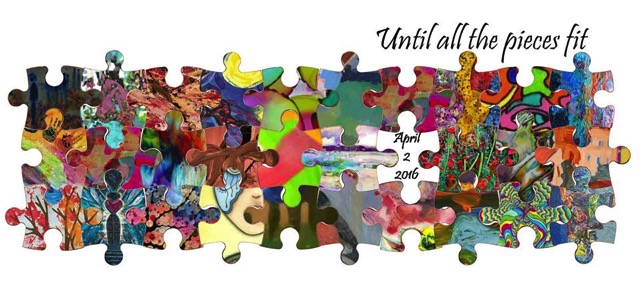 I am thrilled to be a part of Sugar Art for Autism which is a multi-faceted collaboration of 100 food artists from around the world who have come together to create a heartfelt and meaningful collection of edible art in honor of Autism Awareness. This collaborative event debuts today, April 2, 2016, on Facebook, Instagram and Twitter.
The group was founded in April 2015. Audiences may recognize work styles and faces of many of the collaboration members from hit television series and competitions like Cake Wars, Duff till Dawn, Amazing Wedding Cakes, Sugar Battle, Fabulous Cakes, and more. Each member proudly honors those with Autism and their family members by creating pieces where they drew inspiration from various avenues, including therapy tools, artwork, books, and loved ones. One special source of inspiration for many was the project The ART of AUTISM, a not-profit collaboration of 500+ international Autistic Artists. Co-Founder, Debra Muzikar, was instrumental in providing access to the artwork and artists themselves.
The dedication to this collective is mutual amongst the Sugar Art for Autism members and by many of their family members as well. As you look through the finished pieces and learn more about each one and its respective edible artist, you will see that several of these pieces were inspired by children and other loved ones. A few of the children even created artwork specifically for use by the collaboration.
Through their endeavors, the Sugar Artists in Sugar Art for Autism hope to shatter misconceptions, bring awareness to Autism and also draw people's attention to The Global Autism Project and National Autism Association, two well-deserving charities whose hard work and never ending efforts often go unnoticed.
The Charities
One of the many layers of our collab has been to partner with two worthy charities in an effort to not only raise awareness, but also draw attention to these groups whose efforts often time go unnoticed. We hope through our actions, people will be motivated to make a difference and if they can spare a donation, all the better!
The Global Autism Project is a Non-Profit organization that trains staff at Autism centers around the world. Their mission is to build local capacity to provide services to individuals with Autism in under-served communities worldwide, and to address the lack of resources and extremely limited understanding of Autism that plagues many under-served populations. They believe in embracing the talent and resources of the communities they serve by furnishing them with tools that engender self-reliance, sustainable development, and continued innovation. Through this comprehensive, bottom-up approach, their vision to build a world in which all individuals affected by Autism have access to effective services.
The mission of the National Autism Association is to respond to the most urgent needs of the Autism community, providing real help and hope so that all affected can reach their full potential. NAA is a parent-run non-profit advocacy organization and the leading voice on urgent issues related to severe Autism, regressive Autism, Autism safety, Autism abuse, and crisis prevention.
The ART of AUTISM
Shortly after the start of our project, inspiration began to roll in from everywhere. One of those sources which quickly became very popular with many of our Sugar Artists was "The ART of AUTISIM". The ART of AUTISM is a not-for-profit social-entrepreneurship project that connects artists and performers of all ages on the Autism spectrum with opportunities and venues to showcase their varied talents. They blog about topical subjects related to Autism. They are committed to promoting autistic people and educating the general public. They help artists through mentorships, building resumes, portfolios, and direct work experience in the arts.
By bringing awareness about the gifts of people on the spectrum, The ART of AUTISM inspires the general public, gives hope to parents of children on the spectrum, and provides self-advocates with tools for professional development. The ART of AUTISM shifts awareness about autism.
To date, The ART of AUTISM events have featured 500+ artists, 40+ poets and authors, and 100+ entertainers, and still counting. With over 500 artists who are on their email list from over 30 different countries. In 2014 the Art of Autism website had over 75,000 unique viewers from 151 different countries. Debra Muzikar, co-founder of The ART of AUTISM, had this to say about our collaboration:
Working with the collaborative of international cake artists has been inspiring. I'm so grateful they've used art from autistic artists in the cake creations.
The ART of AUTISM can be found on the web, Facebook, and Twitter.
The support Sugar Art for Autism has received thus far has been astounding. With world-renowned Autism Activists and Artists alike stepping up in the most unique ways. From Internationally recognized Autistic Artist, Candy Waters, and the well-known artistic duo, Kai & Sunny who have all either created or allowed for use, their own artwork.
Candy Waters
Candy is 15 years old, has autism and is nonverbal. Even though Candy is non-verbal and unable to communicate through words, she is able to express herself through her art and be heard around the Globe!
Candy started painting when she was only six years old. Just one of Candy's many amazing accomplishments include The University of California, Irvine Magazine published her "Mr. Sun" painting for the cover of their Summer 2013 issue that sheds light on UCI's efforts to help those affected by autism.
Here is the link to Candy's Facebook Page. Candy has 92,000+ Likes from around the World!
Sugar Art for Autism would like to thank Candy Waters, via her mother, for all the help she provided to our collaboration and for the use of an unpublished art of hers for our profile picture (shown at the two of this post). Two of our cake artists also used Candy's art as the main inspiration for their pieces .
Sugar Art for Autism's Facebook profile picture is a piece of unpublished artwork by Candy Waters. Jennifer from Jenny's Haute Cakes made a cake based on a collage of Candy's art. Jenny's cake will be featured in Candy's upcoming art book.
Thank you so much, Candy!
This is what Sandy, Candy's mom, had to say about our collaboration:
I feel what Sugar Art for Autism is doing is wonderful. It is great working with them because they are very professional and kind. Making cake and increasing Autism Awareness at the same time is brilliant!! Keep up the great work Sugar Art for Autism!
Kai & Sunny
Kai & Sunny are an artist duo based in London whose work appears in many artistic contexts. They have designed the cover of the book "The Reason I jump: The Inner Voice of a Thirteen-Year-Old Boy with Autism, a book by Naoki Higashida", along with 11 other illustrations in the book. The book connected with them on a number of levels, but most overwhelmingly Naoki's relationship with nature was the link for the imagery. Naoki returns to nature again and again in the book. He can see beauty and meaning within nature and abstract this information and relate it back to himself, and always turns to nature for comfort and refer to it as his friend. They use nature in their work to connect with people, to provoke thoughts and memories. They like the idea of showing something you can't actually see – and ask bigger questions. They use nature-based images as a metaphor for other feelings.
Their intricate, natural and sometimes sinister style has led them to collaborate with Alexander McQueen and has won them numerous accolades including a 2012 DA&D Design Award, and book covers with author David Mitchell. The artists have exhibited internationally, showing at Haunch of Venison London, and have recently been included in the Victoria & Albert Museum print archive collection. The duo is currently exploring natural forms with large-scale monotone works through print making.

Past exhibitions include Stolen Space Gallery, London; Haunch of Venison, London; the Southbank Centre, London and Subliminal Projects, Los Angeles; Jonathan Levine Gallery, New York.

Our collaboration is fortunate and excited to have Kai & Sunny create a cover photo for Sugar Art for Autism's Facebook page.
Kai & Sunny on the web and Facebook.
The Collaboration Directors
Dina Nakad
Beirut, Lebanon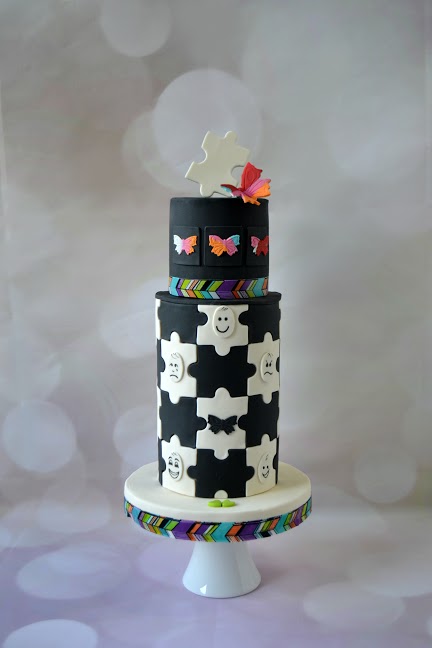 Here's Dina's marvelous cake that she made for this collaboration.
Below are pictures of Dina's cookies she also made for this collaboration and the inspiration artwork on which they were based
Dina tell us more about herself below:
My love for healthy cooking and baking started a while back but I embarked on the journey of cake decorating 3 years ago when I was asked to make a cake for a relative; totally self-taught, I have come a long way since my first cake and thrive to learn more every day.
The international cake community is a close-knit one; I've built solid friendships through the last few years and being so close to many, we share our moments of joy and moments of despair too. I learned, along the way, that so many of our fellow cake artists have kids with autism spectrum disorders or know someone who is, which brought the idea of having an international cake collaboration about autism awareness. I have also had personal experiences with kids on the spectrum, learned a lot through the process of being involved in therapies and experiencing first-hand what it entitles to take care of kids with ASD. When we approached our fellow cake artists with this project, everyone was so enthusiastic and eager to get started. Now that we are getting so close to reveal day, I am in awe of all the beauty that came to life through the different completed pieces, some based on exquisite art made by kids and adults on the spectrum, others based on personal experiences with ASD and others based on therapies, books and movies. We certainly hope that this collaboration will bring something beautiful to anyone who is affected by ASD and most importantly raise awareness in a graceful and artistic way.
Suzy Khalaf
New York, USA
Below are pictures of Suzy's fabulous cakes and the inspiration artwork on which they were based: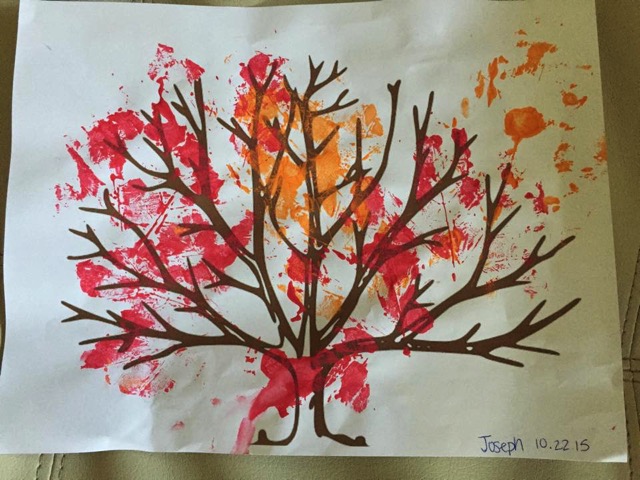 Suzy tells us more about herself below:
I'm a New York based Cake Artist who fell into the world of cake 11 years ago after a dare to create a character cake sparked a passion for Cake Art. Yep, it all started on a dare.
Being a member of the Cake Community on Facebook is like being part of an extended family and like with any other family and community, you learn things about your fellow Cake Artists. That's how the idea of this collaboration was born. There were so many of us who were connected to ASD either personally or through a friend or other loved one and when a topic is that personal, the desire to help and raise awareness could not be stronger. Before we knew it, we were a group of nearly 100. The result? A collaboration in which each and every single person exhibited such a strong passion for the topic and it showed through in their pieces.
Our group is comprised of industry leaders, hobby bakers and everything in between. At the end of the day, titles and accolades meant nothing. Egos were checked at the door for we all had one goal in mind. To spread awareness and make this collaboration as successful as possible. I can honestly say, it's been an overwhelming experience. As I've always had the utmost faith in my fellow collab members to create phenomenal pieces. I know each of them poured their hearts and creative minds into their work, but never did I expect such awe inspiring work.
With the debut of our collaboration fast approaching, we can only hope to make a dent in Autism Awareness . . . to show that the Spectrum is a broad as any rainbow and most importantly, that Autism isn't a choice but acceptance is.
Samantha Emmerson
United Kingdom
Samantha tells us more about herself below:
Baking is a passion and a hobby!! I love a perfect cupcake! I also love baking buttercream and ganache covered cakes and love a good naked cake!!
Aside from baking, I also love creating, organizing and project managing outstanding global baking collaborations, and fundraising for charity. So when the opportunity to be involved with Sugar Art for Autism arose, there was no way I could say no. It's been a special collab to be involved in and the interpretations are out of this world!
Help us spread awareness. Follow along and share. Sugar Art for Autism is on Facebook, Instagram and Twitter.