This is the third of three posts to highlight cakes from Sugar Art for Autism.
Sugar Art for Autism is a multi-faceted collaboration of 100 food artists from around the world who have come together to create a heartfelt and meaningful collection of edible art in honor of Autism Awareness.
Below are some of the wonderful edible creations. To see more, please visit Sugar Art For Autism.
This marvelous cake was made by Claire Potts of Claire's Sweet Temptations.
Here is Claire's Bio:
Claire has always been a baker, but started her business about three years ago. Her son, Jamie, was diagnosed with Sotos syndrome and hydrocephalus at 2. By 3 there was talk of profound autism as well. This was confirmed when he started school. As time passed it became clear to Claire that she could never go back to work outside of the home. Jamie is double incontinent even at 12 years old, so when he's not at school she is his caregiver. Claire took her cake making/decorating hobby and passion and turned it into a home based business so she could work from home and be there for Jamie.
Being a member of this collaboration has been an honor, as there are so many very talented artists involved! But I very much wanted to be a part of it. And it's been wonderful seeing so many different takes on the subject. And so much positivity too. It's heart-warming as the mum of an autistic child to know there is genuine support out there. Not just from the health profession, but everyone. It's also a great way to get the subject out there in a way that people will enjoy. I'm so very proud of the group, and humbled by the talent. That such busy artists have given their time to this issue.
Claire's cake was inspired by this painting made by her son Jamie.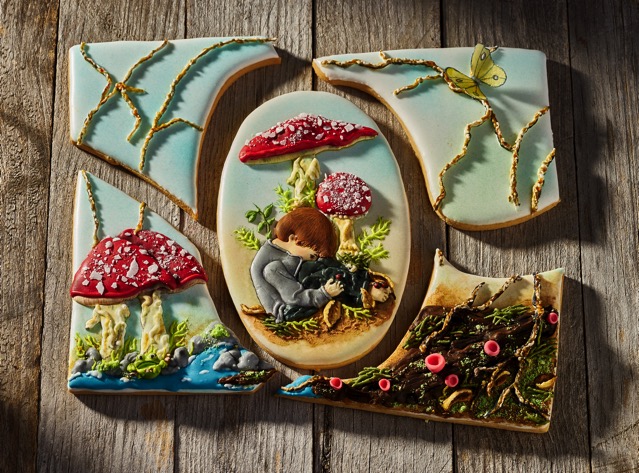 These terrific Autism Cookies were made by Marta Torres of The Cookie Lab. This is one of the most of amazing puzzle cookies I've seen. The center cookie shows a little boy sitting under mushrooms. The four other cookies show the land around the boy. One cookie has more of the mushrooms and a small patch of water. An other cookie shows a log on the ground that pink flowers are growing out of. The top two cookies show plants who have grown higher than the rest. On one of these plants is a yellow butterfly.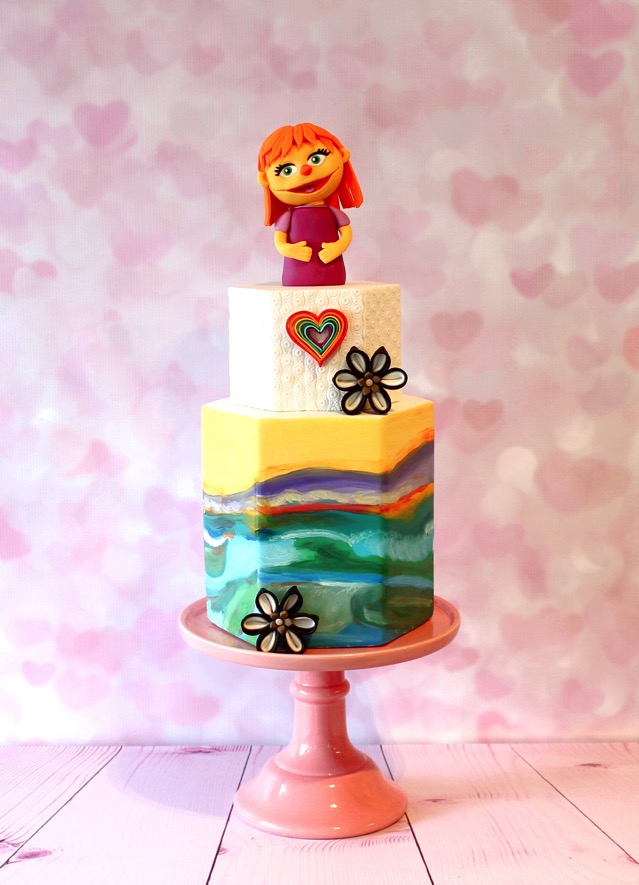 This marvelous Autism Cake was made by Violet Lin Tran of The Violet Cake Shop. The bottom layer of this cake is painted in multiple colors. The top layer is white with a multi-colored heart on it. On top of the cake is an absolutely adorable figure of a girl.
This fabulous Autism Cake was made by Hoang Anh Nguyen of Mito Sweets. This cake consists of two rectangular cakes that have been painted the color of flowers. Hoang then decorate the cake with handmade flowers of the same colors.
This superb Autism Cake was made by Shankar Seevanayagam of Cakes on the Hill. The gravity defying cake looks like a cube puzzle of the world. The oceans are blue and the continents are white. There are pieces missing on each side of the globe. The cake board features brightly colored puzzle pieces and the phrase "until all the pieces fit…". This cake really stands out. It is so different to see a square globe. Having the globe only be two colors makes the missing puzzle pieces instantly noticeable. I really like how the globe is at an angle and only has one edge touching the cake board.
This splendid cake was made by Laura Peterson. It is a three layer cake painted in the colors of the rainbow. Hidden among the colors in the 2nd layer is a face. The bottom layer has the phrase "contact is overrated". There is a yellow puzzle pieces at the top of the cake.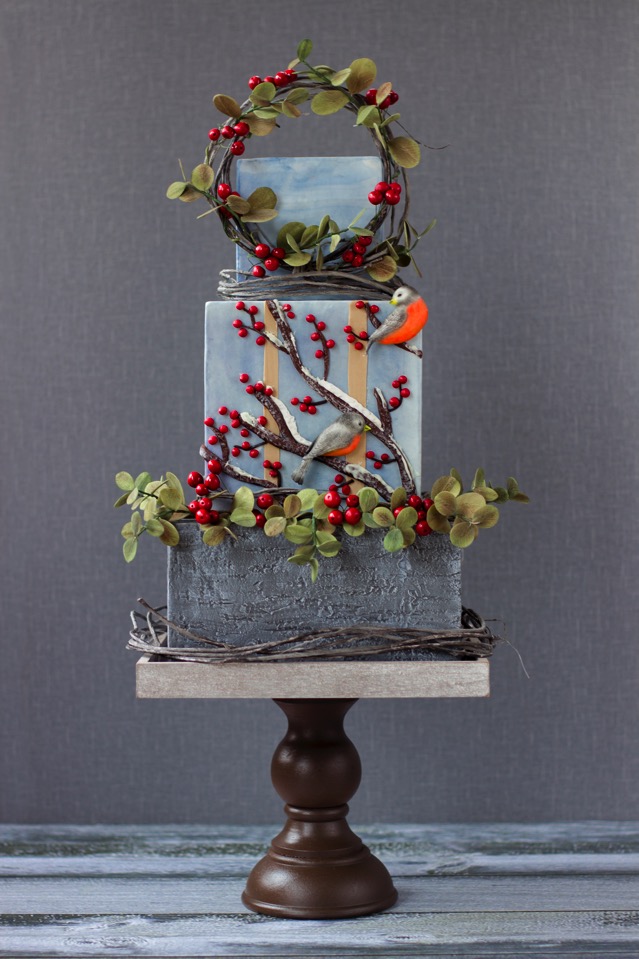 This gorgeous Autism Ca
ke was made by Rainy Clement of Bellaria Cakes Design. The bottom layer is grey with dried brown braches around it. The next layer is a blue grey. This layer has Holly braches covered with snow. There are two Robins on the Holly braches. At the bottom of this layer are the berries and leaves of the Holly bush. They drape down and cover part of the first layer. The top layer is also blue grey. It had dried brown braches at the bottom. In front of this layer is a wreath made from Holly branches. The use of color on this cake is wonderful. Most of the cake is grey, brown, and green, because of this the Robin's orange breasts and the red Holly bears really stand out.
Please take a look at more Awesome edible works of Art at the Sugar Art For Autism.
Through their endeavors, the Sugar Artists in Sugar Art for Autism hope to shatter misconceptions, bring awareness to Autism and also draw people's attention to The Global Autism Project and National Autism Association, two well-deserving charities whose hard work and never ending efforts often go unnoticed. Please take a look a these charities and donate if you can.