Sugar Art for Autism is a multi-faceted collaboration of 100 food artists from around the world who have come together to create a heartfelt and meaningful collection of edible art in honor of Autism Awareness.
Below are some of the wonderful edible creations. To see more, please visit Sugar Art For Autism.
This superb Autism Cake was made by Linasari Sunyoto of Sweetlin.
Here's Linasari's bio:
Linasari Sunyoto is a hobby caker, originally from Indonesia and currently living in Italy. With a strong Visual Communication Design background and a passion for sweets, Linasari is a self-taught cake artist who has perfected her technique with lessons from famous cake designers and also attended a pastry school. She has become a teacher, innovator and industry leader, in her own right. In 2013, she appeared on the Real Time TV program, My Cake Design: La Battaglia Dello Zucchero (Sugar Battle) where she won for her cake design. Her work has been featured in many cake magazines and blogs such as Pretty Witty Cakes, Cake Masters, Wedding Cakes and Sugar Flowers, American Cake Decorating, Sweets Magazine, Cake Design France and many more.
Linasari's piece is based on this painting by Grant Manier who is an Eco-Artist and a Special Needs Advocate.
To quote Grant . . . "I am living with autism. It wasn't always a perfect painted picture. I have daily challenges and struggles, but my disability has become my ABILITY to contribute to help changing the earth's environment and raise the awareness of special talents among those also living with different abilities."
Linasari initially connected with the painting through The ART of AUTISM. With Debra Muzikar's assistance, Linasari was able to learn more about Grant and his artwork.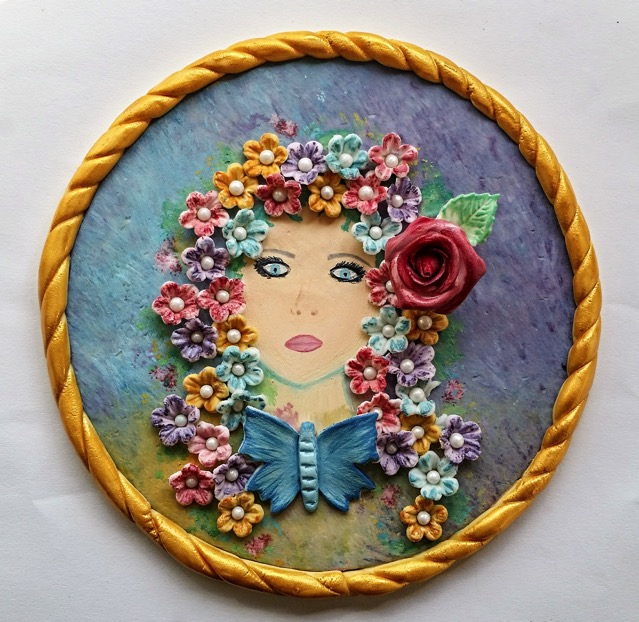 This wonderful cookie with a portrait of a girl with pink, purple, yellow, and blue flowers surrounding her head was made by Bobbie Anne Wright of For Heaven's Cake by Bobbie Anne. The cookie is bordered by a gold rope pattern. There is a blue butterfly just below the girl's head.
This magnificent cake was made by Zawadi Parizek of Honey Bunny Bake Shop. This box has a different pattern representing Autism on each side. It looks like the type of box that you would have put a candle in because the box has hinges and a door and amazingly the box lights up from within. It is so easy when looking at this amazing box to forget that it is made of edible materials.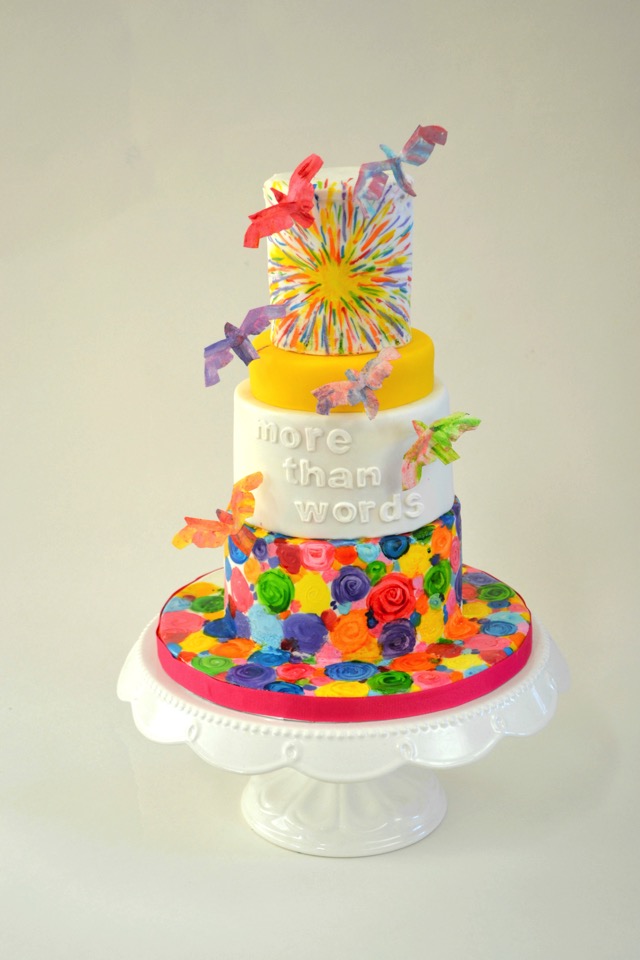 This Wonderful Cake was made by Jenny Kennedy of Jenny's Haute Cakes.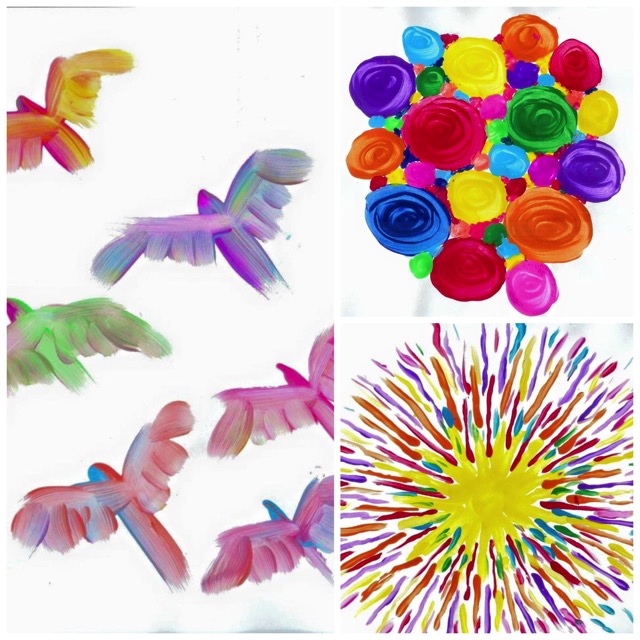 It is based on the artwork on the well know autistic artist Candy Waters. Jenny's cake will be featured in Candy's book of her artwork. Notice that Jennifer's cake has the phrase – more than words. Candy is 15 years old and non-verbal. Even though Candy is unable to communicate through words, she is able to express herself though her artwork.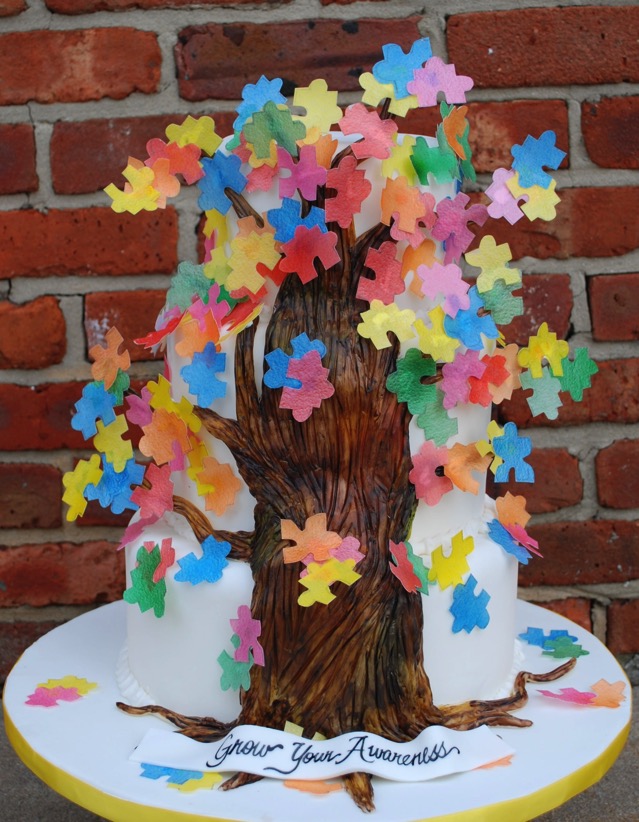 This Terrific Cake was made by Jean Schapowal of Cakes With Character. Jean's cake is a white three layer cake. In the center is a tree. The tree's leafs look like puzzle pieces. At the base of the tree is a banner that reads Grow Your Awareness.
Please take a look at more Awesome edible works of Art at the Sugar Art For Autism.
Through their endeavors, the Sugar Artists in Sugar Art for Autism hope to shatter misconceptions, bring awareness to Autism and also draw people's attention to The Global Autism Project and National Autism Association, two well-deserving charities whose hard work and never ending efforts often go unnoticed. Please take a look a these charities and donate if you can.