This Fabulous Princess Leia and BB-8 Cake was made by Lilliana Blanco and Marina Borghese from Cake In Italy.
This Marvelous Star Wars cake was made for the Cake Con Cake Collaboration. Cake Con international is a cake collaboration featuring 22 amazing artists who have created sugar art inspired by tv series, comics & video game characters.
Here is Marina's and Liliana's bio:
Marina Bourghese, born in Rome. Art studies introduced me into the world of painting and sculpture. Discovering sugarpaste modeling, I started to make small sugar sculptures, now specialized in modeling figuries. In 2014, I entered into Cake International, Birmingham and won The Best in Show Award as well as other awards in Italy.
Liliana Blanco, born in Buenos Aires. I started my passion in pastry and in my travels to the UK, I discovered the world of cake decorating. I specialize in wedding cakes, sugarflowers, wafer paper.
I have won several awards for my Sugar Flowers & Figures. In 2014, I won silver at Cake International, Bermingham and in 2015, I won Gold.
We are teachers of Cake Decorating at the Italian Pastry Confederation (Conpait) and members of Conpait Design International Team.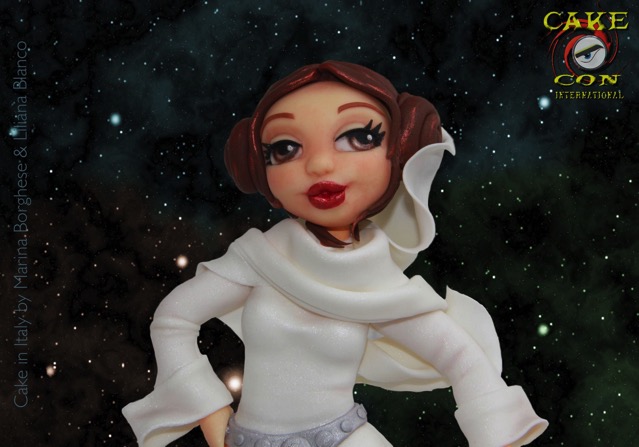 This Fabulous Star Wars cake has a young Princess Leia standing beside this BB-8 droid. She is resting her hand on BB-8's head. Princess Leia has two buns in her hair just like she wore in Star Wars: Episode IV – A New Hope. She is wearing a white dress with a silver belt and white boots.
BB-8 is white with orange and gray patterns. BB-8 sensor is surrounded by a black ring.
This cake is on a blue cake board.