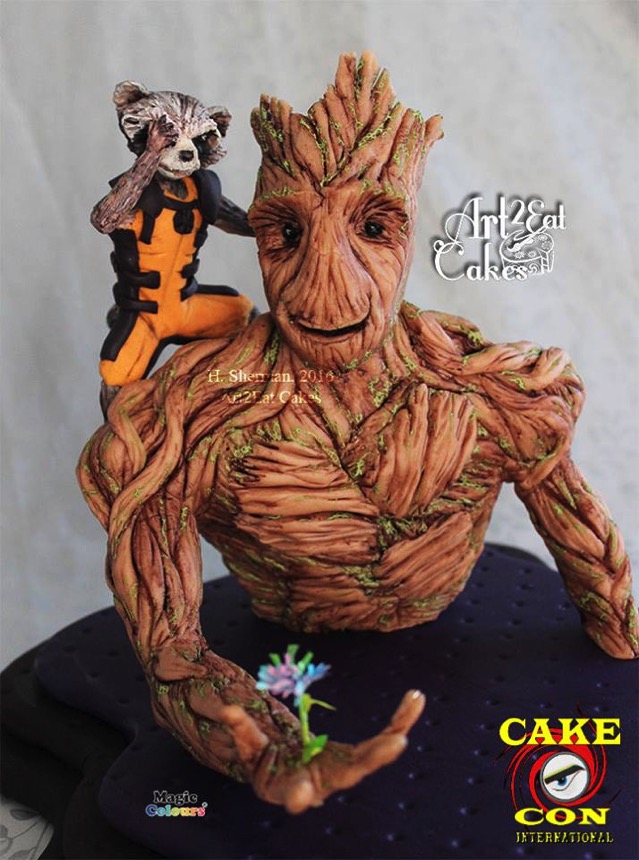 This Marvelous Rocket and Groot Cake was made by Heather Sherman from Art2Eat Cakes.
This Superb Guardians of the Galaxy Cake cake was made for the Cake Con Cake Collaboration. Cake Con international is a collaboration featuring 22 amazing artists who have created sugar art inspired by tv series, comics & video game characters.
Here is Heather's bio:
Art is my Thrill and Cakes are my medium. I've always been an ecclectic, artistic mountain child, and involved in the kitchen, baking from a VERY early age. I remember being told as a little kid not to make scupltures out of my taco cheese. Through life I have experienced many mediums – paint, graphic design, engraving, photography, illustration, glass, kids and more, but then in 2008 I discovered CAKE. My earliest cakes got massive attention, and I continue to be dazed and delighted with the reactions my cakes get. I've been published in Cake Masters, Cake Central, Good Morning America Yahoo, Cooking.com, made cakes for Crosby, Stills & Nash, Cirque du Soleil, and many more. This Thrill is what drives me to make ever more daring designs – to "make cake fly". It it the Oooohs and Ahhs that continue into Yuuuuummmms that make Cake Art so satisfying. Sculpted Cake is truly Performance Art; a multi-layered experience for all the senses. Art is my Thrill and Cakes are my medium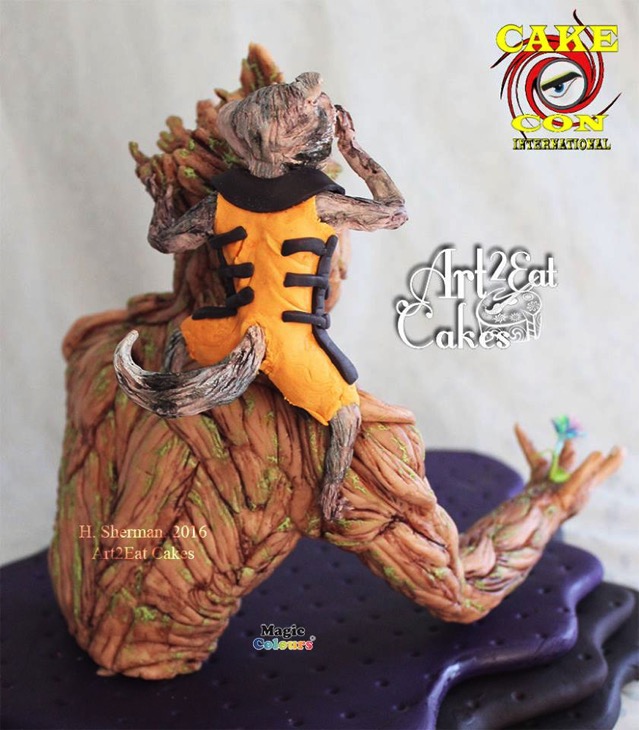 Here is Heather's description of her Splendid cake:
I AM GROOT!!! Groot and Rocket Racoon from the "Guardians of the Galaxy" are some of the coolest superheroes ever. I relate to them – not truly human, and without "human" values. They break laws with impunity, but still honor the needs of others…especially the innocent. Rocket is the mean-cute furry conundrum that brains the outfit, while Groot is both unstoppable yet sweetly guiless, like a big kid, and eloquent. In the end, "WE are Groot"-
Here is the cake with a different background. The detail on this Guardians of the Galaxy cake is Amazing! I love the way Groot is holding a newly grown sprout in his hand. There are tiny green vines and leaves in-between the wooden parts of Groot.
Rocket is sitting on Groot's shoulder. He is wearing a black and yellow outfit. I could not imagine Groot with Rocket Raccoon.