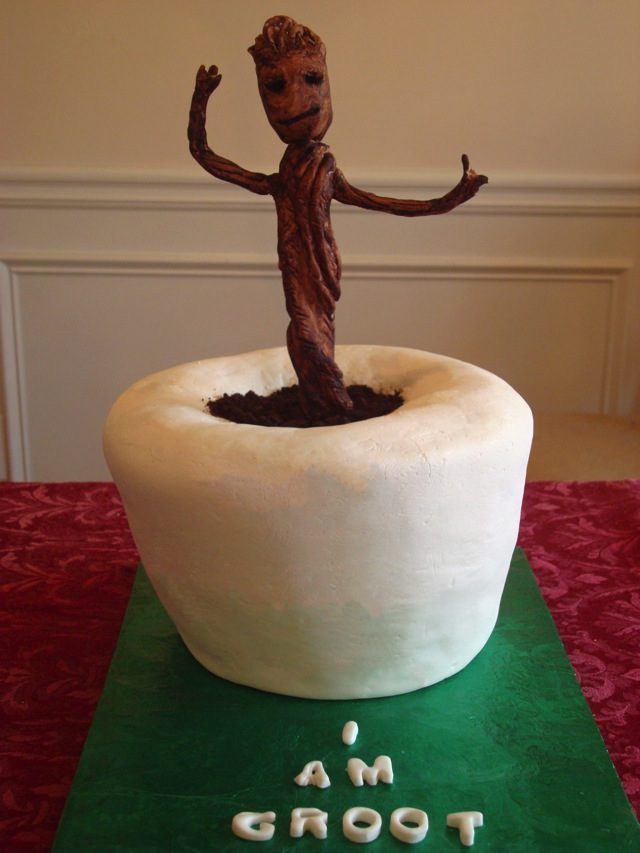 Groot says 'I AM GROOT' (translated as 'Happy Birthday') to three family members. I made this Groot cake for the family birthday celebration for three members of our family. I went to see Guardians of the Galaxy with my daughter and thought that it was a wonderful movie. After seeing the clip of Baby Groot dancing in his flower pot at the end of the movie, I thought it would be great to make a Groot cake for the family birthday party.
I looked at several copies of Groot on-line and watched the video, released by Marvel, of Groot dancing in the flower pot, to get an idea of how Groot looked. I decided to use modeling chocolate to make Groot so I made light brown modeling chocolate using a mixture of white and dark chocolate candy melts mixed with corn syrup. I used a half inch wooden dowel with a point carved at one end and then added covered floral wire to make a skeletal structure for arms. I used the modeling chocolate to form Groot's body around a half inch dowel. I purchased an 8 inch styrofoam cake circle and used it to anchor the wooden dowel while making baby Groot. I made the basic shape and added hair and features. I let the body dry completely. I added modeling chocolate to the arm skeletal structure to make the arms. I let the arms and body dry. I built the head separately so that I could hammer Groot into the cake board without destroying the head. Groot is inserted into the cake, then his head goes on. I used another dowel to make a hole in the cake layers so the Groot could be inserted without any problem. I then painted him with brown petal dust to give a wood appearance. I cut out letters from white fondant for "I AM GROOT" which was Groot's way to say Happy Birthday.
I made the flower pot using five 8 inch round cakes sculpted in a flower pot shape. The cakes were chocolate and vanilla cake. I put a cardboard circle and straw supports between layers 2 and 3 to support the cake. Part of the top layer was hollowed out to make the rim of the pot and to make room to add dirt (crushed Oreo cookies). I placed a combination of chocolate ganache and buttercream icing between the layers of the cake and coved the cake with buttercream icing. I covered the entire structure with white fondant.
Everyone at the party really liked the cake, especially, the Guardians of the Galaxy fans. This cake was a lot of fun to make.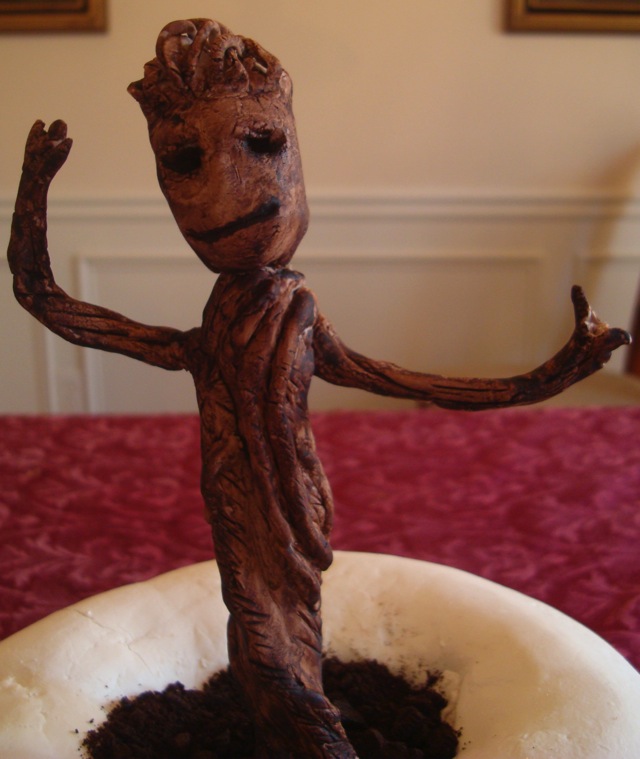 close-up of Groot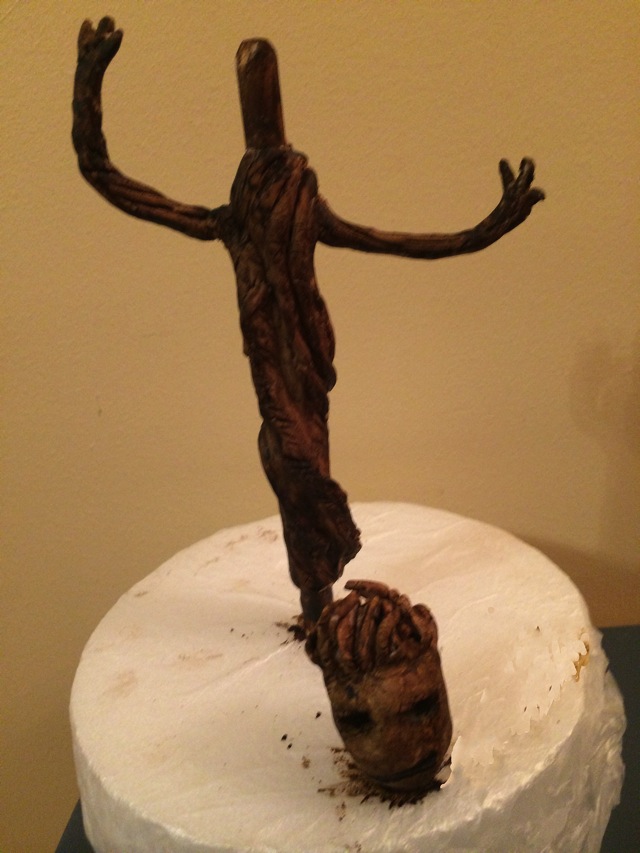 Groot in Progress or Groot lost his head over this cake