This Fabulous Lara Croft Tomb Raider Cake was made by Nathasja Flapper from Flabbergasted Cakes. Lara Croft is climbing the side of a mountain. She has braided brown hair. The detail of her clothes and features are wonderful.
This Splendid Lara Croft Tomb Raider cake was made for the Cake Con Cake Collaboration. Cake Con international is a collaboration featuring 22 amazing artists who have created sugar art inspired by tv series, comics & video game characters.
Here is Nathasja's bio:
Hi, I am Nathasja Flapper from Flappergasted Cakes in the Netherlands. I've been making cakes since 2013 and started my business in cake classes in 2015. I love doing 3D cakes and figure sculpting, I won a few first prizes and some of my work has been featured in magazines and online blogs.
Here is Nathasja's description of her Fabulous cake:
I have been playing Tomb Raider for many years, first time I got to know about it, was about 19-20 years ago when my childhood best friend owned the game. This year, Tomb Raider has its 20th anniversary. So when I found out Tomb Raider actually has a comic, I was sold, it had to be Lara Croft. A sweet tribute to one of my all time favorite games/characters/movies.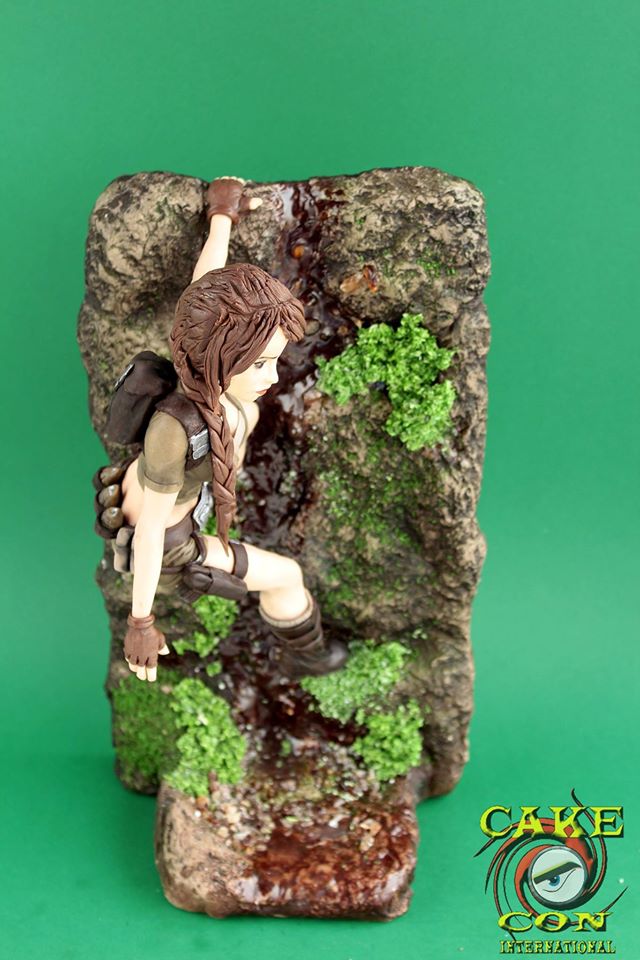 Here's a side view of this Tomb Raider Cake.
The detail of this sock and boot is wonderful.
Here's the wire frame for Lara Croft.
In progress picture of Lara Croft.