This Splendid Mumm-Ra Cake was made by Dominique Justine Ballard from The Little Cake Shop.
Mumm-Ra looks like he has just transformed through the phrase: "Ancient spirits of evil, transform this decayed form to Mumm-Ra, the Ever-Living!"
Mumm-Ra flexes his muscles endowed with superhuman strength. He looks like he may be about to cast a spell or throw energy bolts to fight the ThunderCats. The ThunderCats emblem is on his chest and on the side of the cake. There is a large ThunderCats logo behind him.
This Fabulous ThunderCats cake was made for the Cake Con Cake Collaboration. Cake Con international is a collaboration featuring 22 amazing artists who have created sugar art inspired by TV series, comics & video game characters.
Here is Dominique's bio:
Originally from the US, Dominique Ballard has been travelling the world since she was 7. Her voyage starting in Pasadena, CA, through Madison, WI, Central America, Italy, China ended up in The Netherlands, where she now lives with her husband and 3 kids. She started making fondant cakes in 2007., quickly building a reputation for original cakes and innovative techniques. After following a few masterclasses, she founded The Little Cake Shop in Hilversum in 2010. Her webshop, international classes en cakes soon became known throughout the Netherlands and Belgium due to their quality and the originality of the mainly imported products and classes. Dominique is specialized in 3D cakes – extreme constructions, modelling and the use of specific untraditional materials for cakes such as modelling chocolate, armature and isomalt. In 2015 her dream came true and the first 2 groups of the year-programme at the Sugar Academy started lessons. It was the culmination of 3 years hard work and preparation. She hopes to expand it to become a full-fledged internationally renowned educational centre.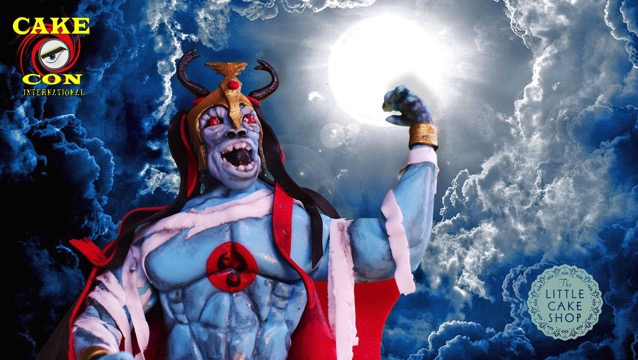 Here is Dominique's description of her Superb cake:
This is Mumm-Ra from the ThunderCats. A series I watched (along with He-Man and the Mutant Ninja Turtles) when I was little and not much else was on TV.I wanted to make something challenging and a muscled male figure was on my to-do list. I love the fact that he transforms from a wimpy mummy to a massive evil villain and trails vestiges of his mummy wraps. I found it much more difficult to make than the soft curves of a womanly figure or chubby lumps of a child. He is made with Cake Duchess modeling paste and Super Fondant with tylose and all is coloured with Rolkem dusts.