This cool Shazam Birthday Cake was made by Cakes by Tali. It is a three layer cake with a hand painted and hand cut Shazam Cake topper. The middle layer has the lightning bolt which appears when Billy Batson transforms into Captain Marvel. The bottom layer is blue and has electricity from the lightning bolt. The top layer is the "magic word", in this case the birthday boys name, not the name of the wizard.
Shazam aka Captain Marvel is character who isn't that well know these days, but that should change after the Shazam movie in a few years. It is ironic that Shazam is so unknown these days because there was a day and age where he was the most popular superhero in the world.
Gomer Pyle was famous for saying the phrase "Shazam! Shazam! Shazam!". Guess what character that is a reference to?
Elvis', the King of Rock and Roll, hair cut was based on Captain Marvel Jr. and the cape he wore on stage was also based on the one worn by Captain Marvel Jr. If you go to Graceland you can see Elvis' collection of Captain Marvel Jr. comic books.
Captain Marvel was comic book character published by Fawcett Comics. He was a young boy, Billy Batson, who used a magic word "Shazam" to turn into the grown up superhero Captain Marvel. Captain Marvel was so popular that other characters were added to the Captain Marvel family. The Captain Marvel family included everyone from the aforementioned Captain Marvel Jr. to Hoppy the Marvel Bunny.
To make a bunch of long confusing stories short, these days the character is known as Shazam and is owned by DC Comics. As I said earlier there is a Shazam movie planned for 2019. These days the name Captain Marvel is used by a character owned by Marvel and they have a Captain Marvel movie planned for 2018.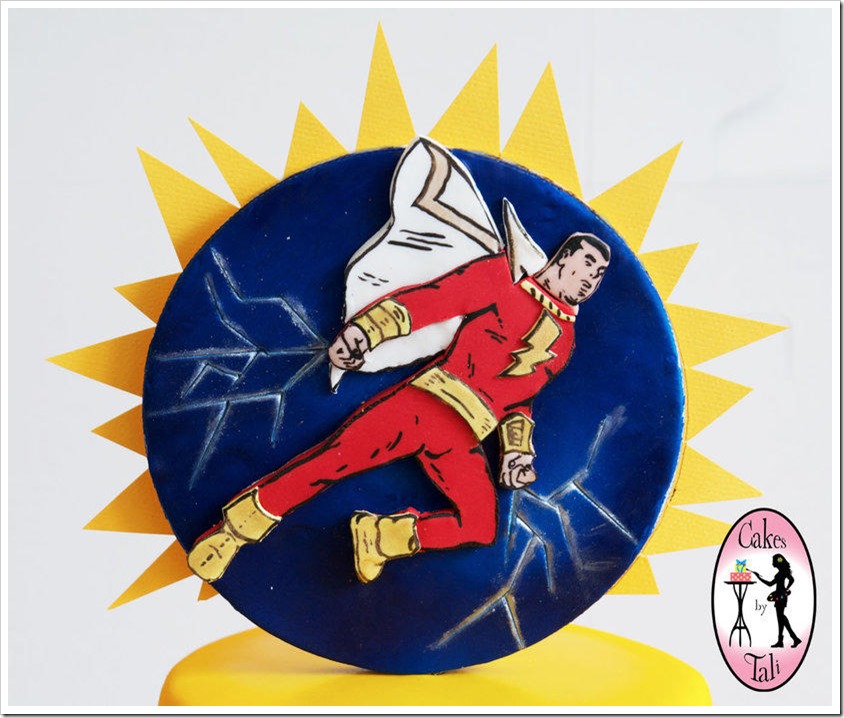 Here is a close-up of the cool hand painted / hand cut Shazam cake topper.