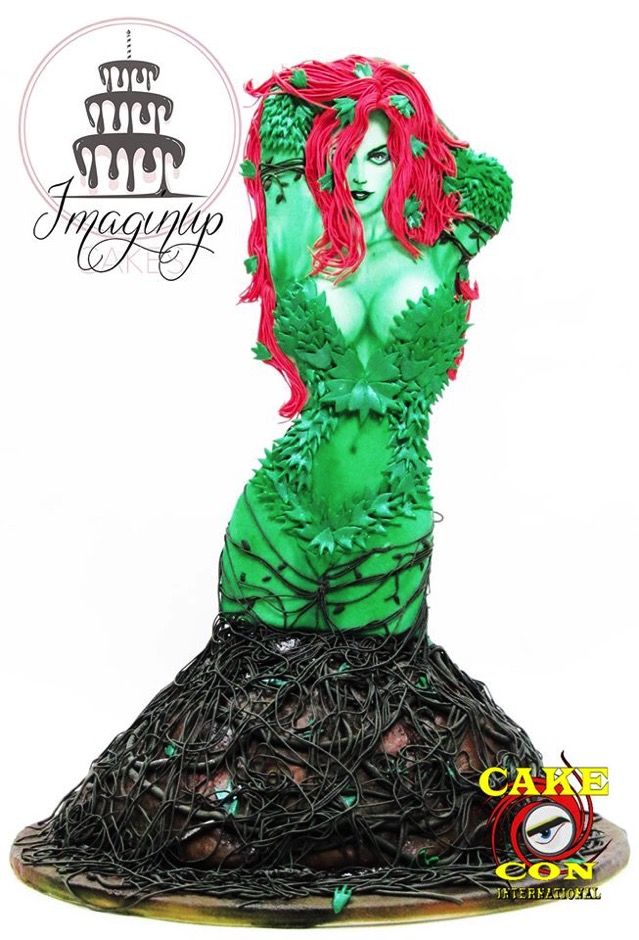 This Marvelous Poison Ivy Cake was made by Suyan Cavalcante Lolas from Imaginup by Suyan.
This Fabulous Poison Ivy cake was made for the Cake Con Cake Collaboration. Cake Con international is a collaboration featuring 22 amazing artists who have created sugar art inspired by tv series, comics & video game characters.
Here is Suyan's bio:
My name is Suyan, I'm 37 years old and live in Rio de Janeiro, Brazil. Although I've graduated in law school, with 2 PHD's, after 10 years of practice I found out my real passion! Making cakes!!!!!! It's been 4 years since I just left a solid career as a lawyer to open my cake business. It's been a fun and overwhelming journey. From basic round cakes covered in fondant I found my way to painting… I have tried several painting techniques, fondant, gumpaste recipes and found my own way of making it. Now I teach those techniques around my country and keep studying and trying to find new ways to make the hand painting more realistic as possible. One of the most rewarding things is that I got to know other cake artists that share that same passion as myself. Being part of this collaboration (my first one I must say) is such an honor and gave me an incredible joy!Bronze Award at 2014 Sugar Craft Show – São Paulo – Brazil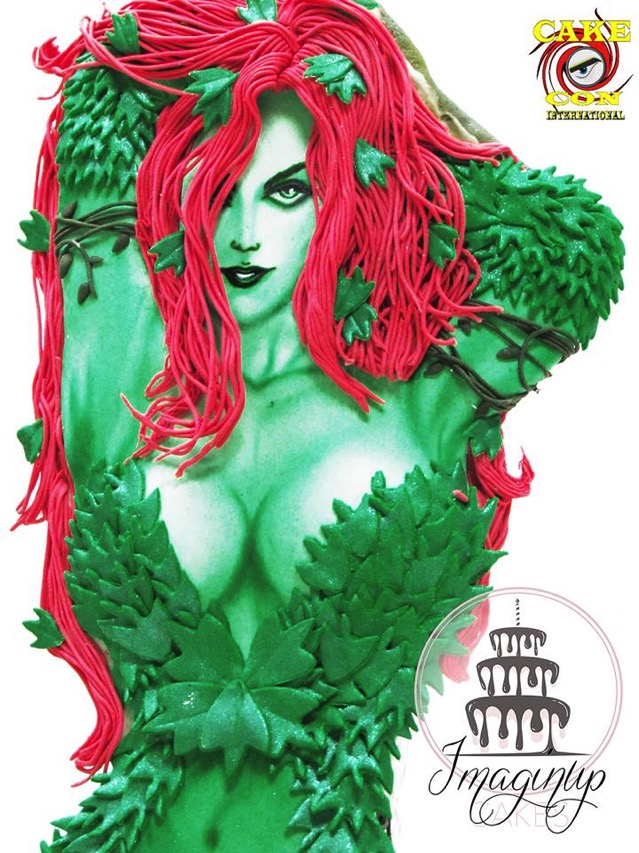 Here is Suyan's description of her Marvelous cake:
My piece was inspired by Poison Ivy, one of the sexiest supervillains known in comics.
The first layer is a cake covered in fondant then airbrushed to resemble dirt. I added gum paste leaves and vines working their way up transforming into her sexy form. My topper was hand painted in detail and her body was covered with ivy leaves that were applied in layers for a more realistic look. Her flaming red hair was made using a clay extruder and each strand was applied one by one.Poison Ivy is depicted as one of the world's most notorious eco-terrorists and possesses a very unique beauty.
Poison Ivy has red hair. she is clothed in green leaves. There are black spaghetti like vines at the bottom of the cake. She has a sultry look on her face.
Here's a picture of this sugar sculpture in progress.