This Superb Peruvian Vipertooth Dragon Cake was made by minerva Hooch – Mimi Hood from Mimi's Mocha Treats.
This Superb Peruvian Vipertooth Dragon Cake was made for the Fantastic Beasts and Where to Find Them Collaboration.
The collaboration of food artists from around the world, known as Birthday Mischief Managed have assembled to debut their second installment of edible art in celebration of world-renowned author, J.K. Rowling's screenwriting debut and newest movie trilogy – "Fantastic Beasts and Where to Find Them".
"Fantastic Beasts and Where to Find Them", is an A to Z "textbook" of magical creatures that have been featured in the Potter film series and publishing's of J.K. Rowling. For this collaborative effort some of the beasts were removed from the list inside the textbook and each artist was asked to create the remaining using only their imaginations and the book's descriptions with sweet edible mediums. Each artist has dressed for the occasion and transformed themselves into "Magizoologist". Be sure to visit their pages and read the documents kept about their beast.
Our biggest challenge was resisting the urge to research, (cheat) pictures of our assigned beasts. The group has made sweet magic. My only regret is not having a pet Kneazle." – Michelle "ChefMitchie" Curran aka Michaeleas Cuuragusta, Headmistress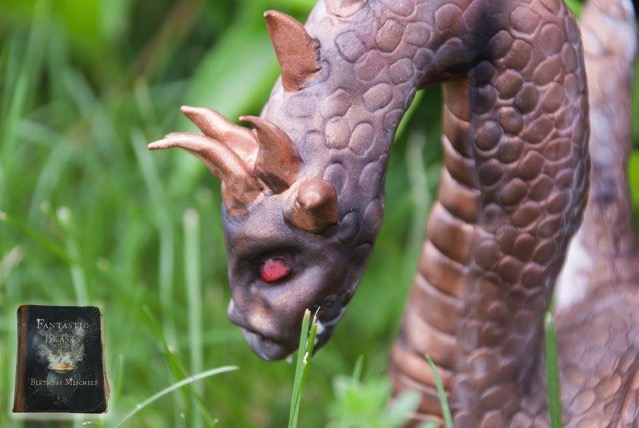 Here is Mimi's description of this Fabulous Edible Beast:
We didn't know what to name him at first, but after observations, we decided that Peruvian Vipertooth fit him perfectly. Some of its notable behaviors include its tendency to coil up in the corner and watch….watch us move behind the glass. Then, it's like its eyes are glued to our bodies. Every step we take, every move we make, he is watching us. We have to be careful when we feed him….because the little stinker tries to blend in with the cell to hide from us. In order to get close to it, we actually have to dress like chickens… we are talking full out feathers and beaks, in order to feed him. We found that if we place a cow or goat behind another cell, he isn't interested. For whatever reason, he has to play with it….taunt it, hunt it. So, we added some foliage to his room and started placing the "vittles" in the room with him. All of a sudden, he is interested! Before we discovered the value of the chicken outfits for camouflage, the dragon nipped at one of our aids, giving her dragon pox! Injuries sustained by Study/Beast and aide taken: At this time, no studies have been released since we took it captive, as we still have many more tests to run.