This Amazing Kratos cake was made by Ade Cal of Delicut Cakes.
This splendid cake was made for the Cake Con Collaboration. Cake Con is a collaboration featuring amazing artists who have created sugar art inspired by TV series, comics & video game characters.
This Amazing Kratos Cake features Kratos the main character in the God of War video game and comic book. On this cake, Kratos is standing on top of the head of a sculpture of Zeus which he beheaded.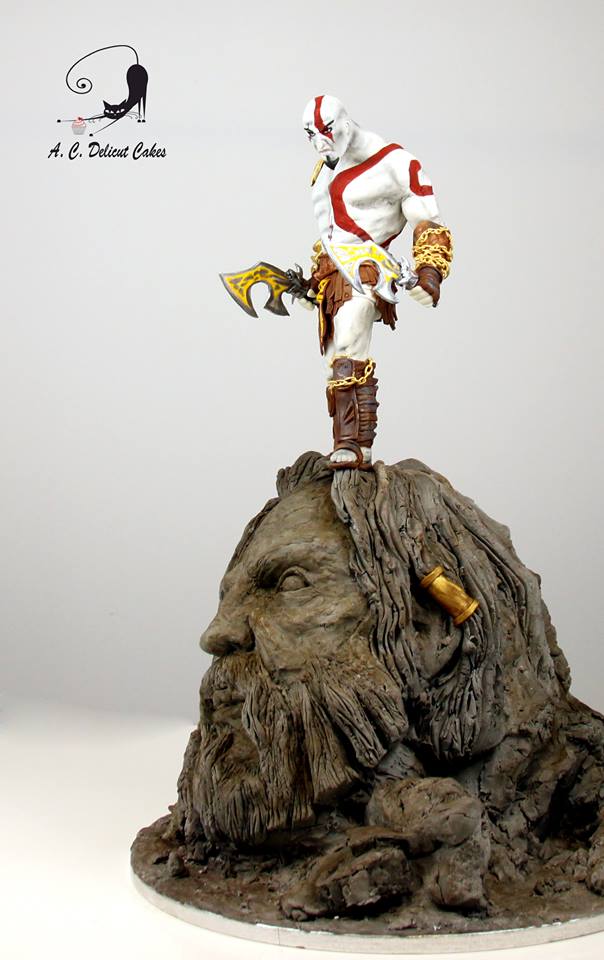 Here is Ade's description of this Amazing cake:
Greek mythology has always fascinated me especially the conflicts and wars waged by the Titans and the Gods. Kratos is the main character in the God of War series of video games on which the comics and novels were based on. Kratos, depicted as lacking in feeling, is a Spartan warrior who grows to be the "Ghost of Sparta" after Ares, the God of War, tricked him into slaying his family. Kratos himself then becomes the God of War after killing Ares, and is eventually revealed to be the son of Zeus. Kratos is later sent to the Netherworld by Zeus as punishment for wanting to destroy the world, and is stripped of his godly powers by being converted into a human. Kratos then embarks on a series of adventures in an attempt to reach Mount Olympus and so avenge his fate by killing Zeus. The image I have chosen represents Kratos' having beheaded a sculpture of Zeus, which epitomizes his hate towards his father.