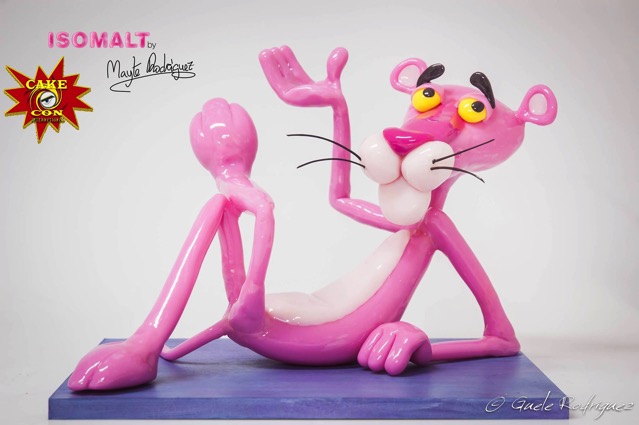 This Amazing Pink Panther cake piece was made by Mayte Rodriguez Gigante of Isomalt by Mayte Rodriguez. This piece is actually made using isomalt. Isomalt is made from beet sugar. Sugar artists use it to create wonderful edible pieces of art that look much like blown glass.
This splendid isomalt creation was made for the Cake Con Collaboration. Cake Con is a collaboration featuring amazing artists who have created sugar art inspired by TV series, comics & video game characters.
Here is Mayte's description of this Amazing edible piece:
Since I was a child I loved the Pink Panther. His color, his wit, his calm had me hooked on television whenever he saw him. For me it is one of the best comics both for children and adults.
The Pink Panther animated character appeared in the credits of most of the Pink Panther films. In the original film, the Pink Panther was an expensive pink diamond. In the credits it was the animated pink panther.