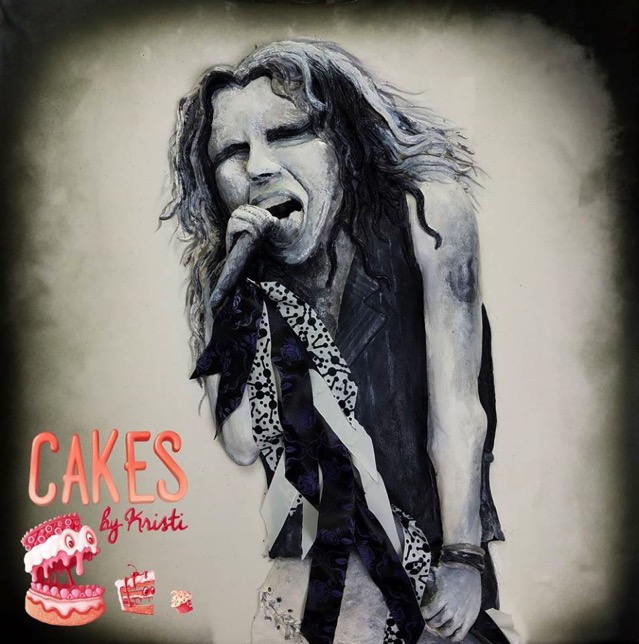 This Splendid Aerosmith Cake was made by Kristi Caccippio from Cakes by Kristi.
This Fabulous Aerosmith cake was made for the The Power of Music Collaboration which is a cake collaboration where sugar artists have created pieces in many different sugar art forms (cake, isomalt, cookie, cupcake) to represent music that really affected them. This collaboration was done in honor of World Music day. World Music Day celebrates music in all its forms and the impact it's had on the world and the human spirit.
Here is Kristi's description of this Fabulous cake:
I decided to do a 3/4 profile bas relief – something I had never tried before. I knew I wanted to do an Aerosmith song because they have been one of my favorite bands for so long – (can one ever have "enough" Aerosmith posters or memorabilia?) The image I ended up choosing is of Aerosmith's Steven Tyler belting out "Dream On" on stage earlier in his career. I chose "Dream On" because I have listened to it so many times and it always felt like the epitome of an awesome rock song to me. Many people recognize Stevens mic stands because of his scarves. It was an accident at first, starting with draping a favorite shirt over the stand for good luck. Over 30 years of rocking hard has definitely taken its toll on his voice – but he still sounds amazing, albeit a bit different from those first recorded tracks. I loved listening to Aerosmith when I was a kid, and I still love listening to them now!