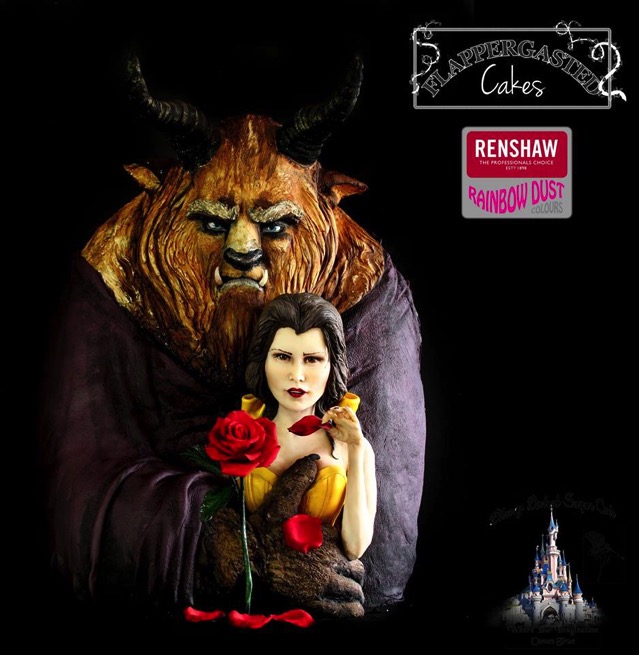 This Superb Belle and the Beast Cake was made by Nathasja Flapper from Flappergasted Cakes. This cake has a new twist on the story. Belle wants the Beast to remain like he is.
This Fabulous Belle and the Beast Cake was made for the Disney Deviant Sugar Art A Worldwide Collaboration which is a cake collaboration where cake artists put their own spin on Disney characters.
Here is Nathasja's description of this Wonderful cake:
For my piece, I chose Beauty and the Beast. I must have seen this film hundreds of times, the story, the songs and the excitement when Belle ends up in the forest hunted down by the wolves and then Beast comes and saves her!! Or when she hopelessly tries to save Beast from the angry town mob, showing his softer side, the ones she loves so dearly. Ohhhh! But this time I am grown up and my artistic side chose to do a little different from the original. What if Belle had a hidden darker side and she just likes Beast the way he is, you know, rough and big and strong…. ? That rose is the answer to the problem of him turning into some guy that isn't anywhere near as big and strong and tough and rough and gentle at the same time, as Beast is now. That rose… The only thing she had to do was take off the petals one by one, and they would be together like this forever. Now wouldn't that be nice?
Also, check out these wonderful Beauty and the Beast Cakes and Cookies.