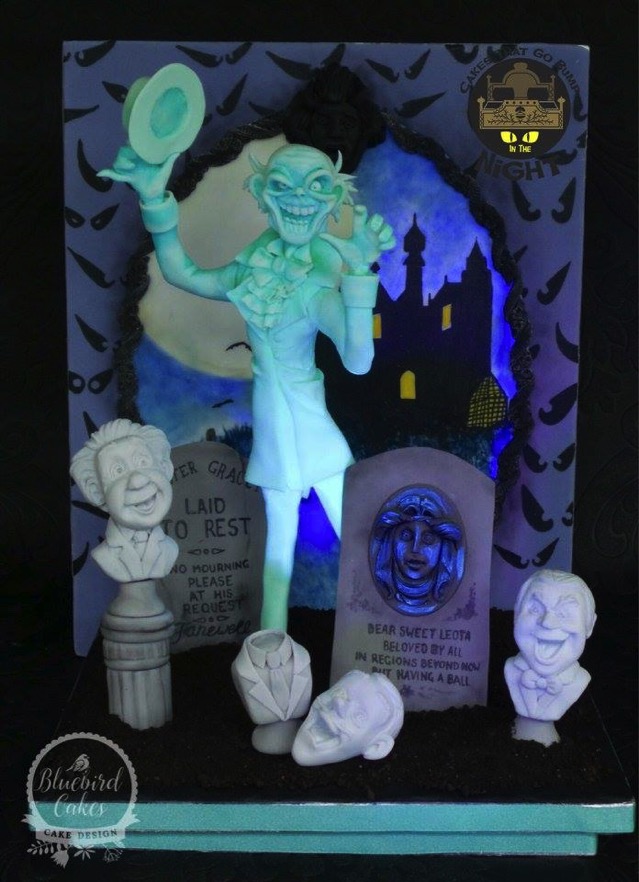 This Fabulous Disney Haunted Mansion Graveyard Cake was made by Zoe of Bluebird Cakes Cake Design.
One of the 3 Hitchhiking Ghosts, Ezra the skeleton, is in the middle. Three of the marble singing busts that sing Grim Grinning Ghosts in Disney's Haunted Mansion ride are part of this amazing cake. Uncle Theodore's head is the one that is detached.
This cake has the Graves of Master Gracey and Madam Leota. Dear Sweet Leota was named after Disney Imagineer Leota Toombs, the woman who is the voice behind Madame Leota.
The Haunted Mansion can be seen behind the figures.
Here is what Zoe says about this amazing cake:
Disney's Haunted Mansion Ride: My piece is based on my favourite ride in Disney, the Haunted Mansion. I love the imagery and the strong design of the ride, it's the perfect mix of spooky and kitsch. I chose some of my favourite elements of the ride- one of the Hitchhiking Ghosts, Madam Leota's headstone and three of the Singing Heads. I used modelling chocolate for the figures, flower paste for the headstones, and crushed cookies for the dirt. I then highlighted areas in Rolkem Lumo glow in the dark dusts and a UV torch to bring it to life.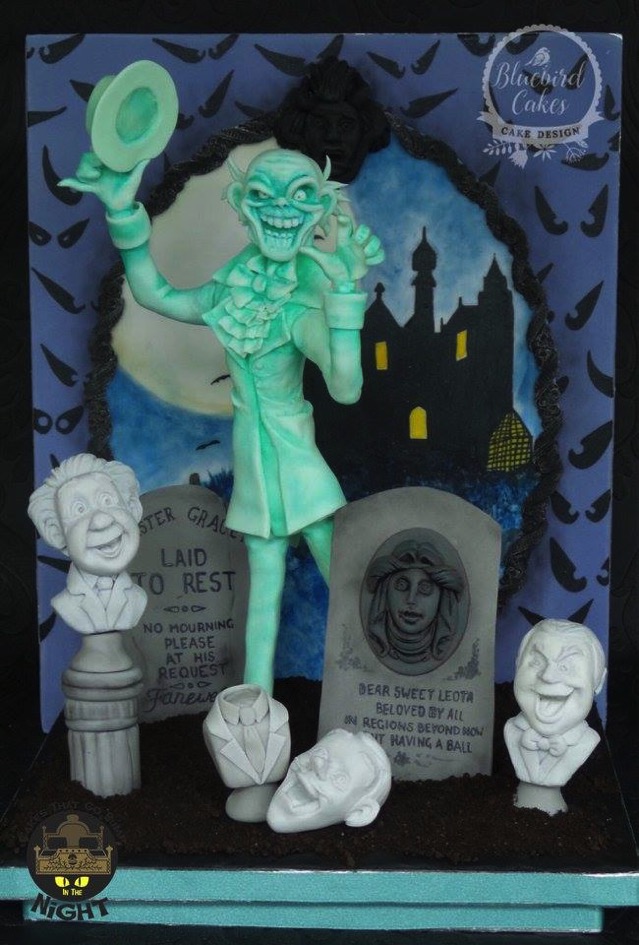 Master Gracey tombstone has these words:
Master Gracey
Laid To Rest
No Mourning Please
At His Request
Farewell
Madam Leota's tomb says this:
Dear Sweet Leota
Beloved By All
In Regions Beyond Now
But Having A Ball
The Haunted Mansion ride is my husband's favorite ride at Walt Disney World and Walt Disney Land. He even has stuffed versions of the Hitchhiking Ghosts.
For more spooky treats, check out these Disney Haunted Mansion Cakes, Cookies and Pumpkin Carvings.