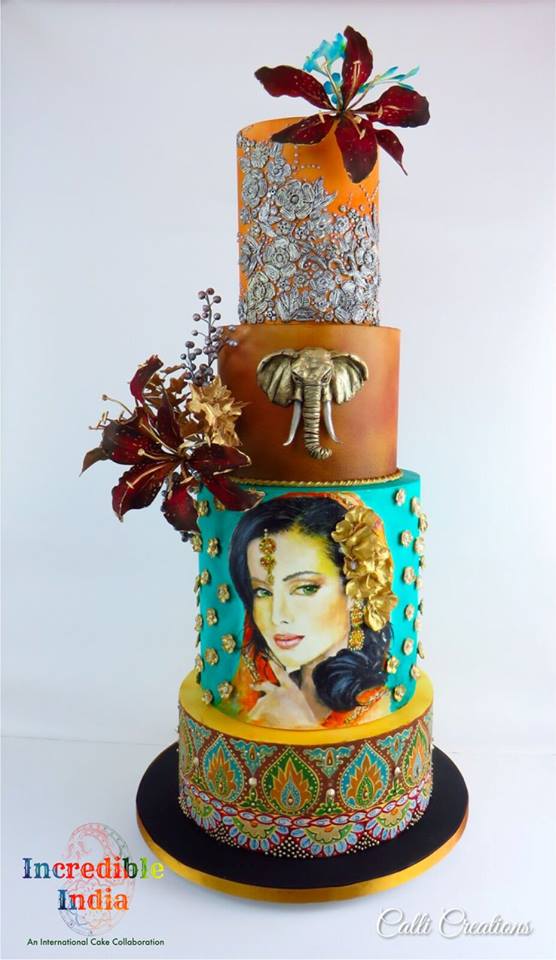 This Wonderful Indian Wedding Cake was made by Calli Hopper of Calli Creations.
I wanted to showcase some of the terrific cakes that are part of Incredible India: An International Cake Collaboration, which is a cake collaboration that showcases the rich cultural diversity of India through Sugar Art. To see all of the wonderful cakes in this collaboration, please click on the collaboration link.
Here is Calli's description of the wonderful cake above:
I was inspired to do this Indian wedding cake as the theme very much ties into my heritage as my father, his brothers and sister were born, raised and educated in Rajasthan, India in the late 1920's to 1940's roughly. All tiers are Royal iced and then airbrushed. The two base tiers are handpainted using Saracino cocoa butter and their colour dusts. The subject inspired by ethnic vibrant textiles and traditional bride. The elephant is modelled in Saracino modelling chocolate and brushed over with metallic gold. The top tier silver embroidery I created using a combination of hand modelled twirls with leaves and flower molds that I then balled out and textured to create a stitching look. Then brushed over with metallic silver. The fantasy lilies, berries and leaves are made from platinum paste.
This Terrific Cake was made by Heba Elalfy of Sweet Dreams by Heba.
Here is Heba's description of this wonderful cake:
Name for my cake : Vighnaharta Ganesh: Lord Ganesh is the most widely recognized Hindu deity. He is the Lord of Good Fortune who provides prosperity, fortune and success. He is the Lord of Beginnings and the Remover of Obstacles of both material and spiritual kinds. He's worshiped first before invoking any other deity in Hindu mythology. He was born with a normal human head which was destroyed but then replaced with his elephant head. Hindus believe that Lord Ganesh's stomach houses the entire cosmos. Because the festival of Ganesh Chaturthi starts in August this year, I chose to depict this deity on this red cake as if made from red porcelain. This festival remembers his birthday and celebrates him for 11 days! This is a cherry chocolate chip pound cake filled with vanilla buttercream, then decorated with Satin Ice fondant. Such a pleasure and honor to be invited into this collaboration celebrating India; a colorful and diverse country with a rich history!
This Fabulous Gandaberunda cake was made by Hima Bindu of Cakes n Crumbs.
Here is Hima's description of this wonderful piece:
Gandaberunda/Double headed eaglechosen topic for the collab – Indian Culture/ Hindu mythology. Edible Medium : modeling chocolate. Gandaberunda is a two headed mythological bird, believed to possess immense magical powers. It is depicted as clutching elephants to signify its power and strength. Legend has it that to kill a demon named hiranyakashyap , lord Vishnu takes the form/avatar of Gandaberunda. It is the royal emblem of wodeyar dynasty of mysore and present Karnataka states emblem. As a child I used to love listening to stories from my grandmother. Lot of her stories used to be on hindu mythology. I first heard about gandaberunda from her, and later when I was searching for inspiration I came across a painting of this bird. As I love modeling chocolate, decided this would be wonderful concept , especially with the gravity defying elephants.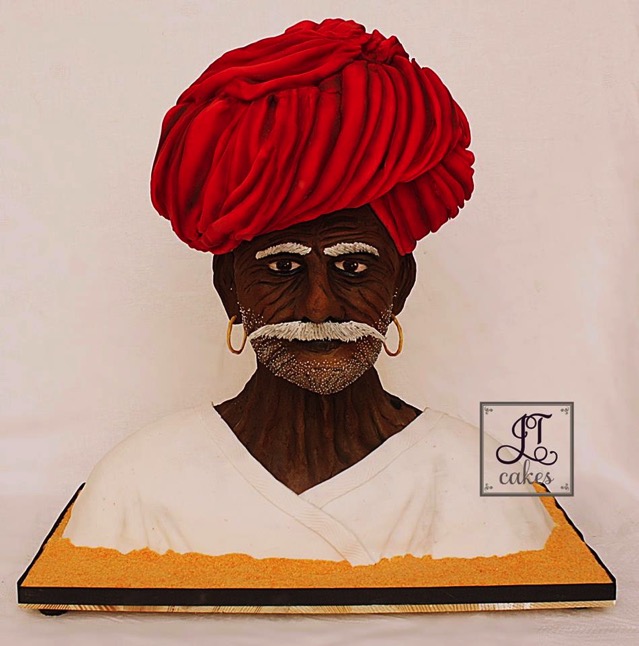 This Marvelous Indian Man Cake was made by Jonathan Theuma of JT Cakes.
Here is Jonathan's description of this wonderful cake:
I wanted to give my perspective of Incredible India, not by the richness of the history or architecture, but by the simple poor people that work hard for their daily earning. Please meet Raggu Babu. He's 75 years old, poor and still working in the fields under the scorching sun.He's a life size bust made of cake and rice krispies treat. Covered in modelling chocolate and painted and airbrushed. His moustaghe, eye brows and stubble are piped royal icing and dusted.
This Mother Theresa Cake was made by Jennifer Jenkins Kennedy of Jenny's Haute Cakes.
Here is Jennifer's description of this wonderful piece:
My piece is a sculpture in bas relief of Mother Teresa of Calcutta. Mother Teresa was a Catholic nun with the Sisters of Loredo in Calcutta. Later she created the Missionaries of Charity. She is best know for her work with the poor, sick and needy. In 1979 she received the Nobel Peace Prize for her humanitarian work. In 1980 she received the Bharat Ratna, the highest civilian award in India. She also was awarded the Presidential Medal of Freedom and the Congressional Gold Medal from the United States, among many other awards from different countries. In 2016 she was canonized by the Catholic Church (declared a Saint).
My piece is a bas relief sculpture made with fondant over modeling chocolate. The quote is by her.
This Superb Abdul Kalam cake was made by Tina Scott Parashar of Tina Scott Parashar Cake Design.
Here is Tina's description of this wonderful cake:
Dr. A. P. J. Abdul Kalam was the 11th President of India and was widely regarded as the "People's President", He was a role model for students everywhere and will always be remembered for his humility, his common touch and his ability to connect with people from all parts of the country, his humble lifestyle and his deep intellectual prowess. He inspired whole generations of Indians to take up a career in Science and Technology. Coming from a very humble family, he studied physics and aerospace engineering and went on to head several scientific establishments in India. He was closely involved in India's civilian space programme and development of military missiles and came to be known as the Missile Man of India for his work. This display is my tribute to an icon of the youth of India.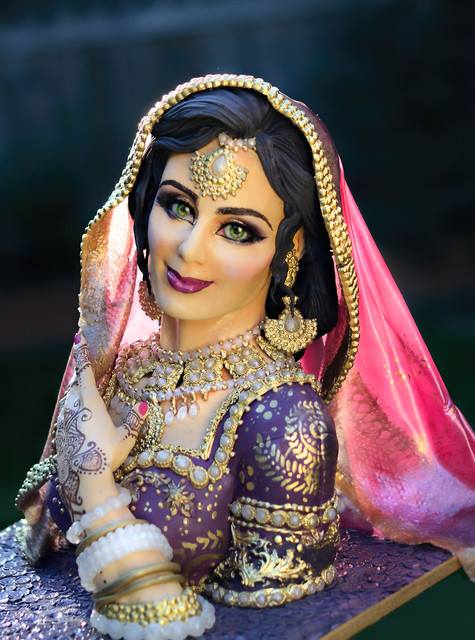 This Indian Woman cake was made by Lizzo Marek of Sugar Geek Show.
Here is Liz's description of this wonderful piece:
For the incredible India collaboration I chose to create an Indian Bride. I did a ton of research for this project, spending way too many hours looking at Indian Pinterest boards! Deciding on colors, jewelry, hair style even making sure I got the ethnicity correct in her facial features. It was a lot of fun! I also wanted to incorporate a hand just so I could have some fun painting some henna. It took me three days to sculpt the bust and the hand, another day to make the flexique sari headscarf and another day to make all the isomalt jewelry. The detailing was my favorite part and I didn't want it to end! I wanted the bride to look beautiful and glowing like she would be on her wedding day. Pulling back her headscarf to give shy smile perhaps to her future husband on their wedding day.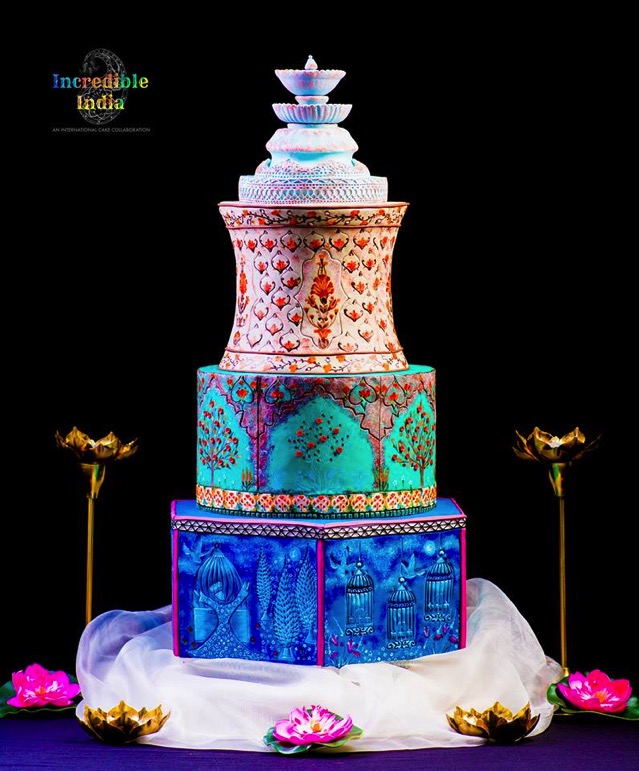 This Splendid Mugal Art cake was made by Ann George of Cake Room.
Here is Ann's description of this wonderful cake:
My inspiration of my work for Incredible India was capturing few aspects of the Mugal art and architecture. India as been a country , which was a home to many dynasty and some of them have left a remarkable and lasting impact. The Mugal paintings though originally Persian, was redefined through India color schemes and aesthetics. The paintings were miniatures, with fine details feathering scenes from nature and history. The architecture has pointed domes, onion shaped domes, the interplay of geometric shapes, devotion to symmetry, focus on gardens and landscapes with fountains. The Mughals loved their music and "The Sema "the Sufi dance of whirling dervishes is something worth mentioning. It's an act of love and a dream of faith along with Sufi music. I hoped to capture a bit of all of these essence into my work.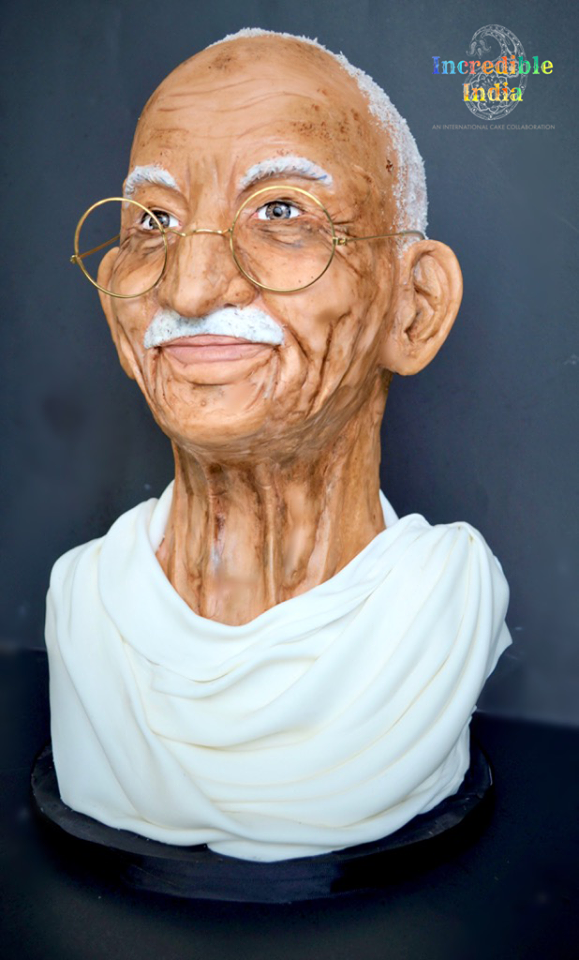 This Superb Mahatma Gandi cake was made by Hemu Basu of The Sweet Sensation.
Here is Hemu's description of this wonderful cake:
Mahatma Gandhi Chosen topic – Independence leader Edible Medium : fondant, modelling chocolate and RKT Inspiration: Mahatma Gandhi was a person of principle, he was an epitome of simplicity, leading by personal example, ahimsa methods for independence and changing mindsets of people, inclusive philosophy, patience, humility, and pursuer of truth. Relating to him has a special meaning for me. I drew unconventional inferences and inspiration from his life journey, especially to navigate the testing times of my life.
This Marvelous India cake was made by Payal Potdukke of Cakey Bakey Doo.
Here is Payal's description of this wonderful cake:
Theme: India through a traveler's eye When I got to know about Incredible India theme, first thing popped in my mind is "Travel to India", Laced with glorious culture and breathtaking attractions, India is a dream destination for all seasons.Since I worked for Indian embassy, Norway few years, I observed that Indian diverse monuments, forests, heritage and even local mode of transporatation never cease to amaze foreign tourists who visit India to see the places and their stories.While returning back,they carry love and warmth in their hearts.Here in my theme,each tier of cake symbolizes different state, which has diverse landcapes pattern from the mountains of north region to the beaches in south region.Incredible beauty of heritage represented in form of architectural monuments like lotus temple representing our national flower, Taj Mahal listed in world UNESCO world heritage and many more. India is a country bustling with life. Every road and street, nook and cranny, you see, there is an essence that can't be missed. To experience this, what's better than local mode of transport. The tourists explore many small things and uncover real stories about Incredible India. India is a repertoire of surprises and delights, ready to leave you spell bound.