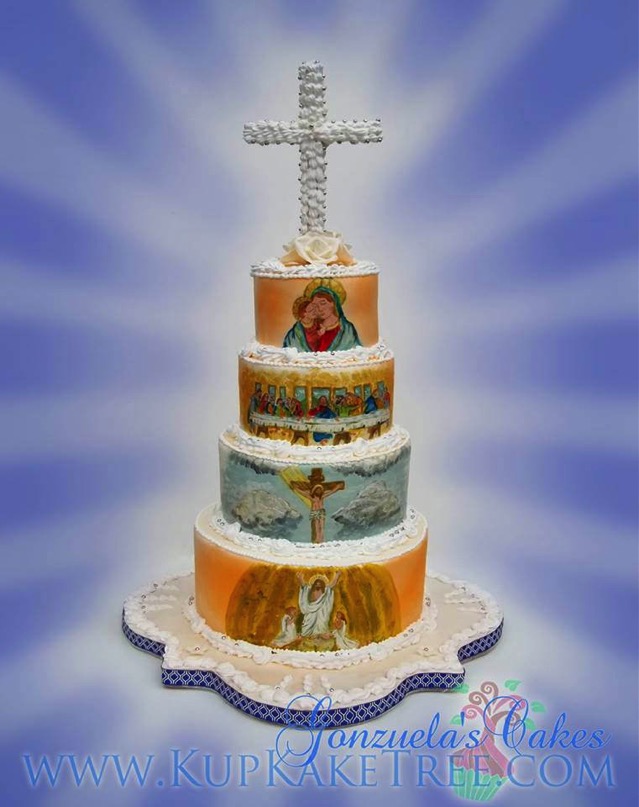 This Splendid Multi-tier Easter Cake was made by Gonzuela's Cakes.
Each tier of this amazing cake tells about a differnt part of Jesus life and each tier is based on a famous religious painting.
The top layer of the cake has a painting of Mary and baby Jesus. This is based on a famous Renaissance painting called The Shimmer of Gold by Giovanni di Paolo from Siena, Italy.
The next layer below has a picture of Jesus with his disciples at the Last Supper. This is based on Leonardo da Vinci's famous painting, 'The Last Supper'
The next layer down has a picture of Jesus on the cross. This is based on a painting of the crucifixion.
The bottom layer of the cake shows Jesus walking out of the tomb with an angel on each side of Him. This is based on the painting, 'The Resurrection' by Carl Heinrich Bloch.
On top of the cake is a white cross and a single white rose.
The angel said to the women,
"Do not be afraid, for I know that you are looking for Jesus, who was crucified. He is not here; He has risen, just as He said."
Matthew 28:5-6a
New International Version®, NIV®.
Copyright © 1973, 1978, 1984 by Biblica, Inc.™
May the peace and joy of Jesus resurrection be with you today and always.
Happy Easter