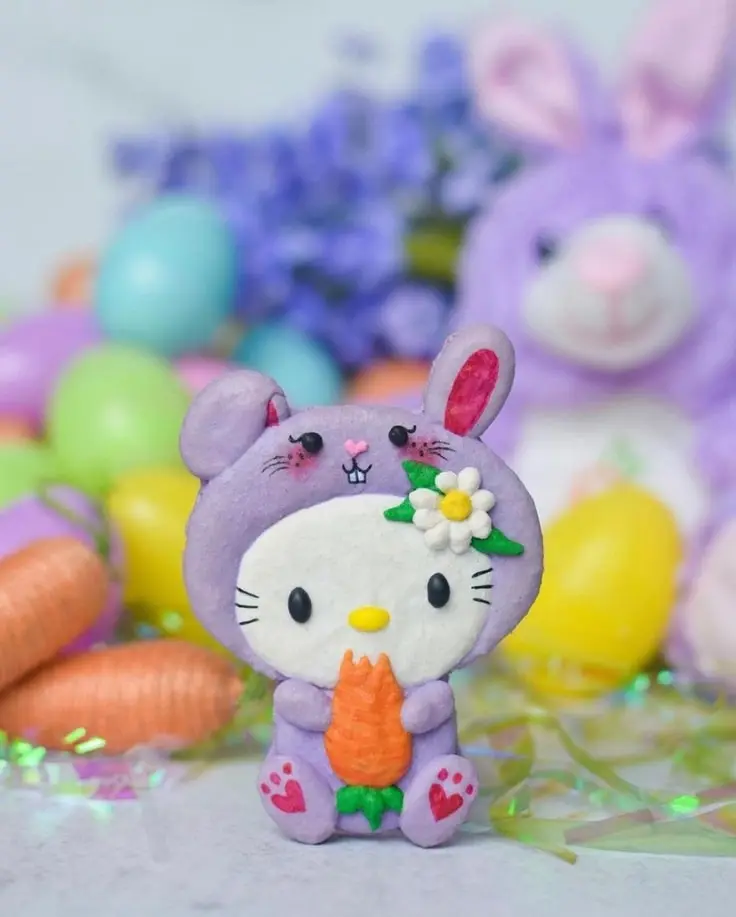 MacaNomNom is becoming my go to for cute holiday macarons. On Saint Patrick's Day, I featured her wonderful Hello Kitty Leprechaun Macaron. Today, I'm featuring two of her adorable Hello Kitty Easter Macarons.
The first of the these two wonderful Easter Macarons is pictured above. Hello Kitty is dressed as the Easter Bunny. She is a snacking on a giant carrot. The Easter Bunny hood that Hello Kitty is wearing has a mouth, teeth, nose, eyes and floppy ears. The Easter Bunny onesie is violet, so it looks like a giant Easter Bunny Peep. Yummy!!! The bottom of the bunny's feet are red. It has three toes and a heart where the sole of the foot would be. Instead of a bow, Hello Kitty is wearing a flower on her head.
Salinda's photograph is amazing. The background is slightly blurred so this terrific  Easter macaron is what you focus on. Even though they are blurred, the items in the background match the macaron perfectly. There are plastic Easter eggs and a purple stuffed bunny with floppy ears. If the background was crisp, your focal point would be split between Hello Kitty and the stuffed bunny. By blurring the background, everything blends wonderfully.
Hello Kitty Easter Chick Macaron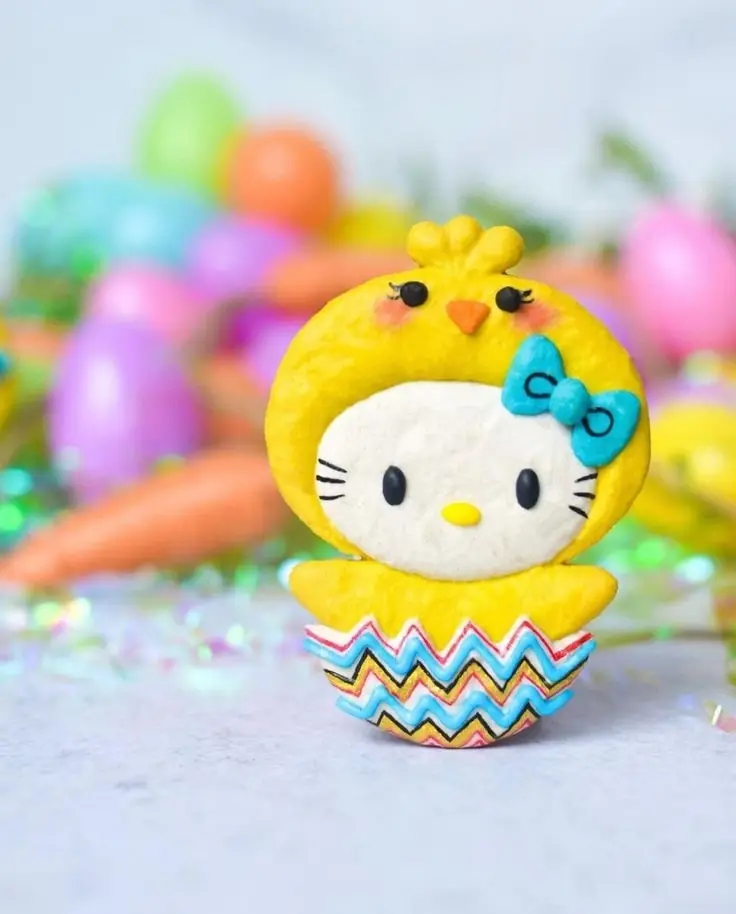 This cute macaron features Hello Kitty dressed as a baby chick who is just hatching for a brightly colored egg. Hello Kitty is wearing an Easter Chick onesie. It has a beak, eyes and three little feathers sticking up on the top of its head. Hello Kitty has a blue bow on her head.
The bottom half of the onesie is the Easter Egg that the chick is hatching from. It has wavy stripes that are blue, black, yellow and red.
Look for more adorable Easter treats? Check out the links below: