These wonderful Duck Dodgers Easter Eggs were made by Danny Kissel.
Every October, I feature spooktacular pumpkin carvings. Danny is one of the amazing pumpkin artists that I've featured in the past. Here are three examples of his cool carvings, Danny created this wonderful Marvin the Martian pumpkin carving, this cute Garfield pumpkin carving and this terrific Charlie Brown pumpkin sculpture. I was thrilled to discover that Danny also creates hand drawn Easter Eggs of classic cartoon characters.
This post is for my husband. Duck Dodgers in the 24½th Century is his favorite cartoon. Years ago, he got to see it on the big screen along with a lecture by the director Chuck Jones.
If I had to pick my favorite cartoon, I'd probably go with the Tex Avery / Tex Ritter team-up The First Bad Man. Unfortunately, I've never seen any cakes or cookies featuring these characters.
To my surprise, Marvin only appeared in 5 classic Looney Tune cartoons.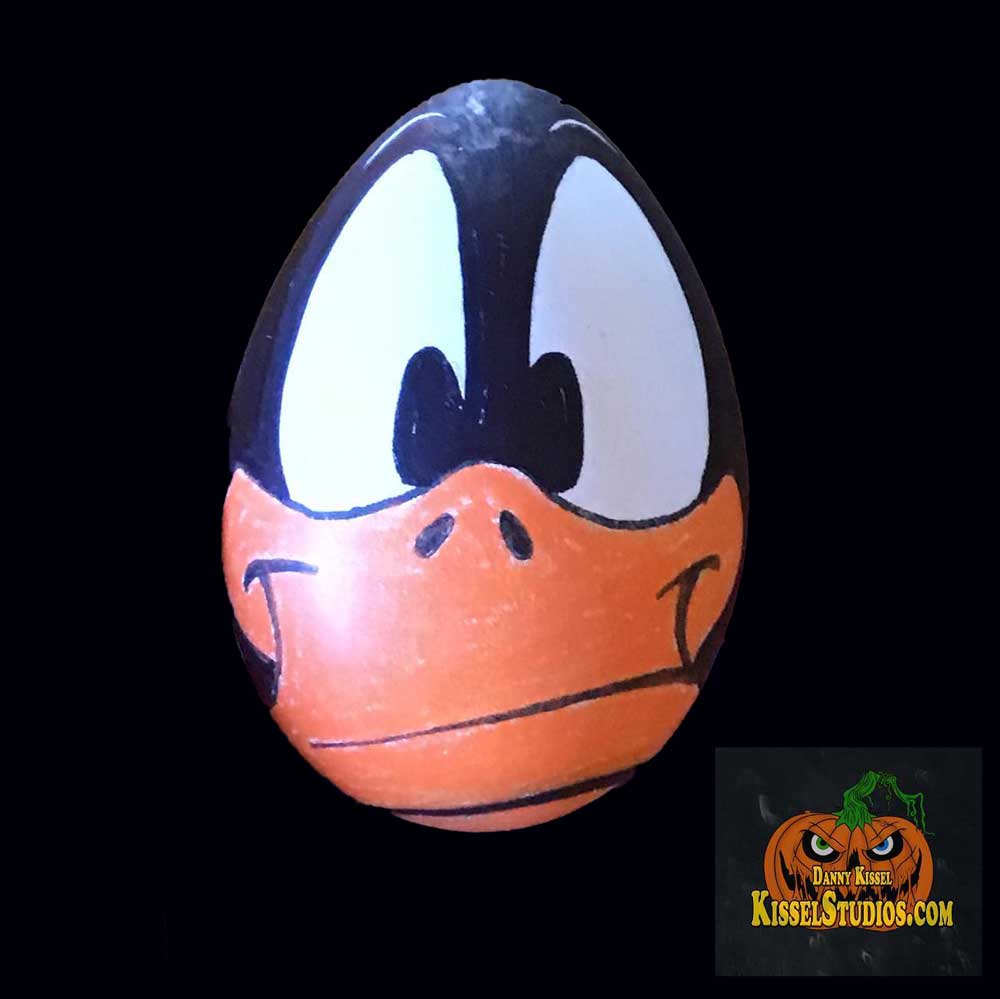 Here is Daffy Duck, the star of  Duck Dodgers.
As I've mentioned many times on this blog, I'm a massive fan of Doctor Who. So when someone mentions a dog named K-9. I expect an adorable robot dog voiced by John Leeson.
This is Marvin the Martian's Dog, K-9. Like Marvin, he is green and wears the same bizarre Roman helmet.
Looking for more eggceptional Easter Egg hand drawn by Danny Kissel? Danny also made these wonderful eggs:
What's Up Doc? These Bugs Bunny and Foes Easter Eggs feature Bugs Bunny, Yosemite Sam and the Tasmanian Devil.
You'll crow over these Foghorn Leghorn Easter Eggs. They feature Foghorn Leghorn, Miss Prissy, Henery Hawk and Barnyard Dawg.
The future is bright with these Jetsons Easter Eggs. They include George Jetson, his boy Elroy, daughter Judy and Jane his wife. Plus, the Jetson's dog – Astro.
These Flintstones Easter Eggs rocks. They feature Fred, Barney, Wilma, Betty, Pebbles, Bamm-Bamm and Dino.