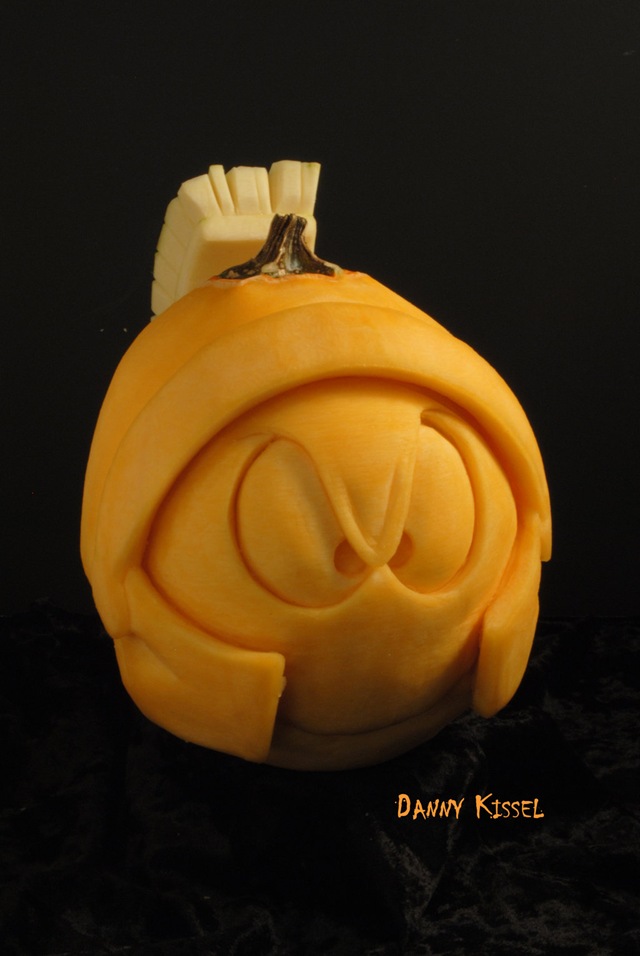 Danny Kissel's pumpkins are amazing. In addition this Marvin the Martian Pumpkin Carving, Danny has also carved Garfield the cat, Charlie Brown and a series of 4 Wizard of Oz pumpkins.
Marvin the Martian is wearing a Roman style helmet with a bristle top that looks like a brush. His eyes are done in layers and give him an intensely stern look. This is the best Marvin the Martian pumpkin carving I've seen.  All that's missing is a Duck Dodgers pumpkin to go beside it.
Danny is a fan of Hanna-Barbera and Looney Tunes cartoons. In addition to being a wonderful pumpkin artist. Danny also makes great hand drawn Easter Eggs.
If you like his Marvin the Martian, you'll love this set of Duck Dodgers in the 24½th Century Easter Eggs. They feature Daffy Duck, Marvin the Martian and his dog K-9.
You'll crow over these Foghorn Leghorn Easter Eggs. They feature Foghorn Leghorn, Miss Prissy, Henery Hawk and Barnyard Dawg.
What's Up Doc? These Bugs Bunny and Foes Easter Eggs feature Bugs Bunny, Yosemite Sam and the Tasmanian Devil.
The future is bright with these Jetsons Easter Eggs. They include George Jetson, his boy Elroy, daughter Judy and Jane his wife. Plus, the Jetson's dog – Astro.
These Flintstones Easter Eggs rock. They feature Fred, Barney, Wilma, Betty, Pebbles, Bamm-Bamm and Dino.