These wonderful hand drawn Flintstones Easter Eggs were made by Danny Kissel. They include Fred, Barney, Pebbles, Bamm-Bamm, Wilma, Betty and Dino.
Every October, I feature spooktacular pumpkin carvings. Danny is one of the amazing pumpkin artists that I've featured in the past. Here are three examples of his cool carvings, Danny created this wonderful Marvin the Martian pumpkin carving, this cute Garfield pumpkin carving and this terrific Charlie Brown pumpkin sculpture. I was thrilled to discover that Danny also creates hand drawn Easter Eggs of classic cartoon characters.
Barney Rubble has blond hair and is wearing a brown fur outfit. I've always assumed that Barney's outfit is Woolly Mammoth fur, but I don't think we're ever told that in any episode. Fred Flintstone has black hair and is wearing a blue tie and a Sabretooth Tiger skin outfit. Both Barney and Fred have their mouths open and they both have big smiles.
Wilma Flintstone's orange hair is tied up in a bun. You can't see it in this Easter Egg, but she usually wears a white dress and pearls.
One of my favorite pieces of Flintstones trivia is that Wilma was originally played by Jean Vander Pyl who also voiced Rosie the Robot on the Jetsons.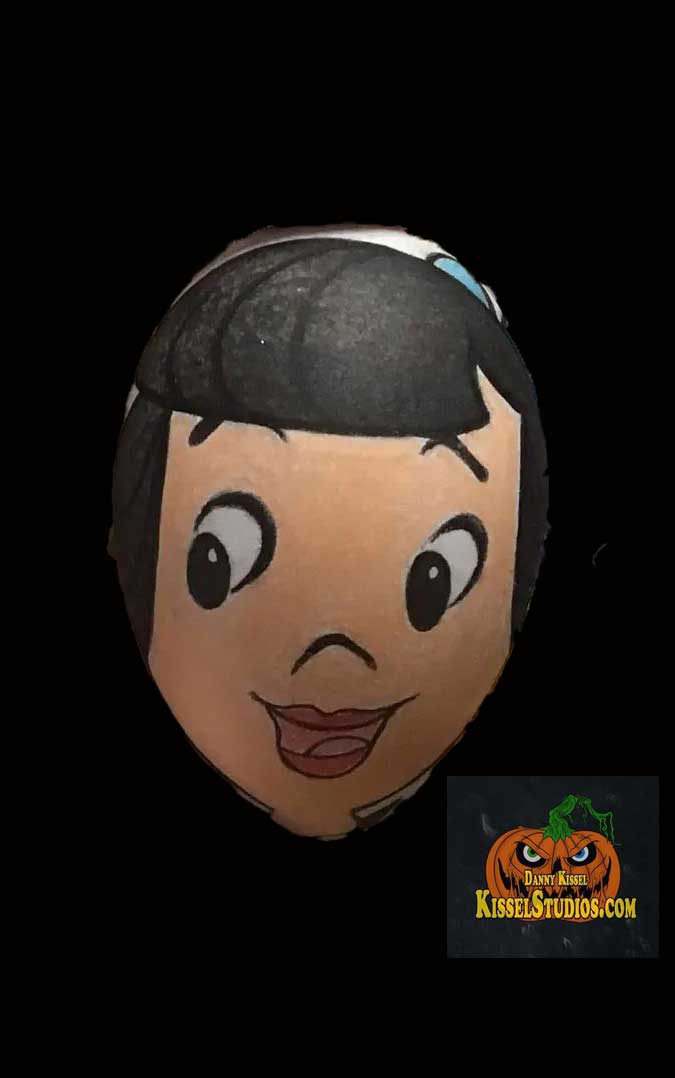 Betty Rubble hair is black and you can just see the blue bow that she wears in her hair. She usually wears a matching blue dress and a cameo necklace.
Dino is Fred and Wilma's "dog". Unfortunately, so far, Danny hasn't made an Easter Egg of Hoppy, the Hopparoo. I love Dino, but I always thought Hoppy was so cool.
Looking for more eggceptional Easter Egg hand drawn by Danny Kissel? Danny also made these wonderful eggs:
What's Up Doc? These Bugs Bunny and Foes Easter Eggs feature Bugs Bunny, Yosemite Sam and the Tasmanian Devil.
Who needs Illudium Phosdex, "the shaving cream atom" when you have these Duck Dodgers in the 24½th Century Easter Eggs? They feature Daffy Duck, Marvin the Martian and his dog K-9.
You'll crow over these Foghorn Leghorn Easter Eggs. They feature Foghorn Leghorn, Miss Prissy, Henery Hawk and Barnyard Dawg.
The future is bright with these Jetsons Easter Eggs. They include George Jetson, his boy Elroy, daughter Judy and Jane his wife. Plus, the Jetson's dog – Astro.