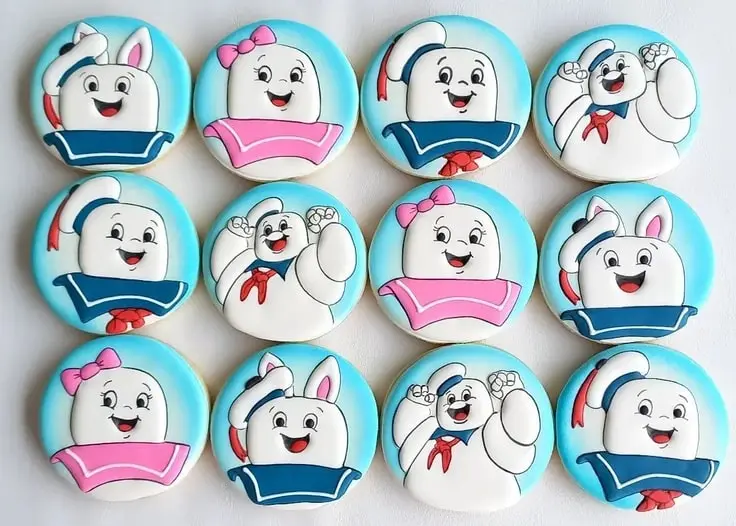 I love the creativity of cookie artists, I never would have thought to combine Ghostbusters and Easter. These adorable Ghostbusters Easter Cookies were made by Cupcake Maria Cozinha.
There are four different designs in his delightful set:
A Stay Puft Marshmallow Woman wearing a pink collar and a pink bow on her head. I'd love to see this character appear in a future Ghostbusters movie or animated series.
A similar cookie of the Stay Puft Marshmallow Man wearing his navy collar and sailor hat.
A further off picture of the the Stay Puft Marshmallow Man making muscles. I recall Ghostbusters ever using this pose and it is so cute!
The last cookie in the set shows the Stay Puft Marshmallow Man with big Easter bunny ears. These are just adorable!!!
Maria's use of colors on these cookies is brilliant. All four designs have a light blue background. The three cookies featuring the Marshmallow Man use the colors red, white and blue. The Marshmallow Woman's colors don't blend perfectly because she has a pink bow and collar. Maria's solution is wonderful. Look at the Marshmallow Man Easter Bunny. The inside of the Easter Bunny's ears are the same pink as the Marshmallow Woman's bow and collar. With this little addition of color, these cookies blend together wonderfully.
Looking for more Easter Treats? Check out the links below: