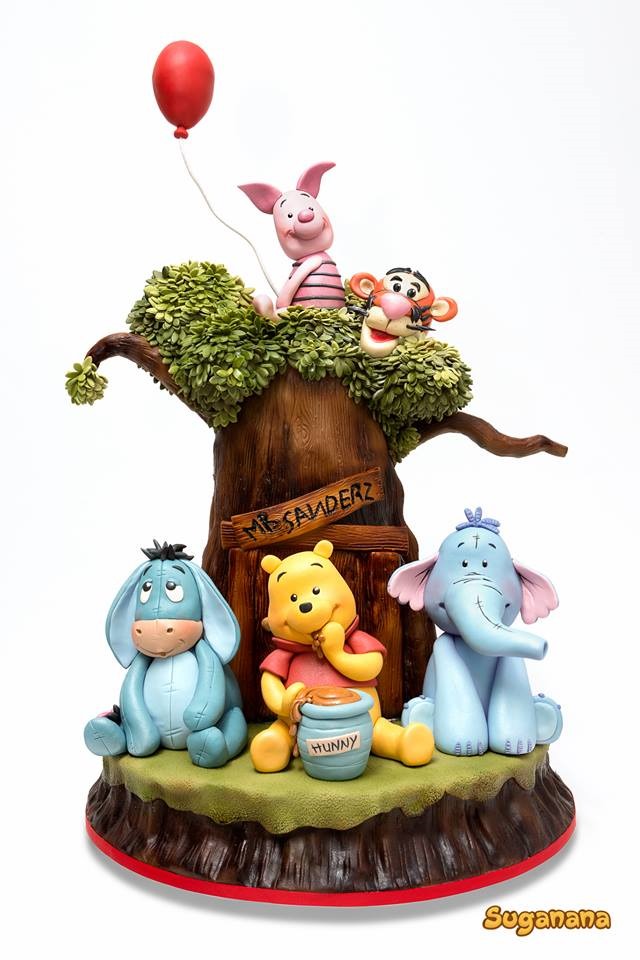 Last fall, I got my first Jim Shore statue. It is an adorable Christmas themed Winnie the Pooh statue. It is so cute that it is the only Christmas decoration that I leave up year round. When I first saw pictures of this cake online, I didn't even realize it was a cake. I honestly believed that it was another Jim Shore statue. This absolutely stunning Winnie the Pooh Cake was made by Suganana. This cake features Winnie the Pooh sitting in front of his house and eating honey out of a pot. Eeyore and Lumpy are on each side of him. Tigger's head is sticking out of the foliage at the top of the tree. Piglet is sitting on top of the tree holding a balloon.
The tree and figures are teriffic, but the thing which blows my mind is the variety of textures used on this cake. Pooh, Eeyore, Lumpy, and the base of the tree which is at the bottom of the cake look more like porcelain than fondant. You can see the texture in the tree's bark. The door frame and sign above it, while also wooden, have a different texture from the rest of the tree. The amount of detail on the foliage at the top of tree is amazing.
This is one of the finest Winnie the Pooh cakes I've ever seen.
Also, check out these wonderful Winnie The Pooh Cakes and Cookies.