This wonderful cake was made by Sofia Silva from Doces Tentacoes Cake Design
This Marvelous cake was created for the Steam Cakes – Steampunk Collaboration. To celebrate the Steampunk International Day, Cake Artists from around the world gathered to create their own edible Steampunk masterpieces.
This amazing cake features a clock with gears on its face. Sitting on top of the clock is a black top hat with gold goggles in the front. Beside the clock is the bust of a man wearing gold googles and wearing a black hat. The hat has gold gears attached to the hat. There are gold chains and buttons and gears on the man's black suit jacket. Both the clock and bust are sitting on top of a silver box. The cake board is black. Large gears and a skull are on the cake board.
I also want to spotlight Sofia Silva and share my interview.
Tell me about yourself. How long have you been decorating cakes? How did you learn to decorate? Do you decorate professionally? Have you taught any cake decorating classes? Have you competed in any cake competitions?
My name is Sofia Silva and I am a cake decorator and cake supplies shop owner from Santa Maria da Feira, Portugal.
After finishing my degree as an English/German teacher and having taught for a few years, I decided to dedicate myself entirely to this sweet world, beginning my journey with a PME Masters and several workshops, but I must confess that the bulk of my abilities have been self taught.
I am now 100% dedicated to my cake design shop, where we try to have all the tools for anyone who wishes to adventure themselves in cake design and have workshops for those who wish to learn more!
I love to participate in competitions nationally and internationally. Love going to Cake International, where the talent represented is through the roof!
What is the name of your business/bakery, where you are located, what area you serve, and what you specialize in.

My shop is called "Doces Tentações" – Sweet Temptations!
Social media links:
https://www.facebook.com/docestentacoes.sofiasilva/
Tell me about your cake. What was the inspiration for your cake? How did you create it?
Steamcakes is always a great challenge! We get to create amazing pieces with a unique theme! We are given the freedom to do whatever we want, without any restrictions! Carla and João are amazing hosts and do a brilliant job managing the collab! They work very hard to give everyone a spectacle! So proud to be a part of this collaboration! Thank you Carla Rodrigues and João Pimentel!
This year I wanted to incorporate a lot of steampunk elements, because I had a hard time narrowing my vision to only one aspect of it. Steampunk is a such a visually attractive world with so much to see! I tried to incorporate a few key elements and had fun with it!
It was created during lockdown and I tried to give as much as I could to my piece! I really wanted to do the collab justice and having my mind occupied with it really helped me through such hard times, not only as an individual, but as a store owner, who had to close and hope for the best!
This world of cake design has so many amazing artists! It is truly a pleasure to be part and witness of it! I am a big fan of so many of them and would love to meet everyone in person! That is one of my cake dreams: meeting and learning from the best!
It is also a world where fantasy is welcomed and we get to bring our imagination to life! Themes such as Harry Potter, Star Wars, Super Heroes and Princesses are amazing to work with!
Who is your favorite Harry Potter character? If you went to Hogwarts, which house would you want to be sorted into? Which house would you actual be sorted into? If you were a teacher at Hogwarts, what class would you want to teach? What would your Patronus be?
My favourite Harry Potter characters are the amazing creatures they created such as Dobby, Hedwig, Centaurs, Dementors and so on! They are unique! And if I could choose a house to belong to it would have to be Gryffindor (it such a cliché, I know)!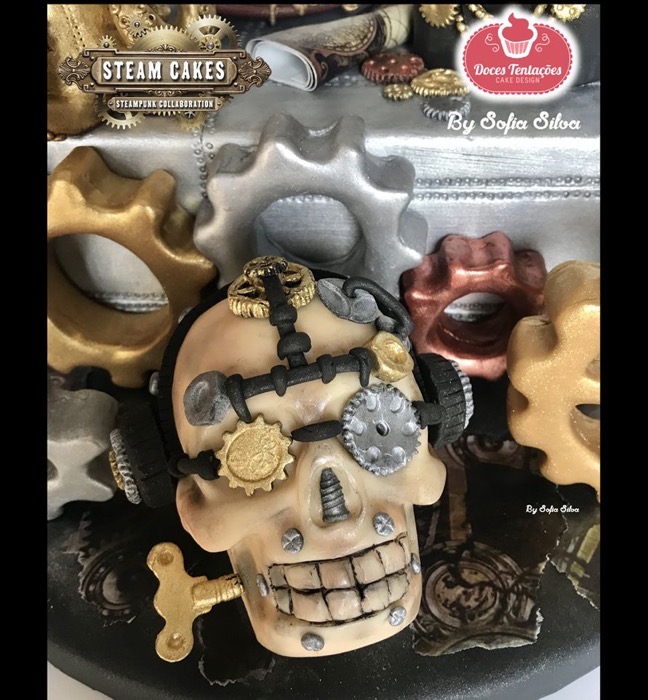 Who is your favorite Star Wars character? Which Star Wars movie is your favorite? Do you have a favorite Star Wars TV show or book? If you were living in the Star Wars universe – what would you want to be Jedi, Sith, Rebel, Imperial, Resistance, Smuggler, Bounty Hunter…?
Star Wars is a fantastic world and my favourite character is not a surprise – Chewie! I am not Jedi material, because I am too clumsy for something that big and important!

Do you have a favorite Disney movie? Do you have a favorite Disney character? What is your favorite thing to watch on Disney+? Have you been to any of the Disney parks? Do you have a favorite ride? Do you have a favorite story about a trip or experience at one of the Disney parks?
My favourite Disney characters have to be Mickey and Minnie. Why? Because after so many years they are still going strong and never out of fashion!
Disney Movie? Don't have just one! I have loads of favourites! Lion King, the Little Mermaid, Beauty and the Beast, Snow White, Rapunzel….
Do you have a favorite cartoon series or character? What was your favorite cartoon to watch when you were little? Would you prefer live in Bedrock with the Flintstones or in the future with the Jetsons?
Now when it comes to cartoon series, my favourite is Looney Tunes… they have such fun characters and they are all funny!