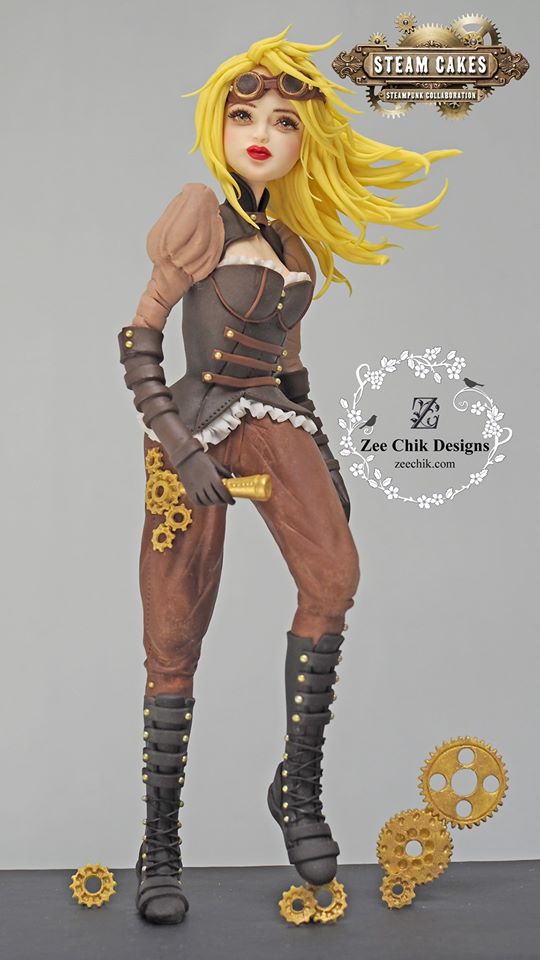 This wonderful steampunk cake was made by Zee Chik from Zee Chik Designs.
This Marvelous cake was created for the Steam Cakes – Steampunk Collaboration. To celebrate the Steampunk International Day, Cake Artists from around the world gathered to create their own edible Steampunk masterpieces.
This cake is a superb 3D edible sculpted cake topper of a girl wearing goggles, a leather blouse, leather gloves and boots. She is holding a gold instrument that has gold gears at the top. Other gold gears are around her. Her blonds hair looks like it is being blown by the wind. She looks just like a doll.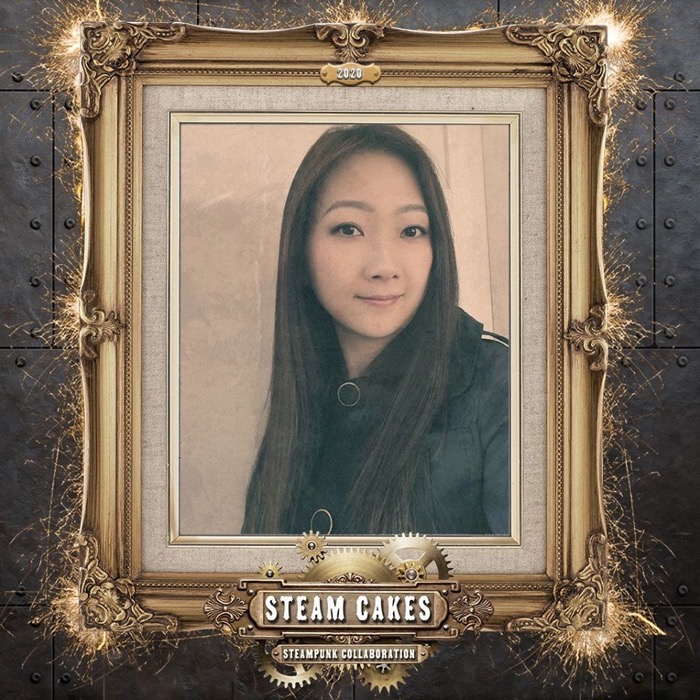 I also want to spotlight Zee Chick and share my interview.
Tell me about yourself. How long have you been decorating cakes? How did you learn to decorate? Do you decorate professionally? Have you taught any cake decorating classes? Have you competed in any cake competitions?
Hi, my name is Zee Chik. I have been decorating cakes since 2014. Been teaching private cake decorating class and figurine model making class. I have won few awards in UK Cake international exhibitions.
If you sell cakes professionally, I'd love for you to include – the name of your business/bakery, where you are located, what area you serve, and what you specialize in.

Since I started making cakes, I have started design and manufacture innovative sugarcraft equipmments under my brand Zee Chik Designs and now all my products selling internationally. I am based in South East London and specialize in 3D modelling.

Social media links:
www.instagram.com/zeechikdesigns
Do you have any videos you would like to share of how you create your cakes?
Stories about your cakes. Do you remember the first cake you decorated? When and why did you decide that you wanted to create cakes as a business / hobby?
A friend of mine asked me to make a cake and from then on I am hooked…
What is your favorite fandom?
I love movies like all Matrix, all Alien, Blade runner, Space odyssey 2001, Ghost in the Shell, Passenger, Interstellar, all Star wars, all Mandalorian, Pulp fiction, Kill bill ….
Who is your favorite Star Wars character? Which Star Wars movie is your favorite? Do you have a favorite Star Wars TV show or book? If you were living in the Star Wars universe – what would you want to be Jedi, Sith, Rebel, Imperial, Resistance, Smuggler, Bounty Hunter…?
My favorite Star wars character is baby Yoda after I watched the Mandalorian.

Do you have a favorite cartoon series or character? What was your favorite cartoon to watch when you were little? Would you prefer live in Bedrock with the Flintstones or in the future with the Jetsons?
When I was little I watch Road runner, Danger mouse and Tom and Jerry all the time.