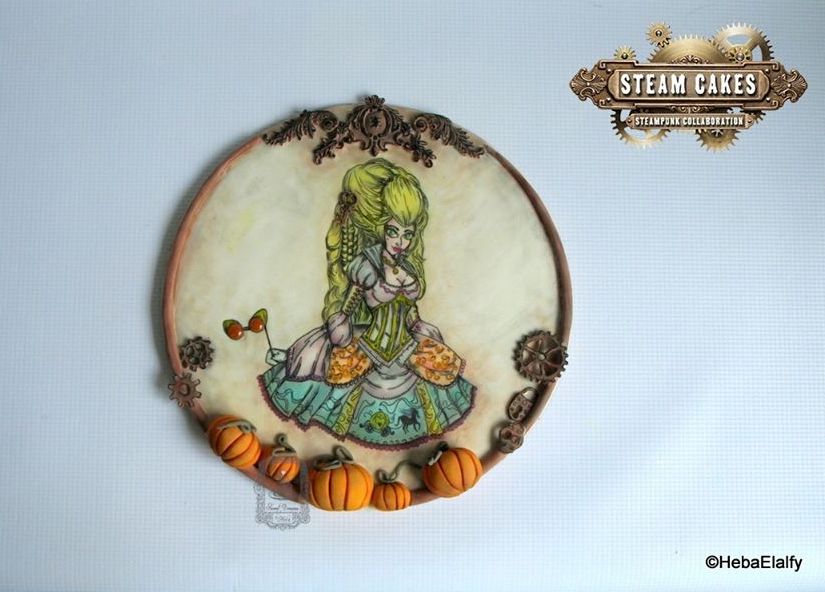 This wonderful Steampunk Cinderella was made by Heba Elalfy from Sweet Dreams by Heba.
This Marvelous cake topper was created for the Steam Cakes – Steampunk Collaboration. To celebrate the Steampunk International Day, Cake Artists from around the world gathered to create their own edible Steampunk masterpieces.
I also want to spotlight Heba and share my interview.
Tell me about yourself. How long have you been decorating cakes? How did you learn to decorate? Do you decorate professionally? Have you taught any cake decorating classes? Have you competed in any cake competitions?
I am a home baker in Saint Cloud, Florida, creating cakes, cupcakes, cookies and other sugar treats for any occasion. I started out a few years ago because my children requested very specific birthday cakes that I could not get any of the local bakeries to make, and I thought I would give it a go to make them myself. I watched YouTube videos and read up a little beforehand and then went for it. My children, my family, their invited friends and myself were so happy and proud of the cakes I made, that I was hooked. I have always enjoyed baking and decorating ever since I was a little girl, so I felt like this was a great outlet for my creativity. I made a Facebook page where I would post my creations, sort of like a portfolio, all in one place, and it has taken off from there. In the last few years, I have hosted many online collaborations as well as hosted classes in my home here in Central Florida, for cake decorating and cookie decorating classes. They have all been a big hit with high demand and I plan on continuing to host more classes starting in 2021.
What is the name of your business/bakery, where you are located, what area you serve, and what do you specialize in?
I deliver in Saint Cloud as well as areas in Kissimmee and Orlando. I have received orders from as far as Cocoa Beach as well, and they came to Saint Cloud to pick up their cookies from me!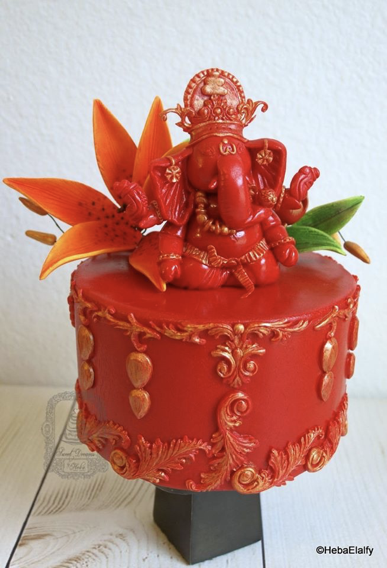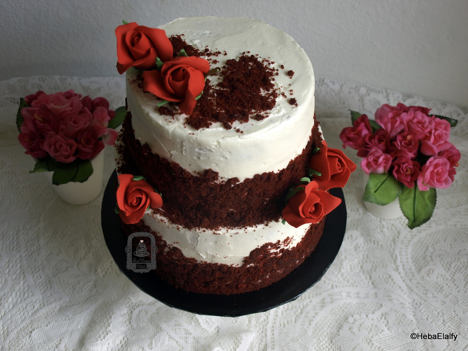 Social media links:
https://www.facebook.com/sweetdreamstoyou
https://www.instagram.com/sweet_dreams_by_heba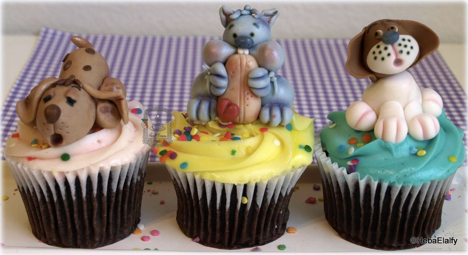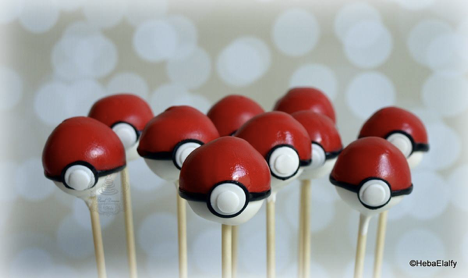 Tell me about your cake. What was the inspiration for your cake? How did you create it?
For this design, I wanted to do a plaque instead of cake or cookie, something different and unique. I searched online for some time to find a picture that inspired me, and I did. It was a steampunk Cinderella artwork by NOFLUTTER, here it is :
All credit for this photograph goes to 'NOFLUTTER'.
I chose random aspects of that artwork and immediately set to creating my design. I loved the pumpkins, the frame, the dress and thought of using Isomalt for the goggles.
Here's some closeup shots to show the details.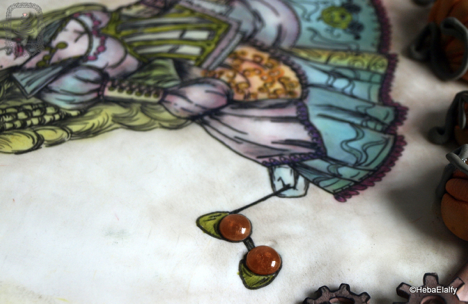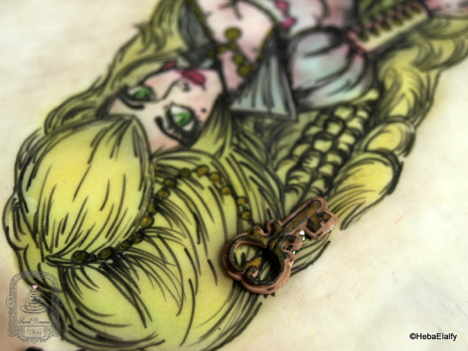 I used Satin Ice fondant for the base and the dimensional details once I printed out the image as inspiration.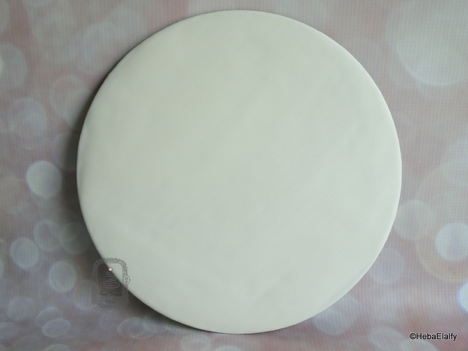 I gently scored over the printed picture for the details that I wanted to feature and then let the fondant harden completely :
Afterwards, I used a pencil to gently draw in the lines onto the hardened fondant :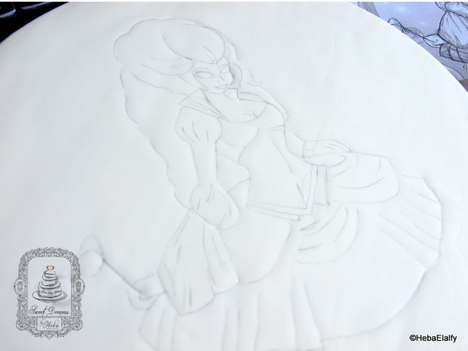 Using different powders/dusts and edible markers, I set off adding color and dimension to my piece using the artwork as guidance, layering on darker colors as I went along :
Adding black powder/dust and DIRTYING my piece would be the final touch once I made the Isomalt goggles and included the dimensional pieces too. I used Simi Cakes Isomalt as you can see :
The pumpkins were quick, easy and fun to make and then randomly placed around the bottom edge :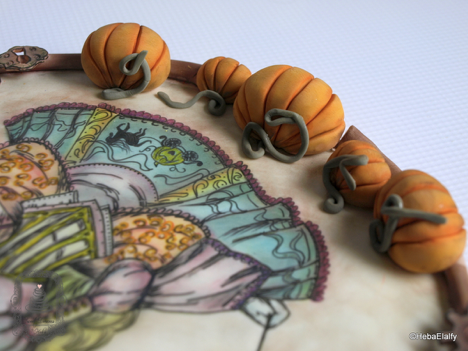 The frame was made with Satin Ice fondant using one of my silicone molds for that classic, old-fashioned look :
And there you have it :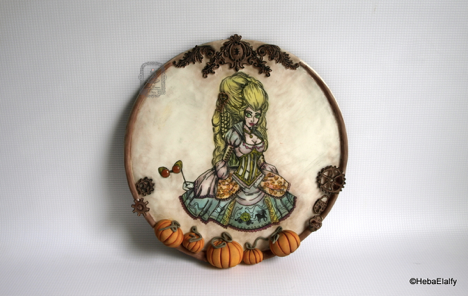 Stories about your cakes. Do you remember the first cake you decorated? When and why did you decide that you wanted to create cakes as a business / hobby?
As I previously mentioned, the first two cakes were for my children on their birthdays. The first one was for my son who was turning 2 at the time and he loved watching the TV show called Thomas The Tank Engine. He loved all trains on TV and in real life 😊 So, I thought about making it a super fun cake that would also have candies and cookies and marshmallows in the decorations. At the time, I did not have a good stable buttercream recipe but I set off making his train cake, covering it in buttercream and topped with marshmallows for the smoke, chocolate chip cookies for the wheels, twizzlers for the bars adjoining the wheels, and candies of ALL SORTS for the windows, the carriages etc etc. He loved it! I was happy and proud of what I made, and although I look back on it now and see that buttercream and that undecorated cake board covered in aluminum foil, I still think, "Wow, I have come a long way and I am so proud of myself!"
The second cake I ever made was for my daughter and she wanted a Disney Fairies cake! I made her a rainbow cake, covered it in pink buttercream, added some fondant details like flowers, foliage, ladybugs, rainbows etc, and then included some plastic fairies for decorations (and which she could play with afterwards). The feedback I got at the party from the guests as well as the caterers who cut and served and handled the party, gave me confidence to go ahead with my hobby 😊 From that day, I decided to learn more, ask questions, watch YouTube videos, take classes and continually self-improve.
Do you have a favorite story about a cake you made?
Yes! This is the one, although not cake, let me tell you about it :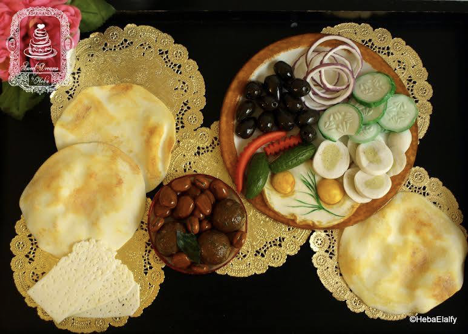 What you see here is a typical, traditional Egyptian breakfast. It was for my Dad, on his birthday, and I thought what better way than to give him a traditional Egyptian breakfast! But it is not cake! Some of the most typical and tasty breakfast foods are presented on this tray. Ofcourse, in Egypt, we have a wide variety of breakfast cuisine, which I couldn't recreate ALL on one tray. 🙂 Some of the items seen are Eish balady (Egyptian flatbread), Gibna rumi (sharp cheese), Zaytoun (olives), slices of onion, slices of cucumber, dill pickles, pickle carrots, omelet, sliced boiled egg (the spice ontop is actually cinnamon), Fool medammis (broad beans), Kofta (Egyptian meatballs with sesame seeds). All the food items including the two dishes that both were hand painted were made with fondant. Only the gold doilies are not edible. The two herbs (Basil ontop of the Kofta/Fool medammis and the Dill leaf ontop of the sliced egg) were made with wafer paper. We say in Arabic, "Alf Hanna", which is colloquial Arabic meaning 'have a nice meal'….it literally means 'a thousand delights'. On his birthday, I told my Mom the secret, then presented it to my Dad and he thought IT WAS REAL EGYPTIAN FOOD for breakfast and was about to take a piece of the flatbread, only to find out that it was NOT real bread. He was super surprised, could NOT believe his eyes and was totally fooled. We had a good laugh about it, he kept checking out the details and the food for HOURS and took pictures to send to his friends and other family members; I was so proud. My Mom and I laughed about it all day and to this day, he remembers that birthday and this tray with a lot of joy. 😊 Here are some closeup shots for details :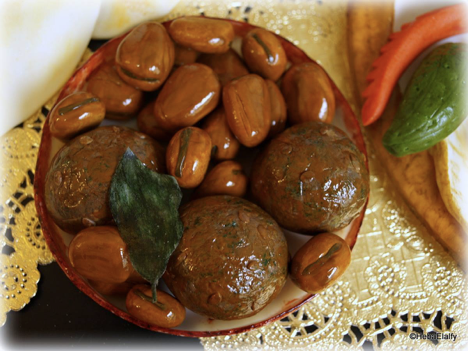 If one of the famous cake decorators offered to make you your dream cake, what would you ask for?
That is not an easy question, but it would be classical vintage and have a few of my favorite flowers, lots of lace, some gold …….. I would need more time to think of the cake design than a minute or two to type it up here! 😊
What is your favorite fandom?
Ever since I was a toddler, I love Disney. I loved watching all the TV shows and movies with my children since they were babies too, until they both outgrew them in their pre-teens! Secretly, I still enjoy those movies and there are some that hold a special place in my heart. For example, Disney Fairies, all of the movies, my daughter and I sat side by side to watch them for those many years. As they children have grown older, I have also grown to love some of the movies they watch. It is sort of a tradition with my son and I, for the last several years, that we watch THE POLAR EXPRESS over and over in December! 😊 For myself, I loved Mickey, Minnie and all the gang, when I was a little girl. I also loved some of the Hanna-Barbera characters. I also really found Foghorn Leghorn to be hilarious, I watched all of the Road Runner shows, I enjoyed watching She-Ra and He-Man, just too many to mention here. I do recall though that when my younger brother was born and later as a toddler and younger boy, he and I would watch Teenage Mutant Ninja Turtles together, all the time. He was REALLY into them, and back them those cartoons were so cute and kid friendly.
Who is your favorite Harry Potter character? If you went to Hogwarts, which house would you want to be sorted into? Which house would you actual be sorted into? If you were a teacher at Hogwarts, what class would you want to teach? What would your Patronus be?
I was not into Harry Potter at all. If you asked me about the Disney Fairies however, I would tell you that I wanted to be a fairy, living in that beautiful meadow with all the other fairies. I would be a Water Fairy, with long dark hair and a lovely little tree house. I remember when my daughter was a toddler, she and I would spend time together in the garden looking for twigs and leaves and acorns and flowers etc to make our own little fairy house and fairy garden. There were times when we would be sitting on the ground creating these little steps or hammocks, and I would watch my daughter with happiness on her face and creativity on her mind as she would tell me what she wanted to make for the fairies! 😊

Do you have a favorite Disney movie? Do you have a favorite Disney character? What is your favorite thing to watch on Disney+? Have you been to any of the Disney parks? Do you have a favorite ride? Do you have a favorite story about a trip or experience at one of the Disney parks?
I have been to the Disney parks here in Orlando MANY TIMES with my family, when my children were much younger. I am also a kid at heart so I did not mind at all to wait in line with them to see the Disney characters and take pictures with them and get autographs! We made sure to ride all the appropriate rides for them for their ages/heights and we would eat ice cream all day long!
Do you have a favorite superhero? What is your favorite superhero movie? If you read comics, what is your favorite comic or run on a comic? If you could be any superhero, who would you want to be? If you could have one super power, what would it be?
Oh my goodness, I cannot pick out one or two favorite superheroes. I am not into comics but if I had a superpower, or maybe two if that is OK, I would want invisibility and flight. For as long as I can remember, I think since pre-teen years, I dreamt of being able to fly by controlling just my thought and destination, not my arms! LOL. I also want to be able to go invisible whenever I wanted; kind of like how we say TO BE A FLY ON THE WALL, well, to be invisible would be awesome!
Do you have a favorite cartoon series or character? What was your favorite cartoon to watch when you were little? Would you prefer live in Bedrock with the Flintstones or in the future with the Jetsons?
I enjoyed many cartoon series as a little girl, but Disney always had the #1 spot. Bedrock or Jetsons? Bedrock all the way, it was funny and cute.