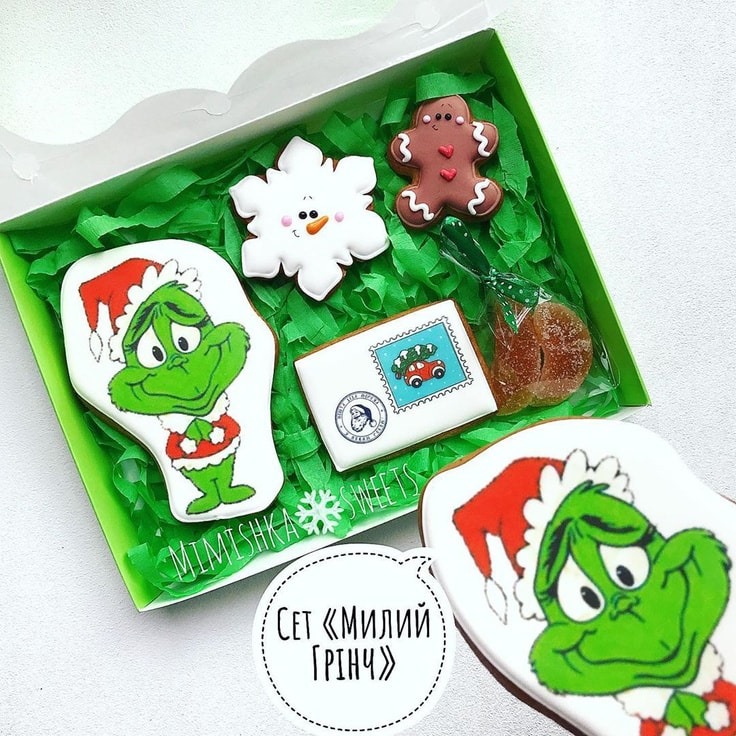 The cutest Grinch ever?
This adorable Grinch Who Stole Christmas Cookie Box was made by Mimishka Sweets. There are four cookies and two marmalade tangerines in this wonderful set. The cookies are a postcard with a stamp of a car with a Christmas tree on top driving through a light snow, a snowflake with eyes, a smile, a carrot nose, and pink cheeks, a gingerbread man with heart buttons and the cutest Grinch. The Grinch is dressed as Santa and has a giant grin and large expressive eyes. Since he is the star of this wonderful set, the Grinch is the largest cookie in the set and takes up about a 1/3 of the cookie box. This is such an cute set of Christmas Cookies.
Looking for more grinchy treats? Check out these Grinch Who Stole Christmas Cakes and Cookies.