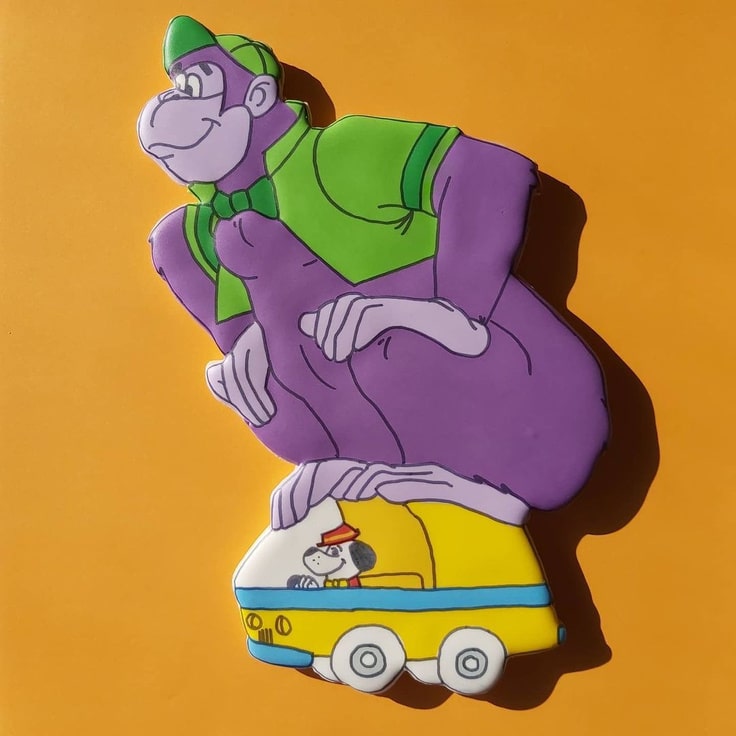 Grape Ape Cookie
This marvelous Grape Ape Cookie was made by Cookie Crush By Roni. This cookie brings a big smile to my face. I used to watch The Great Grape Ape show when I was a kid and hadn't thought about the character in years.
This great cookie features Beegle Beagle driving his van. The Grape Ape, who is a giant purple gorilla with a green vest, hat, and bowtie, is hunched down and riding on top of the van.
The last time I saw the Great Grape Ape Show was in reruns on Cartoon Network in the late 80s or early 90s. So for this post, I had to check out Wikipedia to make sure I had my names and facts correct. There were two things I completely forgotten about.
First, when the Great Grape Ape show premiered, it was originally the Tom and Jerry / Grape Ape Show. After that it was the Tom and Jerry / Grape Ape / Mumbly Show. It wasn't until 1978 that it became the Great Grape Ape Show. As I've mentioned in the past, I'm a fan of Tom and Jerry, so I'm surprise that I don't associate the two series with each other.
Second, the Grape Ape also appeared as a member of "The Yogi Yahooeys" team on Scooby's All-Star Laff-A-Lympics / Scooby's All-Stars. (I can't believe that this is the 2nd time this month I've mentioned The Yogi Yahooeys.) Hanna-Barbera made my favorite cartoons as a kid. I always enjoyed shows like Laff-A-Lympics because they used characters from a bunch of cartoon series.