Welcome to Super Blog Team Up! This time out, a gang of comic book and pop culture blogs and podcasts are teaming up to focus on Doctors.
My post spotlights the world's most popular football holder and psychiatrist – Lucy van Pelt.
When I was growing up, the Peanuts comic strip was in its prime and had the top spot on the comic strip page and in the Sunday Comics. Plus, A Charlie Brown Christmas and It's the Great Pumpkin, Charlie Brown were required viewing when they were shown. Because of this, I fell in love with Charlie Brown, Snoopy, Linus, Lucy and the rest of the Peanuts gang.
These wonderful Charlie Brown cookies were made by Cooper's Cookies. Lucy's booth is on one of the cookies.
These days, the best way to read old Peanut strips are in the gorgeous hard back Complete Peanuts volumes published by Fantagraphics.
When I was a child, old Peanuts strips were collected in books that looked just like paper back novels.
For the back cover of You're Out Of Your Mind, Charlie Brown, Charles Schulz drew a sketch of Lucy van Pelt sitting behind a box labeled Psychiatric Care 5¢. This was the first appearance of Lucy's psychiatric booth. This was before it ever appeared in a comic strip or cartoon.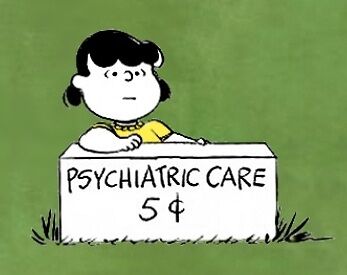 A few months later, on March 27, 1959, the booth appeared for the first time in the comic strip.

Amazingly, it was a one time gag!
The booth didn't appear again for two years. On January 28, 1961, Lucy's psychiatry booth finally appeared again. This time, it was beginning to look like the classic version of the booth.
Did you know that Lucy has also used her psychiatry booth for other purposes such as selling Goop

and valentines?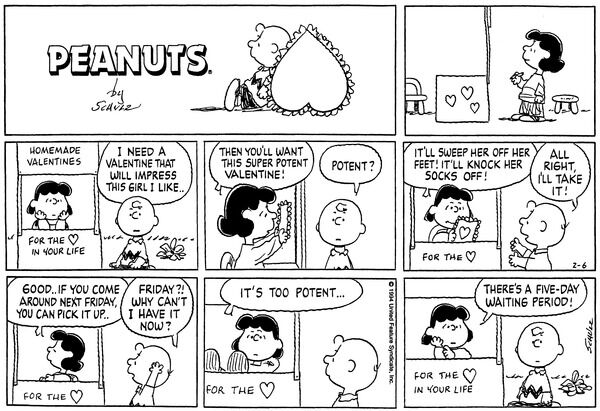 Once in a blue moon, she has even had someone else man the booth. Here is a wonderful Sunday strip where Snoopy takes Lucy's place.
And, here is one where Woodstock assists Lucy.
These wonderful Charlie Brown cookies were made by Polka Dot Gal Bakery.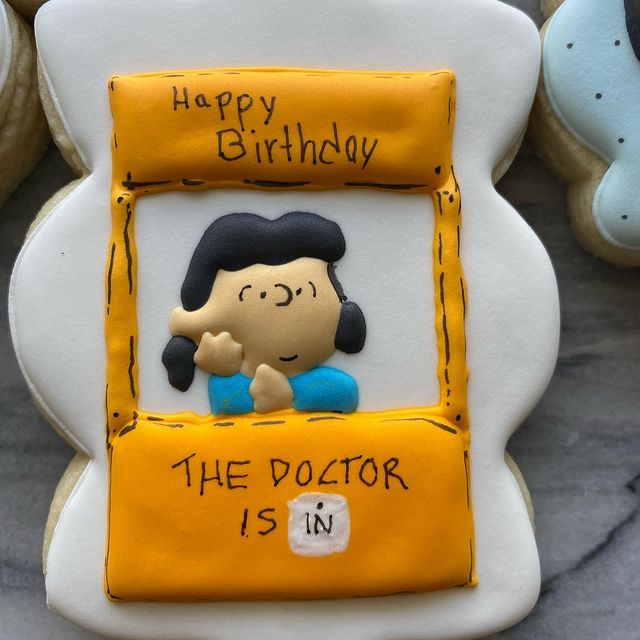 Here's a close-up of Lucy and the booth with the words The Doctor Is In.
If the Doctor ordered more fun, check out the rest of Super Blog Team Up
Dave's Comics Blog – The Immortal Doctor Fate
https://davescomicheroes.blogspot.com/2021/05/immortal-doctor-fate.html
Magazines and Monsters – Doctor Voodoo, Avenger of the Supernatural 2009
Comics Comics Comics – Doctor Who, Marvel Comics and the Power of Podcasts. A look at why I bought some of the Marvel Doctor Who comics.
https://comicscomicscomics.blog/2021/05/12/super-blog-team-up-the-power-of-podcasting-and-doctor-who/
Pop Culture Retrorama – Doctor Thirteen the Ghost Breaker
https://popcultureretrorama.com/2021/05/12/super-blog-team-up-doctor-thirteen-the-ghost-breaker/
Radulich in Broadcasting Network –
Long Road to Ruin: Dr. Dolittle (1998 & 2001)
https://www.spreaker.com/show/radulich-in-broadcasting
Metal Hammer of Doom – SBTU Edition: Mötley Crüe – Dr. Feelgood
https://www.spreaker.com/user/wrestling2themax/metal-hammer-of-doom-sbtu-edition-moetle
SuperHero Satellite – The 1970s Incredible Hulk Television Series: The Lonely and Tragic Life Of Doctor David Banner https://charltonhero.wordpress.com/2021/05/12/the-1970s-incredible-hulk-show-super-blog-team-up-the-doctor-is-in/
Asterisk51 – Doctor Bong: For Whom the Bell Tolls
https://asterisk51.blogspot.com/2021/05/doctor-bong-for-whom-bell-tolls.html