Olaf Cake
This adorable Olaf Cake was made by Lori's Sweet Cakes. Olaf is made from Rice Krispies Treats and fondant. I love the pink and blue ombre waves.
Olaf is wearing sunglasses that are resting on his orange carrot nose. He is wearing a purple lei around his neck. He has a green hula skirt around his waist. His two arms are sticking up and he is holding a snowflake in his hand.
Olaf is standing on one foot in the sand. There is a white snowflake under the foot that he is holding up and two other snowflakes on the other side of him.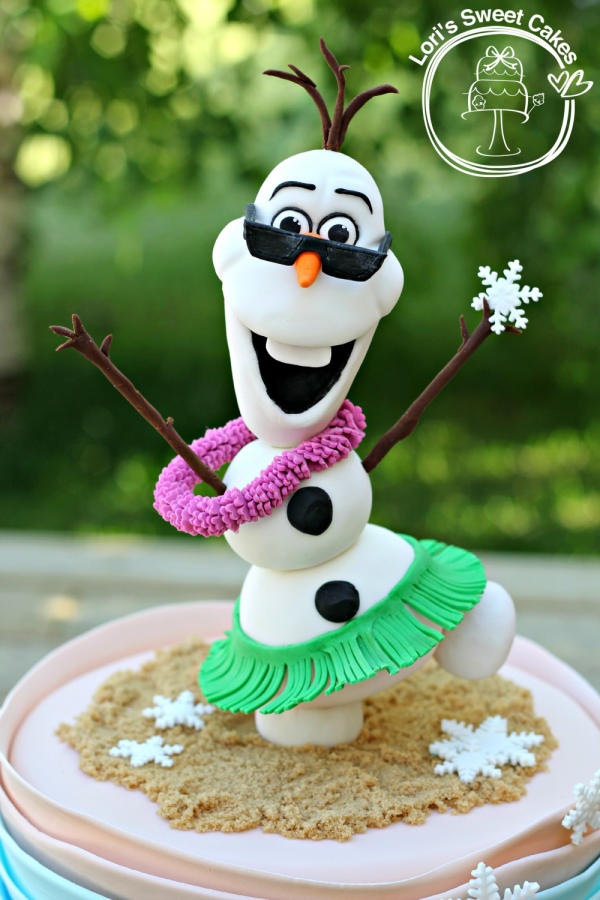 Here's a close-up of Olaf. He looks like he is having a great time dancing in the summer.
The cake board is blue and white with brown sand and large white snowflakes. There are large white snowflakes on top of the pink and blue ombre waves on the side of the cake.
Planning a chillin' Frozen Party this summer? Check out these terrific Frozen cakes and cookies.