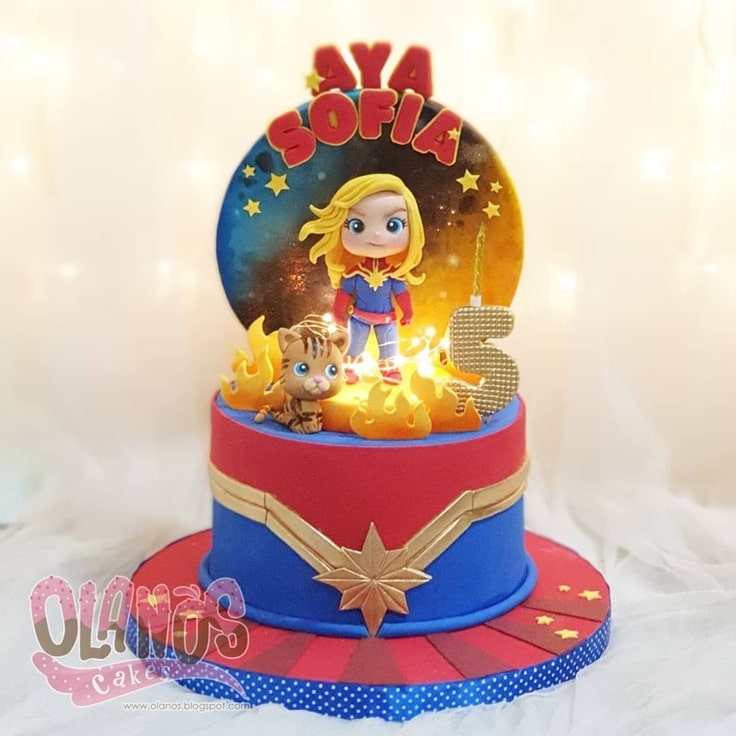 Captain Marvel 5th Birthday Cake
Olanos Cakes make the most adorable birthday cakes. Their Captain Marvel 5th Birthday Cake is amazing.
This is a single tier cake decorated to look like Carol's red, blue and gold costume. The cake board is decorated in the same colors so it blends perfectly with the cake.
On top of the cake are wonderful figures of Captain Marvel and Goose. Carol is standing in flames and the cake is lit such that there are lights shining up from bellow Carol. This such a wonderful special effect and it really makes this cake lovely.
Off to the side is five with a candle and behind Captain Marvel is a oval painted background with the birthday girl's name on it.
When I'm designing a cake, I ask myself what is the focal point of the cake going to be. Often, you want to guide what a person looking at a cake is focusing on. This cake is an amazing example of this.
One of the things I love about Olanos cakes is their toppers. The cake topper of Carol Danvers dressed as Captain Marvel is absolutely wonderful. They could have made a cake, placed the topper on and had a really nice cake. But they did so much more than that.
The Captain Marvel cake topper is in the center of the cake. The cake itself is decorated to look like Carol's costume. The gold star on the costume is also centered and the part of the star which is pointing up is pointing straight at Carol. That helps draw your eyes to the cake topper.
The cake topper is also framed. There are flames in front of it and a painted backdrop behind it. Add in Goose and the number five and you'd think you'd loose the focal point in the top being too busy. That doesn't happen because the cake literally shines a light on the Captain Marvel cake topper. This design is brilliant because of that the cake is absolutely gorgeous.
For more Captain Marvel fun, check out: